Way back in 2009, Josh over at YoJoe.com did a contest to guess the Box Office for G.I. Joe: The Rise of Cobra… and guess what?  He's doing it again for G.I. Joe: Retaliation!
This is the way it works: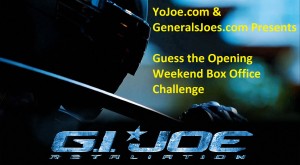 G.I. Joe: Retaliation – Guess the Opening Weekend Box Office Challenge
The closest guess without going over will be the winner.
Make your guess count (twice, if you want, one guess at each website is allowed) .  You can guess at the forum over on YoJoe.com, or comment in this thread to make your guess.
The winner will be announced on Wednesday April 3rd.
Sponsored by GeneralsJoes.com & Yo Joe.com & Paramount Pictures
Prizes Include:
1 G.I. Joe backpack
1 G.I. Joe hat
1 G.I. Joe sweatshirt
1 G.I. Joe: Retaliation movie poster
1 GI Joe IDW GI Joe Retaliation Prequel Trade Paper Back
1 Tactical Ninja Team set
1 Cobra Invasion Team set
________________________________________
________________________________________
Guidelines & Rules:
The Opening Box Office Gross (OBOG), US DOMESTIC ONLY, is determined by the amount of money ($$) that the GI Joe: Retaliation movie earns from tickets sold between Friday, March 29th and Sunday, March 31st ONLY. (This $$ value DOES include midnight screenings starting on 12:00 AM of the 29th).
For the purposes of this contest, the final OBOG will be determined by the box office numbers published on the website Box Office Mojo G.I. Joe: Retaliation (2013) – Box Office Mojo.
On Wed, April 3rd, the contest will announce its winner based on those $$ numbers that are current for the weekend of March 29th-31st. If Box Office Mojo changes their numbers after Wed the 3rd, the contest will not adjust its winner. As of noon Pacific Time on April 3rd, what Box Office Mojo has as their weekend $$ numbers for GI Joe are the final numbers for this contest.
All OBOG guesses must be submitted correctly at YoJoe.com or GeneralsJoes.com. Any guesses placed after Thursday, March 28th 11:59 PM will be considered invalid.
In order to post your OBOG guess at either of these websites, you must first become a forum member. Membership sign up for Yo Joe is here & GeneralsJoes. Both are free.
The winning OBOG $$ value guess cannot exceed the final OBOG amount.
If there are screenings on Thursday, March 28th or prior to that their box office gross does not count towards this contest's $$ value, only Fri to Sun is valid.
Guesses are to the dollar value only, if your guess contains cents, it will be rounded up to the next dollar value, no cents are involved.
In the case of an exact tie, the winner is determined by who voted first on the forums (by date first then time, which forum doesn't matter). Guesses placed in incorrect topics on incorrect forums on incorrect websites will not be counted. Be sure to guess at YoJoe.com or GeneralsJoes.com.
Any edited guesses after the contest is closed will be considered invalid. A guesser IS ALLOWED to make a separate guess in each website's forum.
In order to verify that your guess has been counted correctly, a PDF will be posted and made available on Tuesday April 2nd for verification. The winner will be notified by their site administrator and arrangements for delivery of the prize pack will be made after Wed, April 3rd. If by the end of Friday, April 5th, the winner has not responded the next closest guess will become the winner by default.
Yo Joe!