The days continue to move on as we inch closer to March 29th and to the premier of G.I. Joe: Retaliation.  Twitziller has posted his latest update, and on Fridays he goes right for the big guns!   And in the realm of G.I. Joe, it doesn't get a whole lot bigger than this guy.
#28: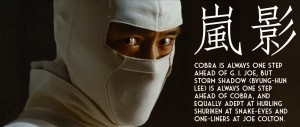 Tough to argue about the importance of that dude.  I still remember how wide my eyes opened when I first read Storm Shadow's filecard back in 1984 with his ability to move faster than the eye could track and to scale walls with bare hands and feet.  The concept of ninjas in a real world situation was just too cool.  Larry Hama almost effortlessly told a tale of revenge, redemption, and honor, all built around a 4″ piece of white plastic, and to this day, that tale rings true among all the other madness in G.I. Joe lore.
Different trailers and scenes seem to indicate that perhaps similar redemption is found by Storm Shadow in the sequel film.  Time will tell how that works out, but whatever happens, his role is a critical one.  Keep checking Twitziller on Twitter for the next reasons, and you can find it all right here on GeneralsJoes as well.  Past entries can be seen below.