With the premiere happening yesterday in Korea, and a new influx of film clips, the excitement is certainly building for the release of G.I. Joe: Retaliation and Twitziller is feeding on it.  Another update was posted today, looking forward towards March 29th.  We've seen the below vehicle throughout several trailers and TV spots, and it certainly belongs on this list.
#17: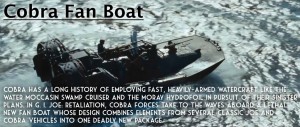 Something that the last G.I. Joe film perhaps missed the "boat" on (no pun intended) was using existing G.I. Joe hardware as a template or building block when designing their vehicles.  There was certainly some state of the art technology and vehicles in The Rise of Cobra, but most of them appeared totally conceived out of thin air.  From all appearances, G.I. Joe: Retaliation will have at least a bit more base in vehicular reality.  The HISS has already gotten a lot of attention, and the Water Moccasin above certainly serves attention as well.  Some will make connections between the Cobra helicopter and the FANG as well.  It only makes sense.
Granted the fan boat you see above isn't a true real world equivalent to the Water Moccasin but it takes that foundation and really ramps it up.  I love how Twitziller puts some attention above specifically on water based vehicles as well, considering how prevalent they were in the Cobra motor pool.  From the Water Moccasin to the Moray, the Piranha, BUGG, and Hammerhead, Cobra was not shy about watercraft, and I'm glad that is being explored in the film.
Keep following Twitziller on Twitter for the latest updates, and keep watching GeneralsJoes as well.  Previous entries can be seen below.
no images were found