In the trailer for G.I. Joe: Retaliation a specific scene with a mysterious individual jumping a motorcycle and firing a machine gun brought about some questions…who was it?  What were they doing?  What the heck were they riding?
Well a couple of those questions have been answered, courtesy of the 80s Tees Facebook Page!
The folks at 80s Tees posted on Facebook saying they'd seen some unfinished footage for G.I. Joe: Retaliation because of their licensing arrangement with the G.I. Joe brand.  This is what they had to say on Facebook:
"One of the best parts of my job is that every once in a while I get to feel like a bit of a Hollywood insider. This is because licensed product needs to be prepared before a movie gets released. Earlier this week I was treated to some unfinished scenes from GI Joe Retaliation. I can tell you that it looks like a ton of fun, and it's packed with great action movie actors. It is now one of my more anticipated summer movies for 2012."
Sounds promising!  Of course along with this great description, 80s Tees also provided a great image of the Cobra motorcycle that was featured in the trailer!  Very cool!  Check out the mirrored image below, and be sure to check out 80s Tees as well.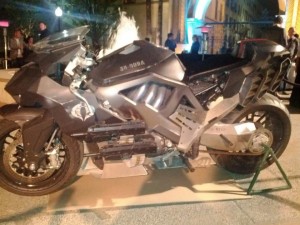 A big thanks, too, to Fred from JoeBattleLines for pointing this out!