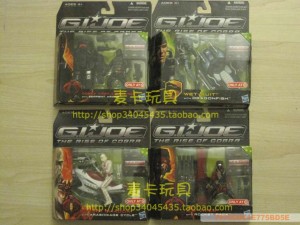 Shin Densetsu over on HissTank.com breaks the news that there are some apparently new Target Exclusives on the horizon featuring some great  vintage vehicles making their first re-appearence in a long while!  These exclusives are:
COBRA Viper Commando w/ Serpent Armor
Wet Suit w/ Dragonfish
Storm Shadow w/ Arashikage Cycle
Air-Viper w/ Rocket Pack
The Serpent Armor appears to be a black repaint of the SNAKE Armor from the 80's, and done up in a paint scheme similar to how they make their appearences in the upcoming video game.  It's tough to tell how the Viper Commando is changed, but he must be painted a bit differently.  Wet Suit is in an apparent gray and black uniform, that almost looks like it might be the rumored "Wet Down" that was seen on eBay a little while ago.  Storm Shadow in the red trim is the repaint we've seen here and there, and we're getting yet another Air-Viper/Strato-Viper repaint, but with a very odd choice. The COBRA Jet Pack that hasn't made an appearence since 1987.  This seems like a bit of an odd choice, it's never been a fan favorite, but it's still cool to see.  Just goes to show that nothing is off the table.
I'm astounding by the sheer volume of product that appears to be coming out this year…and we are just barely approaching ComicCon.  I only hope that if there's not much new revealed in San Diego that the fandom doesn't get in an uproar with Hasbro…after all, there's a TON of stuff they would have debuted there had images not leaked before hand.  Let's all keep things in perspective.  😉