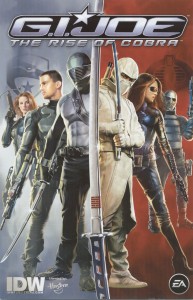 Huge thanks to Jeff Bohn who has supplied GeneralsJoes with some nicely detailed information about the 6-page Helix comic that comes with the upcoming Electronic Arts G.I. Joe: The Rise of COBRA video game.  The comic leads directly into the IDW Helix special edition, for sale in August.  The information is below:
G.I. Joe: Rise of Cobra: Helix Special EA Edition

Writer: Brian Reed
Artist: Joe Suitor
6 page comic
Hawk shows Duke video of Agent Helix, who has "Total Organic Battlefield Awareness."  Hawk explains that she is missing, that Duke is to find her, and details some of her backstory…
Master practicioner of Capoeira, Muay Thai, Wing Chun, Shuai Jiao, Kendo and Fencing.  Rumored to be able to master a fighting style after encountering it only once.  Fought in underground fights, battling to the death and walking away without a scratch.  Traits of savantism, but not autistic.  Can identify and solve complex physical calculations quickly.  "Everything she sees has a Data Set.  Miles left before a car will run out of gas, Ammo counts in the bad guys guns…"
Hawk thinks Cobra may have her.
1 page advertisement for the Helix comic special (which continues the story).  Also mentions that you can be Agent Helix in the game.
4 page fold out poster advertising the video game.
2 page interview with game writer Brian Reed.  Mentions that Helix was created as a "gamer turned soldier", which gets fleshed out in the Helix comic special.  Mainframe is in the video game as support, non-playable.
2 page interview with Electronic Arts Senior Producer Matt Marsala.
1 page picture of Scarlett.
Back cover is an advertisement for the video game (same as the fold out poster).
Thanks again to Jeff for this great information.  I'm really digging Helix's backstory.  If nothing else, the film is opening up some nice new doors into the G.I. Joe mythos.