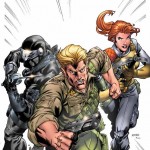 Phil Kost from JoeReloaded reports that according to Midtown Comics, G.I. Joe #3 and G.I. Joe: The Rise of COBRA Prequel #1 (featuring Duke) will both be released next Wednesday, March 11th.
We reported yesterday that G.I. Joe: COBRA would be released March 18th, which still leaves G.I. Joe: Origins #2 somewhat up in the air.
Thanks to Phil for the info, it would certainly appear that IDW is flying out of the starting gate…and I think I might be the only one at least a little bit excited to already be starting the move into the Rise of COBRA universe.  If nothing else, it'll be a different take.  I'm willing to give it a shot, at least.