The reliable cmderinchief from CoilClub.com comes through with an awesome scan of what looks to be the insert catalog that  comes with the Night Raven.  We've all seen side one already: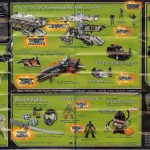 Well, apparently on the flip-side, is a breathtaking image of the Night Raven in mid flight.  A very cool picture of a very cool plane!
Definitely nice!  Keep your eyes peeled to GeneralsJoes over the rest of the weekend as well, as we promise a bunch of new images of the movie Breaker, Zartan, and Shipwreck coming over the next 24 hours or so!