Available for Pre-Order at BossFightShop.com
Wow. This is a hefty chunk of plastic.
I was pretty excited when Boss Fight Studio got the license for Bucky O'Hare figures, not necessarily because I'm a huge Bucky fan (though I have become one over the past year or so), but because I knew it meant just the first step in global domination for Boss Fight Studios. Now, as we prepare for an onslaught of Flash Gordon, Tarzan, Phantom, Lucha Libre figures, and many others, turns out my assumption was correct!
In the meantime, we've also managed to get some absolutely incredible action figures for a fun 90's property that doesn't get the credit it deserves.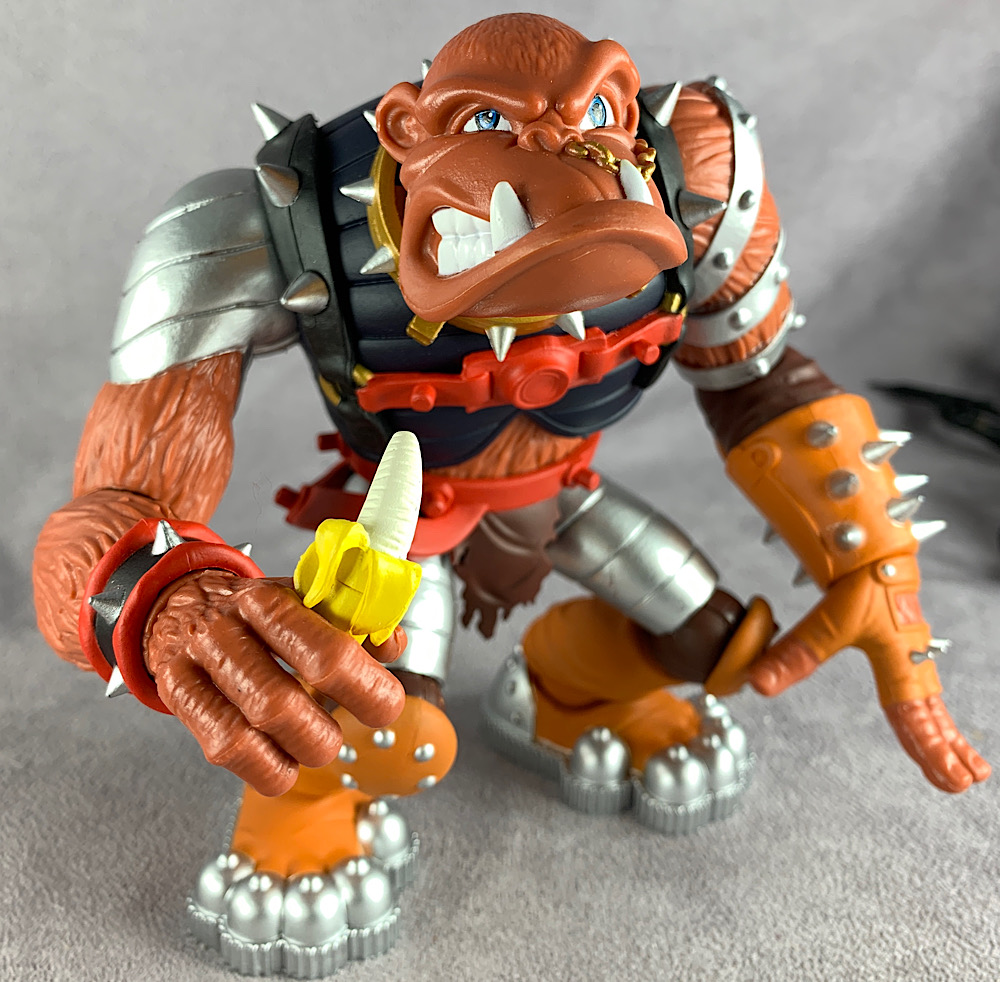 As the brain child of Larry Hama and Neal Adams' Continuity Studios, Bucky O'Hare was poised to do some amazing things back in the 90's with a comic series, action figure line and animated series all exploding onto the scene. Unfortunately it never really took off, which meant several core cast members were never realized as action figures.
While the vintage line did give us a Bruiser, the figure was pretty close to the same size as many of the other figures in the line, where this updated Boss Fight Studio version is an absolute monster.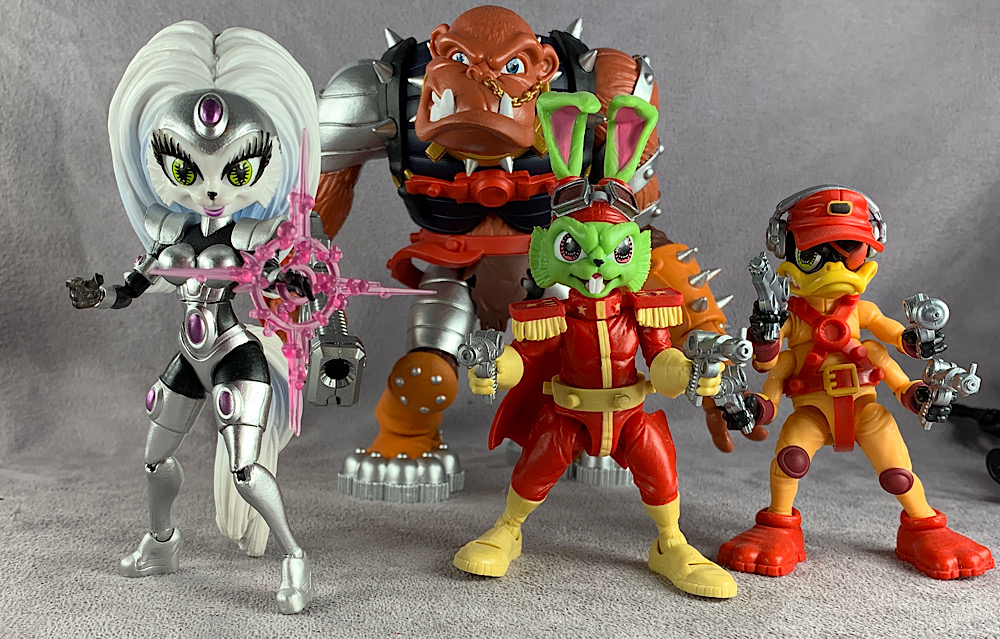 The first deluxe figure release in the line, Bruiser looms over the rest of the Bucky O'Hare crew, and as with the other figures in this line, he is absolutely dripping with character.
The combination of animated-accurate design and incredible articulation blows me away as other figures in this line also have, providing figures that look as though they stepped straight from the screen, yet can pose and move in nearly any position you can imagine.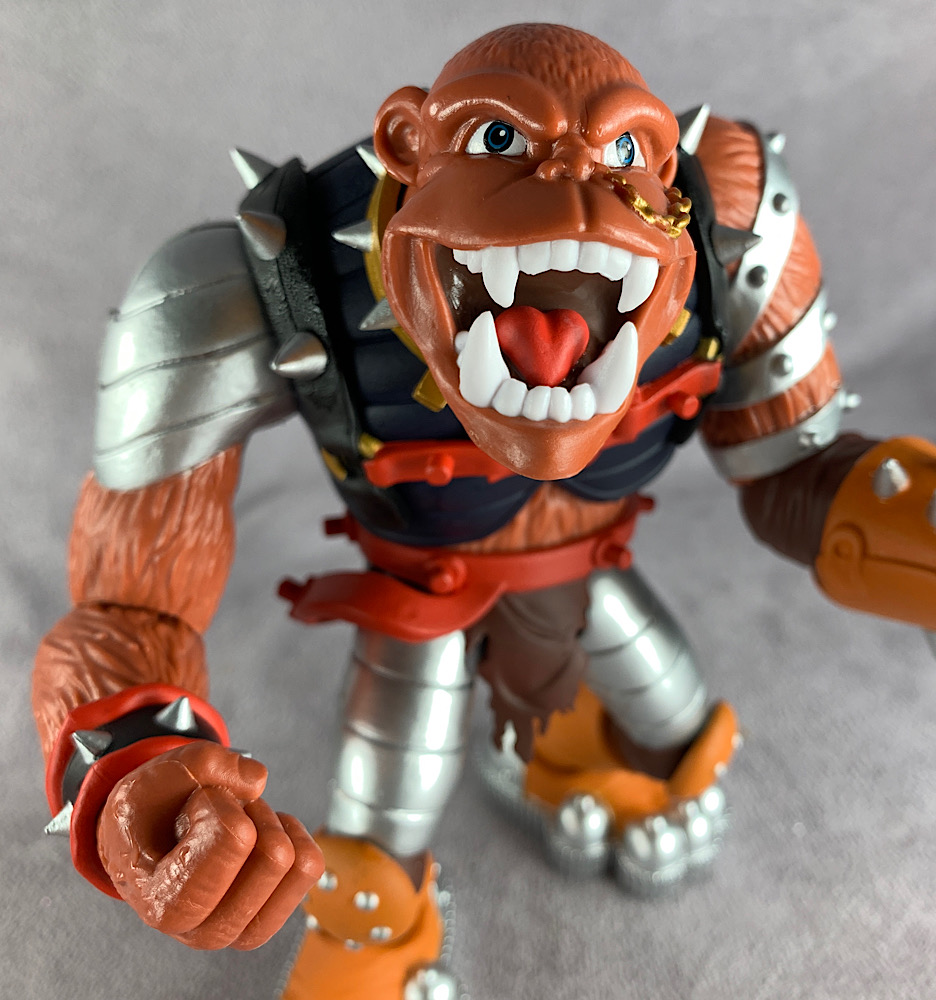 As mentioned already, Bruiser is huge and heavy, feeling like a quality chunk of plastic, but with some revolutionary joints he can either stand (mostly) upright or hunch over like the gorilla he is, enabling a wealth of fun display options.
Bruiser comes with two heads, one relatively calm head, another head that is decidedly un-calm, perfect for "croaking some toads". He comes with swappable hands as well as a banana and a laser rifle. He's equipped for almost anything.
His straps also have the same sort of universal peg system that other figures have which can hold his (or other) weapons.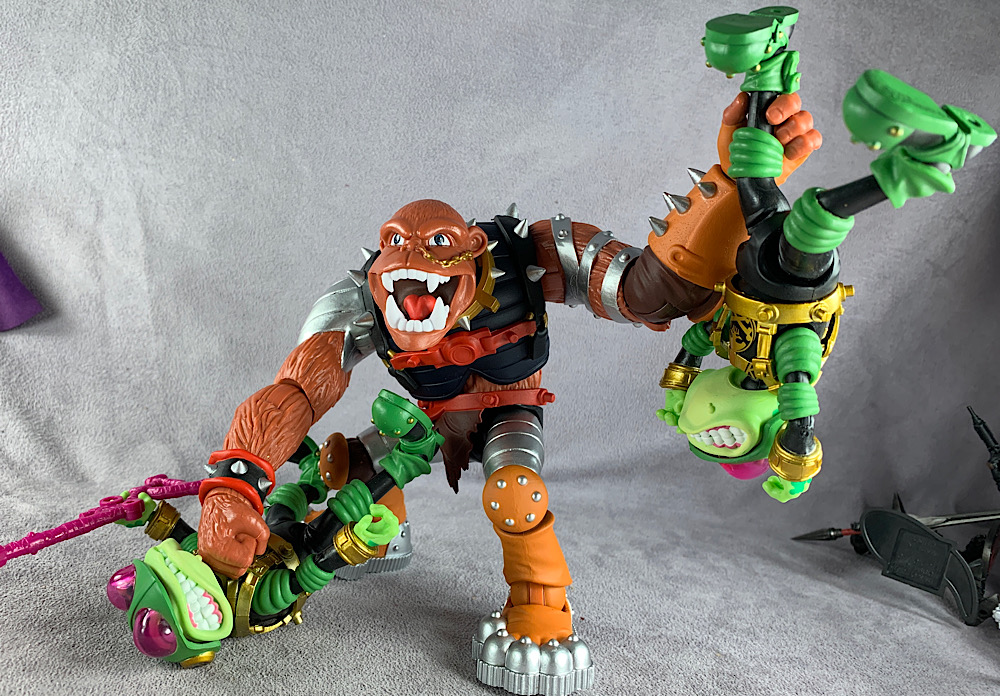 The colors are terrific as usual as well, remaining very accurate to the source material, with an especially vibrant shade of silver for his armor. Boss Fight designers are truly artists when it comes to their color pallet, always finding the perfect pantone and combination of colors to really accentuate the figure.
As time has gone on, Boss Fight has had the opportunity to consider deeper and deeper dives into the core cast of Bucky O'Hare figures. I really hope people are jumping on these pre-orders to give us the opportunity to round out this cast and keep digging through the vast possibilities of the Bucky O'Hare universe.
This figure is available for pre-order now from BossFightShop.com and should be shipping shortly!
Bucky O'Hare Bruiser
Sculpting

Paint Applications

Articulation

Accessories
Summary
Bruiser is a behemoth of an action figure, standing tall and wide above the rest of the Bucky O'Hare cast, and is crammed full of character and color. As a deluxe figure it's a hefty hunk of quality plastic with some great accessories and awesome playability. Articulation like crazy and a critical component of the crew of Righteous Indignation.
Pros
HUGE figure, in scale with the rest of the crew
Great accessories, love the swappable hands and head
Stepped right from the comic and onto my toy shelf
Cons
A bit more expensive than standard figures (but totally worth it)