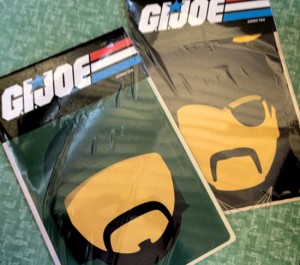 This past weekend, Iowa saw an influx of G.I. Joe fans with the Assembly Required convention…JoeDeClassified made the trip as well as Gary from What's on Joe Mind.  By all reports it was a fantastic show with a great turn out, but what made this show really stand out were the exclusives.
While a lot of shows are putting a strong focus on toy-themed exclusives, Assembly Required went the artwork route and produced some fantastic minimalist prints, buttons, and very unique posters to represent the show.
These are some very high quality and gorgeous looking items, and with some of them left over from the show, they are now on sale via Codename: Iowa.  Check out the online store and pick up some of these very unique and interesting items.  These will not be produced again, so grab 'em while they're hot!