With it being the ten year anniversary of the original Canadian JoeCon, Mike has stated that they would be dipping back into the past somewhat.  We've already seen the awesome reveal for JoeCanuck, and next we see…
WOW.  Black Ice was a revolutionary entry into the JoeCanuck history books, really putting the Canadian JoeCon on the map and turning it into something more official.  Check out the modern update to this revolutionary Canadian Cobra character below.  An awesome Wednesday surprise.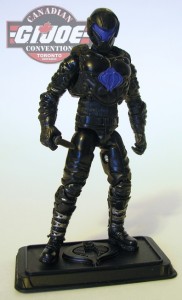 As if that weren't enough, the fantastic artist for past installments of the Canadian JoeCon Comic Book, Jason Loo, brings us a pair of exciting preview pages for this year's issue!  He debuted these on Twitter, so make sure you're following him there to stay up to date on all of the Canadian JoeCon comic news.  Those images are mirrored below.  It's amazing to me how much you can see that Jason Loo has grown over the years, with his absolute best work appearing right here.  I love the mix of artistic style and realism…a very cool transition of pages, and really sells me on these characters.
Good stuff, wish I could be there.  Don't forget to hit up CanadianJoeCon.com for attendance information and details.
no images were found