If you're like me and you visit IDW's Snake Eyes and Storm Shadow artist Robert Atkins on a regular basis, you no doubt noticed that he's been a flurry of activity this week!  He had some very interesting commission requests, and he's been posting up pieces of his work over the past several days.
Well over the past couple of days he posted the completed images and they're pretty incredible.  A very eclectic group of characters and some great art by Mr. Atkins as well.    This combined commission piece is over FOUR FEET wide.  Colorist on the Snake Eyes title Simon Gough as even colored the G.I. Joe half already, and I've mirrored both images below.
no images were found
Along with this, Robert has posted a fantastic commission of Snake Eyes in his Commando uniform!  Everyone's pretty used to seeing the Joe ninja in his visor and skin-tight spandex these days, this is a great departure.  Check out that image below.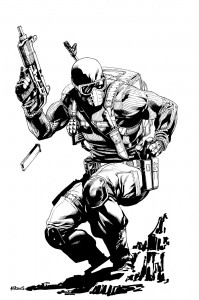 If you're not hitting up Robert Atkins' blog on a regular basis, you really should be.  He's been doing a lot of great Avengers work alongside his G.I. Joe stuff, and with him picking back up on Snake Eyes and Storm Shadow last week, you can bet more G.I. Joe content will be coming.
Also for folks wanting to see Robert in person, he will be attending the following conventions!  Put 'em on your calendar: