Now, it's all focused on a single retail outlet, Meijer's, and all sightings seem to be in the Indiana and Kentucky areas, but we've got some more evidence of figures being found in the wild.
First and foremost, long time friend of GeneralsJoes and one of the admins of JoeBattleLines, Scott "MadMac" found a Wave 1 Roadblock and was kind enough to take some pictures.  He also took some initiative and swapped out Roadblock's hands with the 7-Pack Red Dog.  The results are quite nice!  Check out the images below.
no images were found
Also, fellow co-host of the What's on Joe Mind podcast Gary discovered them at his local Meijer's as well…so guess we'll have some good stuff to talk about next week!  Check out the image for proof below.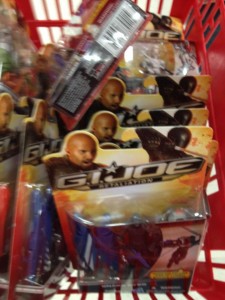 Those of you with local Meijer's stores, gas up those cars and get driving!  I'll just sit back with my bears and wait for those pesky e-tailers.