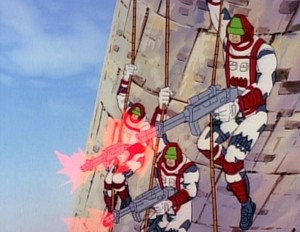 Rejoice, G.I. Joe fans!  DiC has arrived!
Yes, the infamous DiC series of G.I. Joe animation is widely panned from a critical perspective, and doesn't match up with the Sunbow stuff, but the fact remains those of us who are long time Joe fans have been without a reliable source of DiC animation ever since it debuted.  And yes, even though it has its share of quirks, there is some indelible charm with DiC's offerings, even if it's just smiling at all the 90's characters who fans have rarely seen on their TV screens.
Well, Shout! Factory has now released Season 1 from the DiC era and it is marvelously goofy.  I'm not sure what's better, watching Sandstorm knock over a rock mountain that takes out a Desert Scorpion, or later in that episode, watching Sandstorm again hang-gliding from the roof of a Cobra castle.
Yes, Sandstorm as in Dusty's coyote.
Glorious.
Check out my review of the DiC Season 1 DVD set right here.  Priced very affordably at $19.99, it's worth your time, goofy or not.