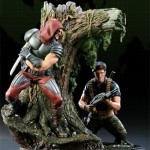 Sideshow Collectibles has been holding their own personal 31 Days of San Diego ComicCon event, and day eight of this event features the first reveal of their next diorama…one that all Joe fans should be excited to see, Zartan Vs. Flint!
Featuring both venerable Real American Hero characters in their familiar garb, the two adversaries face off in an unmentioned swampland.  Awesome sculpting, a very dynamic pose, and some very cool easter eggs give us our first glimpse at a Sideshow version of the Cobra Master of Disguise!  Not only is this item first revealed right here, but it is also available for pre-order now!
Check out the full details at SideshowCollectibles.com.