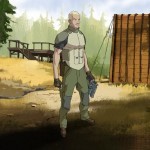 So as SDCC is just  getting ramped up, and the Renegades panel is about six hours away,  I need to take a few minutes to just express how much I'm looking forward to seeing what's to come from G.I. Joe: Renegades.  I know, I know…I'm a G.I. Joe fanboy, I look forward to everything, right?
No, believe it or not, that's not the case.  I'm not always jumping in feet first, and immediately open to whatever is to come.
But I've got a good feeling about G.I. Joe: Renegades.  Maybe it's just the interactions we had with the crew at JoeCon…maybe it's just the vibe I get from the character designs, or the confidence I have after hearing Alan Hassenfeld's commitment to
quality
entertainment (a comment he aimed squarely at one of the Renegades producers when he was speaking in Providence).  Perhaps it's just because after seeing how far animated action features have come in the past fifteen years,  I have a lot more confidence that we'll get something more akin to Wolverine and the X-Men rather than Sigma 6.  Sure, it won't be Resolute, but how could it be?  I do think Hasbro learned something from Resolute, though, and I think they will be willing to stay more true to the franchise roots as Renegades goes forward.
Comments from the producers during JoeCon (which I recapped pretty thoroughly here) indicate that they are taking this property seriously, and this is something that is very important.  It was obvious from the start that Sigma 6 was just tossed together rather haphazardly, just hoping it would catch on…but I really think Hasbro and The Hub are planning on building the brand around the Renegades animation, and that's a good thing.
Something good is coming at SDCC this afternoon…  I think if anyone wants to jump on the Renegades bandwagon, they may want to do it soon.  As of 2:00pm Pacific (5:00pm Eastern) I imagine it might end up getting a lot fuller.