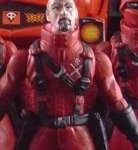 A short while ago, I paid tribute to a new run of Devils' Due era Red Shadows parts that Tri-Gate Creations was pre-ordering, because I thought they had the potential to be pretty cool.  Well, I've since gotten some of the actual parts in my hands, and I am truly amazed.  The sculpting and detail is absolutely phenomenal.
However, I didn't want to post too much about them until I had a chance to get some paint on them, and I haven't yet had time.
heretic, over on The Terror Drome, though, has had time, and posted a small sampling of his updated Red Shadow army right here.  And damn does it look nice.  I swear these things fit in seamlessly with the modern era G.I. Joe line, and I absolutely gotta get some time to put some of these figures together.  Fantastic work by Tri-Gate getting these out there, and equally great work by heretic already putting together a nice squad of the Devils' Due Shadows.  Really love what I'm seeing here.
A big thanks to Jamar Miller for pointing this out to me as well.

no images were found