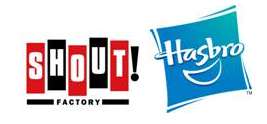 G.I. JOE: A REAL AMERICAN HERO- THE MOVIE
SPECIAL COLLECTORS EDITION
2-DISC BLU-RAY™ + DVD COMBO PACK
and SINGLE DISC SPECIAL COLLECTORS EDITION DVD
featuring new transfers from hi-def masters, extensive bonus content, the special collectors edition fills the final placeholder inside the g.i. joe: a real american hero – the complete series deluxe footlocker case 
IN STORES NATIONWIDE JULY 27, 2010
FROM SHOUT! FACTORY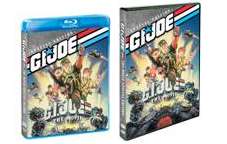 After countless defeats at the hands of the G.I. JOE team, the ruthless COBRA organization has taken a drastic leap towards global domination by joining the ranks of the ancient race of COBRA-LA. When DUKE falls in the line of duty, it's up to SGT. SLAUGHTER, LT. FALCON, SNAKE EYES and the rest of the G.I. JOE team to prevent SERPENTOR, DESTRO and COBRA-LA's GOLOBULUS from releasing a deadly spore into the Earth's atmosphere and devolving the human race.
On July 27, 2010, the original animated G.I. JOE: A Real American Hero – THE MOVIE that has been long out of print will finally debut for the first time in a 2-Disc Blu-ray + DVD combo pack as a Special Collectors Edition from Shout! Factory, in collaboration with Hasbro, Inc.  Featuring the voice talent of Don Johnson, Burgess Meredith, SGT. SLAUGHTER and fan favorites Bill Ratner, Michael Bell and Chris Latta, G.I. JOE: A Real American Hero – THE MOVIE Special Collectors Edition 2-Disc Blu-ray + DVD combo pack contains exciting bonus content including fan-favorite PSAs, printable screenplay with the original movie ending, and audio commentary. The Blu-ray + DVD combo pack edition also offers viewers an exclusive option of viewing the animated movie presentation in widescreen.  G.I. JOE: A Real American Hero – THE MOVIE Special Collectors Edition is the final installment to complete last year's G.I. JOE: A Real American Hero – The Complete Series DVD box set. The Special Collectors Edition
Blu-ray + DVD combo pack is priced to own at $26.97 and the single disc Special Collectors Edition DVD is available at $16.97 SRP.
G.I. JOE: A Real American Hero – THE MOVIE Special Collector's Edition
Synopsis
A 40,000-year-old race of snake people resurface, and with help of SERPENTOR, DESTRO, BARONESS and DR. MINDBENDER, they plan to eliminate all of mankind and rebuild COBRA-LA. Once rulers of Earth, the Snake people were driven underground by ice-age temperatures. While in exile, they developed a plant whose spores turn ordinary men into mindless, weak animals. The key to their plan is the G.I. JOE team's secret project – the Broadcast Energy Transmitter. Only this device generates enough heat so that the spores can mature. Humankind's very existence depends on the G.I. JOE team, but are they strong and smart enough to fight a warrior race with 40,000 years of experience?

BONUS FEATURES AVAILABLE SPECIAL COLLECTORS EDITION:
Audio commentary with story consultant Buzz Dixon
The final 8 "Knowing Is Half The Battle" PSAs that were not on the G.I. JOE: A Real American Hero – The Complete Series DVD box set.
Original Printable Screenplay –this script was written prior to DUKE's miraculous recovery and, thus, DUKE is dead.  The script was not altered from this version on paper, but the audio session had an added line where Duke was going to survive the attack.
Art gallery
Blu-ray + DVD Combo Pack Exclusive: Optional 16×9 Widescreen and 4×3 Full Frame Presentations

#          #          #
About HASBRO
Hasbro, Inc. (NYSE:HAS) is a worldwide leader in children's and family leisure time products and services with a rich portfolio of brands and entertainment properties that provides some of the highest quality and most recognizable play and recreational experiences in the world. As a brand-driven, consumer-focused global company, Hasbro brings to market a range of toys, games and licensed products, from traditional to high-tech and digital, under such powerful brand names as G.I. JOE, PLAYSKOOL, TONKA, MILTON BRADLEY, PARKER BROTHERS, CRANIUM and WIZARDS OF THE COAST. Come see how we inspire play through our brands at http://www.hasbro.com.  © 2010 Hasbro, Inc. All Rights Reserved.
About Shout! Factory
Shout! Factory is a diversified entertainment company devoted to producing, uncovering and revitalizing the very best of pop culture. Founders Richard Foos, Bob Emmer and Garson Foos have spent their careers sharing their music, television and film faves with discerning consumers the world over. Shout! Factory's DVD offerings serve up classic, contemporary and cult TV series, riveting sports programs, live music, animation and documentaries in lavish packages crammed with extras. The company's audio catalogue boasts GRAMMY®-nominated boxed sets, new releases from storied artists, lovingly assembled album reissues and indispensable "best of" compilations. These riches are the result of a creative acquisitions mandate that has established the company as a hotbed of cultural preservation and commercial reinvention. Shout! Factory is based in Santa Monica, California. For more on Shout! Factory, visit www.shoutfactory.com.