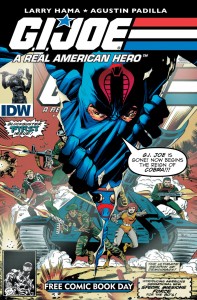 Comic Book Resources had a chance to speak with Larry Hama about the upcoming IDW continuation of the Marvel G.I. Joe: A Real American Hero comic, and as always, Hama's take is a unique one regarding the title's relaunch.  About his frequent returns to the G.I. Joe universe, he had this to say:
"Almost anything that has to do with G.I. Joe, I haven't instigated," laughed Hama explaining to CBR News how the project came about. 
"It's always somebody picking up the phone and going, 'Hey! How about this?' I feel much more comfortable doing the original characters, but at the same time, they've also evolved some in my head, because, hopefully, I know a little bit more about visual storytelling. The process of telling their stories changes."
Of course, CBR also poked and prodded about the Marvel universe, starting with issue #155 1/2:
"There's this interim issue in the free issue that's the Cobra setup issue," Hama said of his new story. "Cobra has created a situation of a fraudulent terror alert and created these situations that make it seem like there's a huge terrorist uprising going on [in America.] And now, Cobra has stepped forward as a civilian contractor to augment the police and the national guard. It's sort of riffing on current events. They're in a position where they've got this power that's been given to them, because basic rights have been overtaken thanks to the fear of the populous. I think it's a very real fear."
But in his typical Larry Hama style, he also injects his opinions about plot vs. characters…and it's a concept that I think he has a very unique take on.  So often I've seen characters completely changed to match a particular story.  Mr. Hama seems to take the opposite approach, morphing the story around the characters, which I think is what helps those characters be so immortal.
"You start running out of combinations after 13 years. You make a guy change sides, or a character dies. You've got to change stuff up, because it's sort of like doing a long-running soap opera, except your actors aren't aging out of the parts. The fun aspect of it is playing with the characters and what makes them tick. The plot was always subservient to the characters. I can't remember a single plot. They're not important to me. But I remember who the characters are, and if you get that down on paper, that's really the important thing. People don't walk away from it liking the plot – they walk away liking the characters. That's everything."
Of course, you can read the whole article right here.  A great read.  Thanks very much to Mysterious Stranger for the heads up.