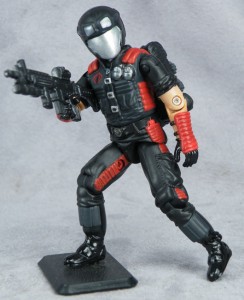 Vintage o-ring figures are become tough to come by these days, so I like to take whatever chance I can to get my hands on them.  Well, all you need right now is to be a member of the Tri-State Vipers regional message board.  Designed as a community forum for folks in the Tri-State area (New York, New Jersey, Connecticut), the boards have formed a great group of guys and girls who get together on a regular basis and enjoy the world of G.I. Joe.
Well, as a treat to members of the forum, as well as a way to earn some cash for board and site improvements, the folks at Tri-State also teamed up with NomadCustoms to produce a special exclusive figure, the Tri-State Viper!  I was lucky enough to get my hands on a pair of these, thanks to the guys over there, and I've reviewed the figure right here!
But what you really want to know…  how do you get one?  Check out the forum here, and also take a look at the guidelines below:
Please read the following rules and conditions:
* A donation of $20 is necessary in order to have a figure put aside for you. All proceeds go directly back into the board for future endeavors.
* A figure is not guaranteed until payment is sent!
* The figure is limited to one per member, while supplies last!
* You will not be guaranteed a figure until we receive your donation.
* From now until April 12th, ONLY members who have been a part of the board prior to 2010 will be able to pre-order. Starting on April 12th, the pre-orders will be open to everyone who's a member of the board.
* To purchase your figure please send a pm to crimsonguardvet76. You MUST include in the pm whether you intend to pic up the figure at the G.I. Joe convention in Rhode Island or if you would prefer it mailed to you.
* Crimsonguardvet76 will then reply with payment information and the PayPal address.
* The figures will be making their premiere at the G.I. Joe convention in Rhode Island! Members who wish to pick up the figure at the con must have first pre-ordered the figure. Payments will not be accepted at the con!
Anyone who cannot make the con will have their figures mailed out to them after the con has concluded. Shipping will be via Priority Mail (approx. $5–international rates will apply), so that shipping cost will have to be tacked onto the $20 figure fee.