As we get closer to the pre-order date, the G.I. Joe Collectors' Club has shared some more details and images of the upcoming 3 3/4″ Adventure Team figure sets, debuting at the G.I. Joe Convention in Rhode Island this April!  Check out the mirrored image of the fantastic looking Land Adventurer below, and the press release immediately following.  Of course, make certain to hit up GIJoeClub.com to see all of the images, including the Air Adventurer, Adventure Team Commander, and Dr. Venom himself!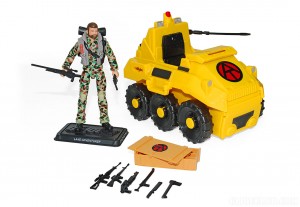 The Adventure Team 3 3/4-inch Figure Preview is here!
Fort Worth, TX – March 12, 2010 – Fun Publications, Inc., licensee for Hasbro's official G.I. Joe Collectors' Club, has released images for the all-new Club Exclusive 3 3/4-inch Adventure Team figure sets, all utilizing 25th Anniversary sculpts! Each figure comes packaged with a special accessory (vehicle, etc.) inside an "AT Mission Crate" package. Once you open the "AT Mission Crate", you'll find each figure on its own individual blister card. The first three sets are: AT Air Adventurer & Helicopter; AT Land Adventurer & 6-wheel ATV; Dr. "Venom" & AT Commander with giant man-eating plant. To check out the Adventure Team click the thumbnail to see the full preview.
These figures will be available for pre-order next week at www.GIJoeClub.com and will debut at GIJoeCon 2010 in Providence, Rhode Island.
To order these Adventure Team sets you will need to be a member of the G.I. Joe Collectors' Club. As a member you will receive a FREE Membership figure, 12 issues of the Official G.I. Joe Collectors' Club Magazine, discounts on your Convention package and more! For more information please visit www.GIJoeClub.com and for details on the Official G.I.Joe Convention please visit www.GIJoeCon.com.
About HASBRO
Hasbro, Inc. (NYSE:HAS) is a worldwide leader in children's and family leisure time products and services with a rich portfolio of brands and entertainment properties that provides some of the highest quality and most recognizable play and recreational experiences in the world. As a brand-driven, consumer-focused global company, Hasbro brings to market a range of toys, games and licensed products, from traditional to high-tech and digital, under such powerful brand names as TRANSFORMERS, PLAYSKOOL, TONKA, MILTON BRADLEY, PARKER BROTHERS, G.I. JOE and WIZARDS OF THE COAST. Come see how we inspire play through our brands at http://www.hasbro.com. (C) 2009 Hasbro, Inc. All Rights Reserved.
About FUN PUBLICATIONS, INC.
For over 15 years, Fun Publications, Inc. has been a Hasbro licensee offering fans and collectors of pop culture memorabilia news, exclusive product and family events through different print offerings, websites, collector clubs and brand specific conventions such as GIJoeCon and BotCon.  Located in Fort Worth Texas, Fun Publications reaches a large audience, serving the United States and many other countries such as Japan, Great Britain, Brazil, Australia and Canada. For more information visit www.TransformersClub.com, www.GIJoeClub.com, www.GIJoeCon.com, and www.BotCon.com.