A few days ago I posted the Preview listings for IDW G.I. Joe related product, but now we have the full blown solicitations, courtesy of JoeReloaded.com.  Click the Read the Rest of this Entry link below to check 'em all out!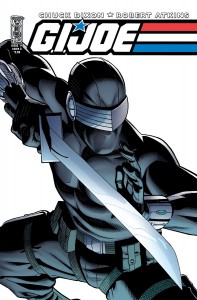 G.I. Joe #14
Chuck Dixon (w)
Robert Atkins (a)
Robert Atkins, David Williams (c)
SNAKE EYES and the Hard Master reunite as the JOE's silent bringer of death seeks the tutelage of his mentor. And a COBRA operative invades a college campus with deadly results for the JOES. The action builds as the M.A.S.S. Device moves closer to a reality!
FC • 32 pages • $3.99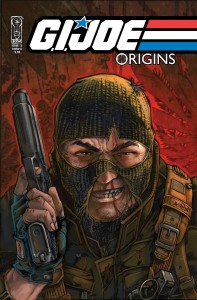 G.I. Joe: Origins #12
J.T. Krul (w)
Klaus Scherwinski (a)
Scherwinski, Tom Feister (c)
When Army Ranger Wayne Sneeden washes ashore in Guatemala with no memory of who he is, how he got there, or who shot him, putting together the pieces of his past shows him a future he never imagined—and a new name to go with it: BEACH HEAD!
FC • 32 pages • $3.99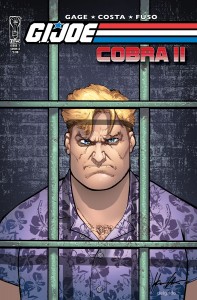 G.I. Joe: COBRA II #1
Writers: Mike Costa, Christos N. Gage
Artist: Antonio Fuso
Covers: Fuso, Howard Chaykin
CHUCKLES is the only man alive to have successfully infiltrated COBRA… and he's M.I.A. Has he been killed? Defected?Gone rogue to fight a one-man war against the enemy? None of these alternatives are acceptable to GENERAL HAWK. He wants CHUCKLES back with G.I. JOE, so he's sending a new Joe to retrieve him. But what she finds may be worse than anyone could have imagined… Also, get a deeper look inside COBRA than ever before, as TOMAX, XAMOT, and Erika continue to feel the effects of the previous miniseries, and several COBRA operatives are introduced for the first time in an IDW book!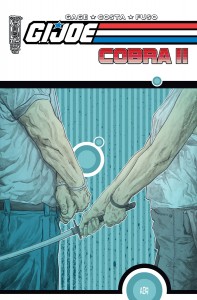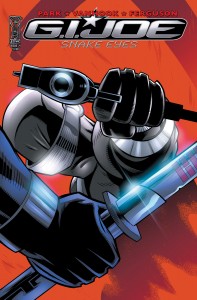 G.I. Joe: Snake Eyes #4
Ray Park
Kevin VanHook (w)
Lee Ferguson (a & c)
Having returned to the village where he trained with the Arashikage Clan, SNAKE EYES uncovers the true identity of the murderer who had stolen his identity! Now Snake Eyes must take the battle to holy ground as he confronts a demon from his past—and watches the world around him go up in flames!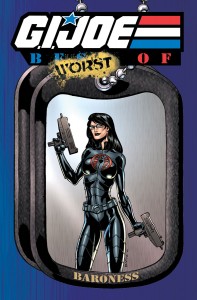 Best of the Baroness Trade Paperback
Larry Hama (w)
Frank Springer, Rod Whigham (a)
Andrea DiVito (c)
Collecting the most incriminating moment of G.I. JOE'S BARONESS, this volume focuses on the Baroness, COBRA'S most seductively evil intelligence officer and lieutenant to Cobra Commander himself.
TPB • FC • $19.99 • 144 Pages • ISBN: 978-1-60010-587-6