Like the Rise of COBRA, the November 3rd date has floated around for G.I. Joe: Resolute for a while now, and TVShowsonDVD.com has confirmed this information with Paramount and Hasbro reps.  Unfortunately, this news comes at a price…  apparently, G.I. Joe: Resolute will NOT be available on Blu-Ray.  Crap on a stick.
There are some interesting tidbits about release, included in post on the site below:
This past Friday we had the heads-up that the 2009 [adult swim] animated series G.I. Joe: Resolute would be coming to DVD on November 3rd, per advance listings (now both offering discounted pre-orders) at Amazon.com (USA branch; $19.99 SRP) and Amazon.ca (Canadian branch; CA$22.99 SRP).
Today Hasbro and distributor Paramount Home Entertainment confirmed this info, verifying the release date and offering new details about the content. This single-disc release has all 11 installments, which were just 5 minutes each plus a double-length finale (it was originally designed for web delivery, before being picked up for episodic broadcast). All 60 minutes are included on this DVD, plus "exclusive missing footage" according to information the studio provided to retailers today. Video is listed as full screen.
Additional information was found and posted by Brenden Fletcher at The Blu-ray Blog, who begins by lamenting that this release will NOT be available in the Blu-ray format. Brenden's obviously a fan of the production, and liked it better than the theatrical film (which comes to home video on the same release day). He passes on that the audio for G.I. Joe: Resolute will be in Dolby Digital English 5.1, and that bonus material will consist of a "Now You know" Teaser Promo, Interviews with the Filmmakers, Storyboards, and the "JOE Files". Brenden tells us this info came from a press release, which somehow missed coming to our in-box, we suppose.
But we DO have a look at what might possibly be the cover art for this release. It's an early, small (and fuzzy) peek at what may only be some temp art that the studio put in the retailer info, or it could possibly be the front of the actual box. Keep in mind that this may NOT be it, and that even if it is, there could still be changes. But we're going to go ahead and share it with all of our excited readers nonetheless: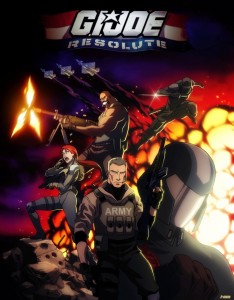 G.I. JOE: RESOLUTE (DVD) DETAILS
(Available for Pre-Order at Amazon.com)
(November 3, 2009 – MSRP $19.99)
Video: MPEG 2 "Widescreen"
Audio: Dolby Digital English 5.1
Special Features:
• "Now You know" teaser promo
• Interviews with Filmmakers
• Storyboards
• JOE Files