In case anyone's not aware…I'm sure you may have noticed there haven't been any real updates to the front page in a few days.  I've been a little bit busy…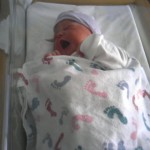 At approximately 12:53am yesterday, my wife gave birth to a happy, healthy little girl named Allison.  She weighed in at 7 lb, 10 oz and everyone is doing great.  We are now back home and I've got 2 weeks off, so expect more site stuff than you could ever want.  :shifty:
Well, probably not THAT much site stuff, I am spending as much time as I possibly can with the new addition and the rest of the family, but I've gotten some Rise of COBRA stuff that I haven't reviewed yet, and I've got a few other neat things to cover, so things should pick back up.
Yo Joe!