ComicsContinuum has posted the September Solicitations for IDW comics here, the information for Joe releases during that month is posted below.
G.I. JOE: COBRA SPECIAL #1
Written by Mike Costa, art and covers by Antonio Fuso.
Spinning out of the red-hot thriller G.I. Joe: Cobra, this one-shot follows up on the series' surprise reveal and focuses on our big bad guy (or is that multiple bad guys?). By the same creative team as the original mini!
32 pages, $3.99.
G.I. JOE: ORIGINS #7
Chuck Dixon, art by Alex Cal, covers by Cal and Tom Feister.
Why did Mainframe go AWOL in the first place and vanish to where the Joes could never find him? Get the whole backstory on what's going on with the G.I. with the I.Q. while his adventure with Snake Eyes is going on the pages of the current issue of G.I. Joe's monthly series.
32 pages, $3.99.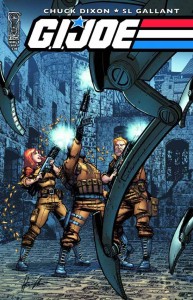 G.I. JOE #9
Writen by Chuck Dixon, art by SL Gallant, covers by Howard Chaykin and Robert Atkins.
The Joes invade Castle Destro only to find no one home but the biggest, baddest killer robot ever and the encounter turns deadly for the team. We also pay a visit to the ultra secret Section Zero — COBRA's arctic lair where Destro must make the M.A.S.S. Device perform or die. And Mainframe and Snake Eyes on a road trip to — Springfield?
32 pages, $3.99.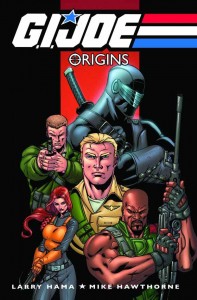 G.I. JOE: ORIGINS, VOL. 1
Written by Larry Hama, art by Mike Hawthorne and Tom Feister, cover by Andrea DiVito.
The origin of G.I. Joe! An historic story arc written by the returning legend Larry Hama, chronicling the forging of America's most elite fighting force and revealing for the first time how these wildly different characters formed an unbeatable team! Join Duke, Hawk, Stalker, Scarlett, and Snake Eyes as they become real American heroes.
132 pages, $19.99.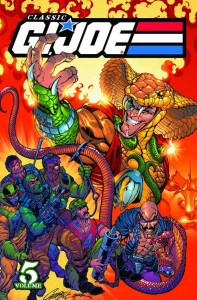 CLASSIC G.I. JOE VOLUME 5
Written by Larry Hama, art by Rod Whigham, cover by J. Scott Campbell.
Larry Hama's original G.I. Joe saga continues with another ten-issue installment! Witness Cobra's continued manipulation of the Joe, Destro captures a squad of new Joe on a training mission, Snake Eyes and Storm Shadow seek revenge against Zartan, and much more.
236 pages, $19.99.