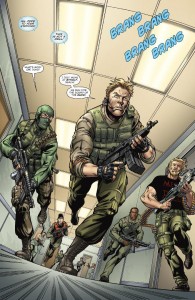 The fine folks at IDW and JoeReloaded bring us 5(ish) page previews of both G.I. Joe #3 and the G.I. Joe: The Rise of COBRA Movie prequel #1 (featuring Duke).
G.I. Joe: The Rise of COBRA Prequel #1
My first reaction?  G.I. Joe #3 looks pretty cool…  Atkins does a nice job with the art, great flow to the action, nice dialogue by Dixon (Hawk's somewhat cliche'd "come get some" not withstanding).  Love Hawk being on fire…good stuff.
The Rise of COBRA prequel seems neat, too.  More basic military action, a step away from the future-war sci-fi stuff that the movie seems to be going for.  Ripcord and Duke together on a fairly standard jungle op.  Fairly standard from an art perspective, but it works well enough, and the story flows, even without a whole lot of action.  Not bad, and I'm happy to be kind of moving into the movie universe.
Thanks to Phil Kost from JoeReloaded for the heads up.