Zap
If I've done nothing else over the past several years spewing my opinions to whoever will listen, it's accentuate the fact that, to me, G.I. Joe is not about your standard military operations.  Basic troops in green uniforms really do nothing for me, I'd prefer the later yeared beefed up modernized troopers that may have some bright colors, but also have some exciting tooling and more interesting personalities.  I will confess right now that I have very few real opinions on the Original 13.  I appreciate their place in history, and love the characters that Hama interjected into figures that were produced much the same way, but honestly, none of those figures really resonate with me.  Sure, the characters are immortal, but their plastic visions just don't excite me.
So how strange is it that my favorite G.I. Joe 7-Pack figure (and second favorite figure in the pair of 7-packs) is a modernized version of a standard "Greenshirt" Original 13 rehash?  That seems pretty out of character to me, but here it is.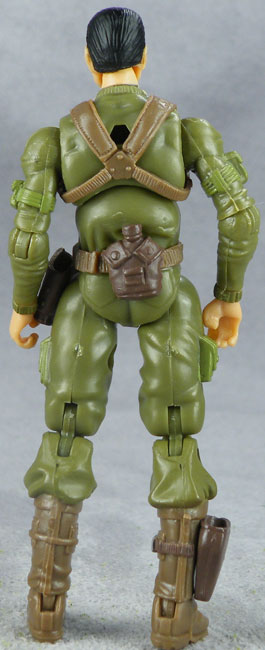 In pretty much every way possible, this version of Zap is better than the version we got in 1982.  He uses a lot of existing parts from previous Anniversary figures, most of them homages to the original 13 as it is, but has enough new energy injected into them that the figure really feels "new", even if it's anything but.
His head sculpt is a nearly perfect rendition of Zap, with the familiar pencil moustache and a skin tone that actually looks Hispanic.  The torso and arms are both re-used, but generic and functional enough to work flawlessly here, too.
But where Zap gets interesting is with his new belt and new upper legs, which adds some "beef" to what could have been a scrawny figure, and gives Zap some nice flair with a hip holster and a canteen in the back.  The canteen does interfere a bit with the backpack, but beyond that minor quibble, I love seeing the extra gear on the figure, it separates him a bit from some of his Original 13 cohorts.
Zap comes with a bevy of accessories that are all really cool, to boot.   They're fairly reminiscent of what he came with back in the 80's, but with some neat new twists.  His bazooka is pretty standard, but it breaks into two separate pieces (though I'm not entirely certain why).  His backpack is designed like the vintage version, but the missiles are all removable, and then fit into the barrel of his bazooka.  It all works together really well.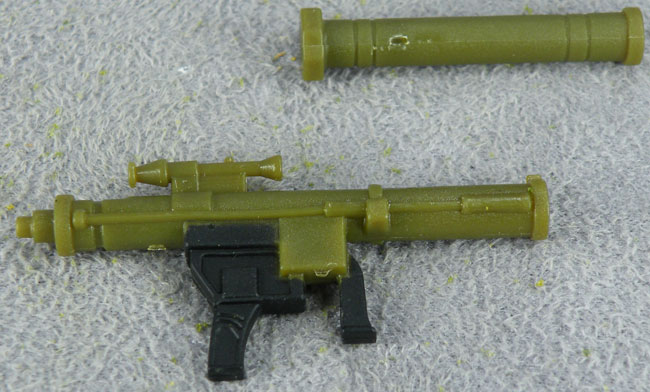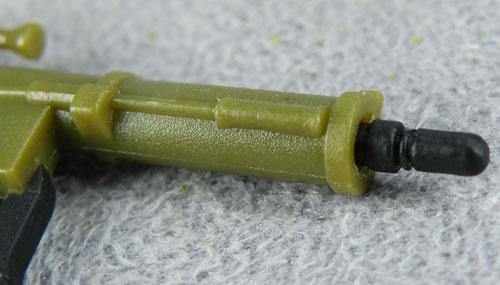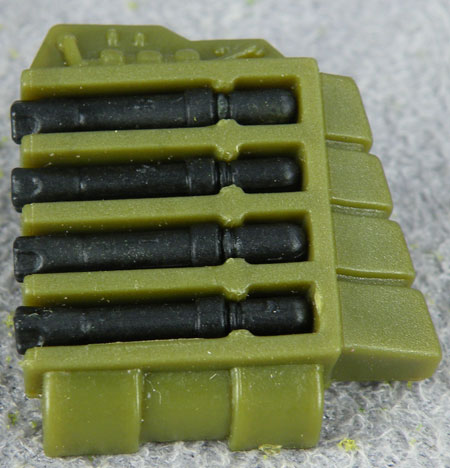 Lastly, he's got his trusty green helmet and two pistols, one for each holster.  The holsters are both terrific, nicely streamlined, but very functional.  I never would have figured Zap as a "John Woo" type, but it's a cool touch, and it makes sense for someone with such a limited source of ammunition for his primary weapon.  He's gotta have back ups.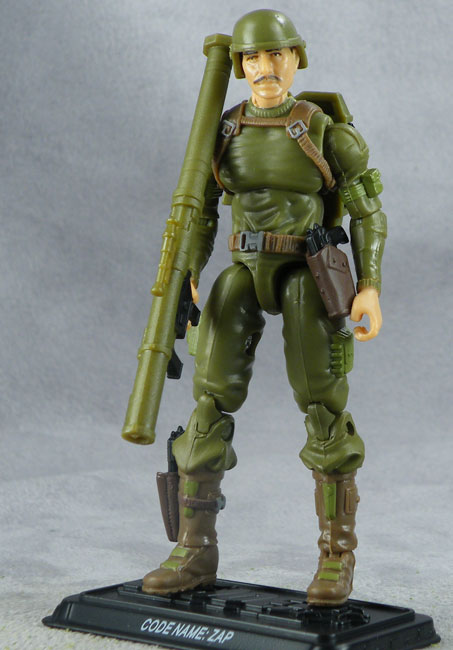 Zap is fantastic.  Simply fantastic.  For a relatively bland figure in basic brown webgear with a straight-edged green suit, just about everything that this figure does, it does exceptionally well.  He comes in just behind the Range-Viper as one of my favorites in these two 7-Packs, and is really a marvelous example of what Hasbro was capable of with modern sculpting and design.
Buy this set at Big Bad Toy Store!
GRADE: