Wet Suit
When word started leaking out earlier this year that the fate of the Anniversary line might not let it linger until the movie took over, the fandom was in hysteria, as they tend to be. Before we'd even gotten glimpses of the movie stuff, we were writing it off, and lambasting Hasbro for these shameful decisions. Well, at Toy Fair we got a pretty great surprise. Yes, Hasbro was moving on from the Anniversary product, but they would be flooding a ton of fan favorite figures into a pair of 7-packs, telling the story of an invasion of COBRA Island. Most of the figures in these packs were taken from other sets that would never see the light of day. Wet Suit, rumor has it, was originally slated as a comic pack release "Scuba Duke" figure, teamed in a pack with Lamprey. Does the figure work, now re-purposed as Wet Suit? To a certain degree, sure, but it could be a bit better.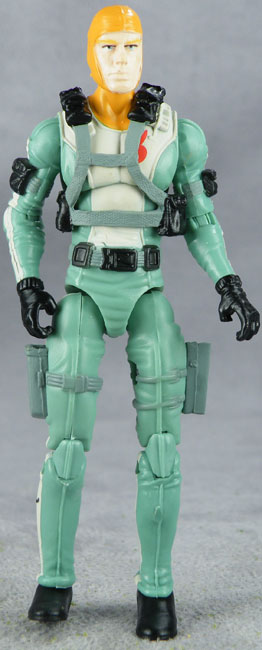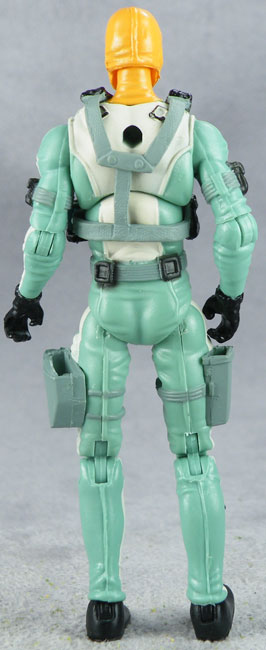 As most of the underwater themed figures are in this line, Wet Suit is built up off of the Torpedo tooling, with a new head. Now it seems obvious to me that this new head was originally the same head as the Scuba Duke figure, because...well...it looks like Duke. Ultimately that's a minor point, since the hair is covered, and you can put the mask on him, but Duke is the first guy I think about when I look at this unmasked head.
If budget and time hadn't been issues, I'd like to think we'd get the trademark curly-haired version of the Joe Navy SEAL, complete with an accurate helmet. But, as we all know, the toy world ain't perfect, and sometimes we take what we can get.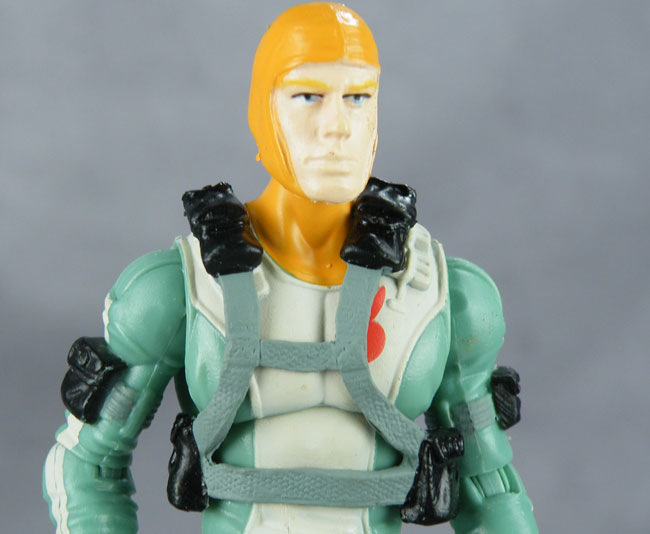 Obviously the tooling works well. As Torpedo was, Wet Suit is...in...well..a wet suit, so the choices of parts make perfect sense, though some taller boots and bare forearms would have topped things off nicely. The coloring is very nice, matching the vintage version well and adding some nice splashes of trim where appropriate. He's even got the trademark dolphin patch on his chest, which is pretty neat.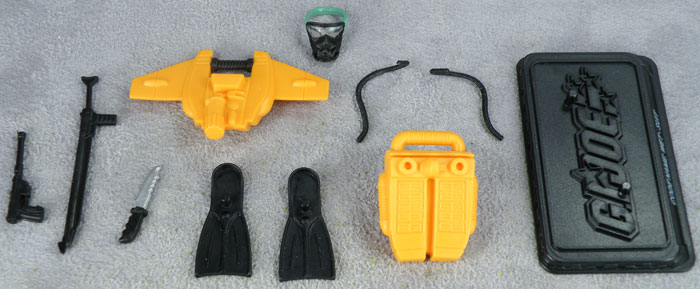 Wet Suit comes with all of his trusty accessories, mixed in with Torpedo's awesome silenced pistol, speargun, and knife, so we kind of have the best of both worlds. Well, we would, if we got a removable Wet Suit helmet, but instead it's just the Torpedo facemask that we've seen several times before. I do like that they retooled his backpack somewhat so the hoses fit the inside of it...that is a nice touch.
I also really like the webgear, though it doesn't appear to be removable. It's become obvious at this point that the scuba Duke figure was intended as a tribute to Wet Suit all along, so it wasn't really a big stretch to convert him into this figure after the fact.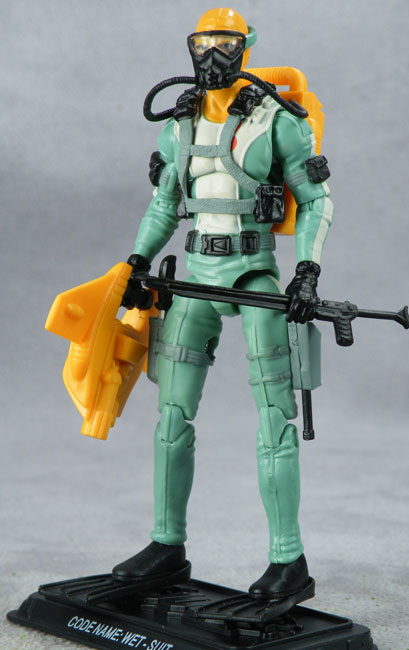 As the Joes said in the Sunbow days "he's not perfect, but he'll do okay". It's not a 100% accurate vintage Wet Suit, but it's pretty damn close, and using such a great base figure, he's got no real articulation problems or structural issues. His weapons are good (with the exception of the missing helmet) and everything comes together fairly well.
Nothing here blows me away, but the figure is nice. I'm sure any vintage fans reading this probably already have this set in hand or in the mail, but if not, I recommend it. Forty bones for 7 figures (including shipping!) is a great deal these days, especially since a couple of 7-packs immediately fill a lot of holes in folks "favorites" lists.
Buy this set at Big Bad Toy Store!
GRADE: