Burnout
|
Gnaw
|
Road Pig
|
Thunder
|
Zandar
|
Zanzibar
|
Zanya

Disclaimer - The weapon layout is kind of a mess, so I did the best I could with what I had. I had to make some choices about which accessories belonged to which figures, your mileage may very.
Zanya


There are times when I just have to sit back and think at not only how many different iterations of G.I. Joe there have been over the past 10 years alone, but I also can't help but reflect on how many are so casually tossed aside and rendered irrelevant. Many of them quite unfairly.
To many of us, the Devils' Due universe and the new sculpt era will be forever linked, and I think that remains true for the bulk of the fandom. The only issue is, most of the fandom is so ingrained and fixated on the "modern era" of G.I. Joe, they just casually push aside the 2002 - 2006 years, which is quite unfortunate. Yes, Devils' Due had their share of struggles putting the G.I. Joe universe down on a comic book page, but they had plenty of successes as well, and as I look back upon their era, I often wish we saw more of their influence throughout the toy world.
Well, as I open this 7-Pack, my dream is answered. Not only did we get a Devils' Due era Zanya figure in this box, but we got one hell of a Devils' Due era Zanya figure. It is truly awesome.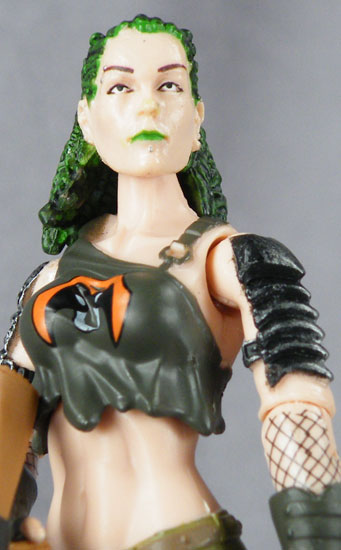 Now, of course this being a Big Bad Toy Store exclusive 7-pack, we're not going to see new tooling galore for any of these figures, but the Hasbro design team is certainly optimizing their opportunities here. Using Zarana's torso and arms, but with what look to be the Rise of Cobra Cover Girl's legs, Zanya almost perfectly resembles her Devils' Due appearance. Her familiar Dreadnok logo t-shirt is immediately recognizable, and even has that trusty "FOR LIFE" on the back, which brings a smile to my face.
Weathering throughout the shoulder pads is done exceptionally well, and even just the simple brown pants works. But obviously the shining point of this figure is the head sculpt. That fantastic, extremely detailed head sculpt. With her hair pushed back in bushy dreadloks, and individual piercings visible throughout her face, I am left astounded at the level of detail and craftsmanship of this figure.
Well done.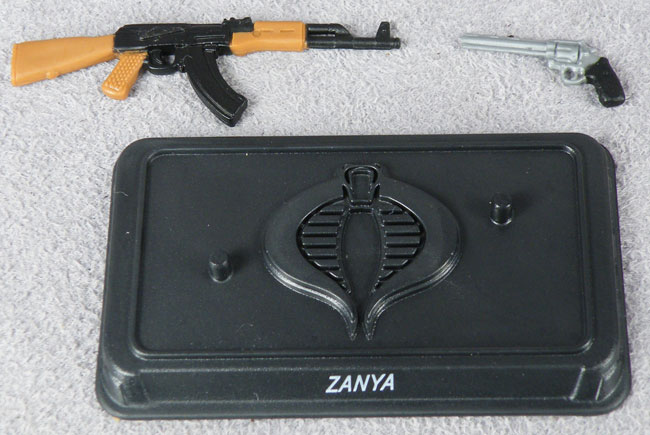 Unlike many of the Dreadnoks, Zanya wasn't well known for very unique destructive instruments, so this figure merely comes with an AK-47 and Magnum revolver, but I can't think of any reason why she should come with anything else. She doesn't require anything extraordinary and the figure works perfectly as is.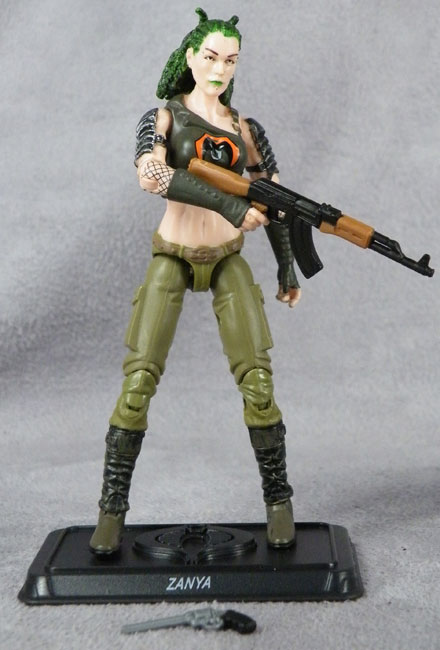 Yes, for many Joe fans in the early 2000's, Zartan officially had a daughter. Many characters were thrown in here and there throughout the run of Devils' Due product, but Zanya was one that really caught on, and I cannot properly express how happy I am that Hasbro thought to include her in this set. Like the new sculpt era and Sigma 6, the Devils' Due comic series is often unfairly cast aside, and I would absolutely love to see Hasbro explore more designs and inspirations from that universe going forward. The Coil anyone?
GRADE:







Pre-Order this great 7-Pack at Big Bad Toy Store now!