G.I. Joe Sky Sweeper w/ Sgt. Airborne
A guest review by "Morgardee"
Toy name: Sky Sweeper w/ Sgt. Airborne
Assortment: Valor vs. Venom Bravo Vehicle
Price: MSRP $14.99
Availability: September, 2004
Key Features
- Sgt Airborne figure included
- Detachable Cobra pod
- Wings fold out to reveal firing rocket launchers
- Sound attack features
- Landing gears raise and lower
- Cockpit opens to seat one figure
- Wings extend out the back of the jet
First of all, a note about this review:
Since these sets are being released in Canada right now, and I always strive to have the newest reviews up as quickly as possible (and no one will buy them and ship them to me... ;) ) I have enlisted the aid of a brother to the north in this review. He goes by the name of Morgardee on several different online Joe recreation areas and was nice enough to take some serious time out of his schedule to do these reviews and pics up for me.
Never content to let someone totally speak for me, I'll be adding my .02 in italicized text sprinkled throughout, and will try and preface it with an "Editor's Note". I feel pretty comfortable putting my opinions in here and there, since I've had time with the original Sky Sweeper and with the Jungle Strike prototype, so I do have some first hand knowledge of both vehicles. As Morgardee covers what he sees in front of him, I'll add my thoughts in afterwards, and hopefully link back to my earlier reviews to try and show my points.
Enough rambling, though...on to the review:
Basically this vehicle looks to be very similar to the version released in 2003 with the Spy troops theme but done in black with white landing gear wheels and a gray cobra flight pod. MIB collectors should like the box it comes in. It has a nice clear shell that shows the side, front and back, which will serve very well for display purposes.
Editor's Note: From the pictures I've seen, these colors seem like a somewhat mixed bag when compared to the older version. While the overall black shade seems darker and more consistent than the last version, the white landing gear and trim looks pretty out of place. The dull gray Spy Troops rocket looks very cool, and in general the changes, I think, are mostly for the better.
Design and Playability
For anyone who bought the 2003 Sky Sweeper Jet this is basically the same jet except it is a deep shade of black.
The cockpit opens to seat one figure. The tail fins slide back so that the top of the Jet's wings can fold out to reveal 2 rocket launchers, one on each wing. The landing gears move up and down and there is a small Cobra flight pod that hides within the bottom of the Sky Sweeper.
There is also a white rocket that attaches to the sound attack port, which looks rather silly since it's white while the rest of the Jet is Black.
The overall design of this toy is fair. It's a bit small for a stealth jet but not horrible, but the black looks really good. The oddest thing about this jet is the fact that it says "Ace" on the side of the cockpit, yet comes with Airborne.
Editor's Note: Design-wise, there are zero differences that I can see between this vehicle and the last (reviewed here). Hasbro quite obviously used the F-117 Stealth Fighter as a basis for this vehicle, which is a terrific idea, since it is a very futuristic/elite looking aircraft; something the Joes would definitely be using.
Of course, huge liberties were taken with the scale/size of the thing, but I don't see that as much of an issue as some folks did originally, and I'm sure some folks still do. The plane still looks realistic at this size as a single-person recon vehicle, and I really love the Spy Troops gimmick in it, too. I can imagine the Sky Sweeper cruising at low altitude in the trees over COBRA Island, evading radar and dropping a spy down behind enemy lines. It works for me. Add to this the extending wings with hidden weapons, and it does appear to be a state of the art Joe battle wing when the time is necessary, too.
So...this is all fine and dandy...yet, this was all fine and dandy over a year ago when the plane was originally released. Do we need a new Sky Sweeper? Especially one in such a similar color scheme featuring a gimmick that is now nine months out of date? I don't think it's necessary in the least. Perhaps these planes are showing up in the new movie, which is why there's a need to re-release them...who knows, but I'm not really crazy about it. Not only is this vehicle a re-release, but the added bonus of the figure does nothing to add appeal to the overall package. The black/gray Sgt. Airborne is okay, I guess, but nothing to write home about.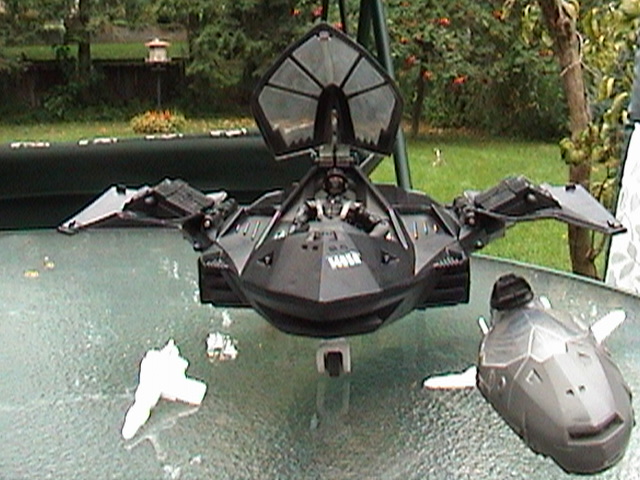 Electronic Features
Editor's Note- There are no real electronic features to discuss in regards to this vehicle. As far as "gimmicks" go we have the Spy Troops launching drone/aircraft, which is fine for what it is, and doesn't take anything away from the exterior of the vehicle, which is always good.
Figure and Accessories
Sgt. Airborne looks good in Night Force colours. It suits the whole stealth idea behind this jet. He comes with the Copperhead helmet that this mold originally had when it came out with the Tele Viper but no side arms. He really looks good in the cockpit of this jet.
Editor's Notes: I'll side with Morgardee here and say that having this figure in Night Force colors does make sense. I'm very glad to see that he's in black and dark gray rather than black and silver as some earlier pics made him out to be. Still, I'm not sure a black paratrooper is enough of a draw to re-purchase what is essentially the same vehicle. I guess it's nice that they were able to re-work the financing enough to be able to add a figure to this Bravo set, but personally, I don't feel the need to see this vehicle re-released.
I do like the look of the black Copperhead helmet, too...it serves a purpose beyond just a Spy Troops gimmick, and I like it's overall appearance.
Final Comments
It's a fair looking jet. Not amazing but no bad either. For the price it's O.K. I have seen better planes, I have seen worse. If you missed getting the Sky Sweeper in 2003 then this is worth picking up. The use of Airborne was a nice choice for this vehicle.
Weak points on this jet is it's a bit small for a stealth Jet, the landing gear and sound attack rocket are bright white while the rest of the plane is black and the fact it says "Ace" on the side of the cockpit when it comes with Airborne. I also noticed the stickers on the tail fin are peeling a bit and I've only had it open for 2 days.
Editor's Notes: I agree with this assessment completely. If you have the original Sky Sweeper, you are missing nothing here except a black Airborne, which isn't really anything tragic. If you don't own the original, you may want to consider spending $15.00 on this set, but personally, I'd rather pay double the cost and get myself the fantastic Thunderwing.
As a support craft for the main backbone of the Joe air force, this does work...but it should not be the sole focus of your Joe airplane squadron. Get the Thunderwing for that, and use these as stealth infiltration vehicles as they should be.
ADDED 9/21/04- I received my own Sky Sweeper- Check out Page Two for some additional pictures and addendums.
Ratings (out of 10)
Presentation: 10
Design: 7
Playability: 7
Value: 7
Overall score (not an average): 7
Editor's Ratings:
Presentation: 7
Design: 6
Playability: 5.5
Value: 7
Overall score (not an average): 6