Air-Viper
|
Alley-Viper
|
B.A.T.
|
Dr. Mindbender
|
Lamprey
|
Night Creeper
|
Range-Viper
Range-Viper
Well, this was a big surprise.  A pleasant surprise, but still a surprise.  I was never that enamored with the Range-Viper back in the day…I love the idea of a wilderness trooper, but the colors, the style…it just never seemed to fit.  For this 2009 update, Hasbro designers took the spirit of the Range-Viper and totally modernized him, making him…well…  bad ass.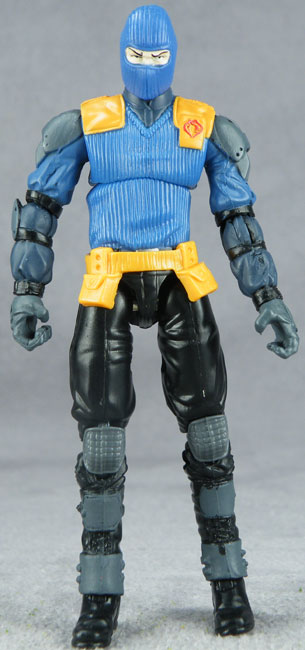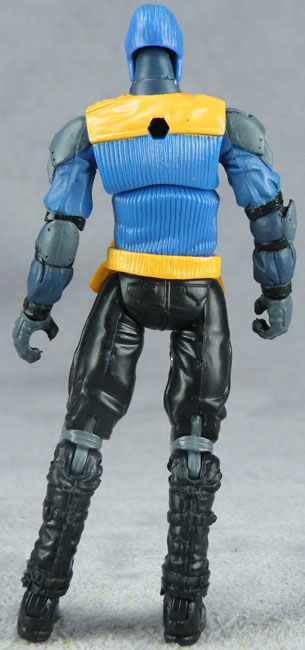 Yes, even with the baby blue, the gray, and the yellow, this is one cool as hell COBRA trooper, and if you told me this would have been my favorite figure of BOTH 7-Packs I would have thought you were nuts.  But here I am, looking at the Range-Viper, and I can't get over just how kick ass this figure is.  A lot of it stems from the bulk of the base figure being the Resolute Trooper, which is one of my favorite figures in the line, and it serves the Range-Viper purpose exceptionally well, giving us a figure that resembles the vintage version, but has some terrific improvements as well.  The balaclava head sculpt from the Para-Viper was a fantastic choice for the head, and works nicely with the DTC Range-Viper helmet.  He's got fantastic articulation and range of motion, and improves on the original in pretty much every single way.  I think if they could get him painted up in some more traditional woodland colors, he would be a home run.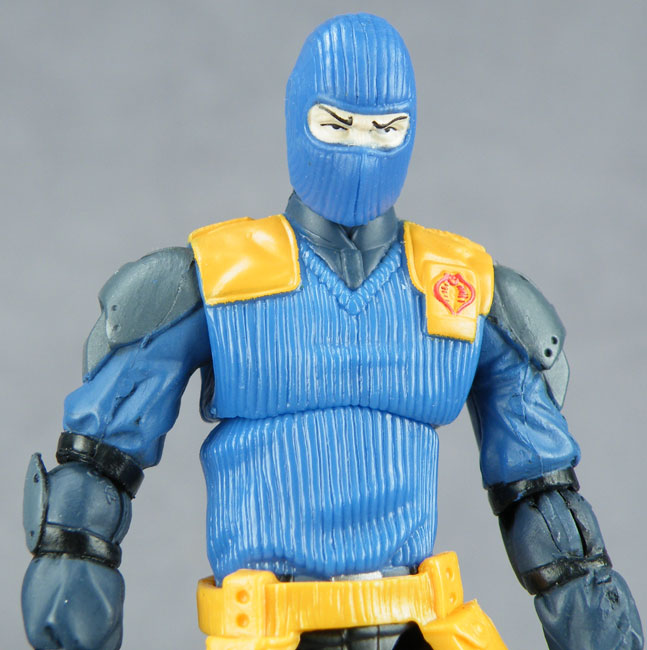 I really love the way his head sculpt and the knit commando sweater blend well together, then the elbow and knee pads all create a very cool elite trooper look and a figure that is very imposing, which, even with the skull mask, is something that I never felt with the original.  The best thing about this figure is that he fits in fairly seamlessly with a vintage homage Range-Viper, or as a heavy weapons addition to your Resolute cast of characters as well.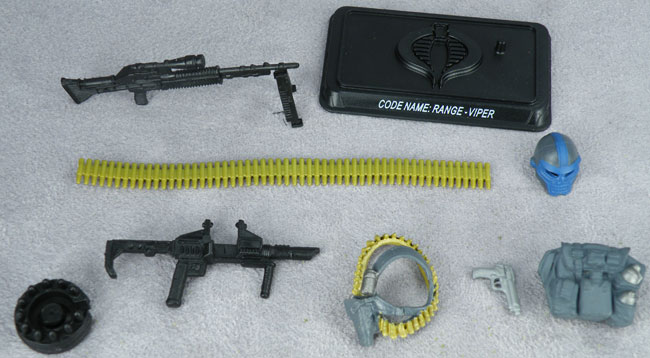 The figure comes with a bunch of cool weapons, too, which only helps things.  He's got the DTC Range-Viper helmet, which I thought was a bit cheesy at first, but works very well in the end.  He's got a fairly standard backpack repaint, which is also effective, and he comes with the familiar grenade launcher.  However, this Range Viper also has Tunnel Rat's heavy machine gun, which makes a lot of sense considering the ammo belt over his chest. Surprise, surprise, his chest belt actually has a functional holster as well...go figure. You have to wonder why, if they can do it here, why can't we get it with Chuckles or Recond? Beyond that,this is a great assortment of gear that makes sense, and makes a potentially good figure even better.
Straight off the bat, I knew I was going to love the Alley-Viper, but my love of Range-Viper took me totally by surprise.  Head to toe, this is one absolutely fantastic action figure with great gear, awesome, accurate paint apps, but with a very nice updated style.  I can't, in good conscious, recommend buying a $40 7-pack for simply one figure, but I will say, that the Range-Viper is a key ingredient in this 7-pack, and even after dropping two Andrew Jacksons, he will help aid against any buyer's remorse.
Buy this set at Big Bad Toy Store!
GRADE: