G.I. Joe Jungle Strike w/ Rollbar
Toy name: Jungle Strike Humvee w/ Rollbar
Assortment: Valor vs. Venom Bravo Vehicle
Price: MSRP $14.99
Availability: September, 2004
Key Features
- Roll Bar figure included
- Truck open with "hydraulics"
- Rocket launcher removable to be replace with one of 2 machine guns.
- Spare machine guns store in trunk
- 4 doors open to sit figures
- Spring loaded rocket launcher
- Hood opens to display engine
First of all, a note about this review:
Since these sets are being released in Canada right now, and I always strive to have the newest reviews up as quickly as possible (and no one will buy them and ship them to me... ;) ) I have enlisted the aid of a brother to the north in this review. He goes by the name of Morgardee on several different online Joe recreation areas and was nice enough to take some serious time out of his schedule to do these reviews and pics up for me.
Never content to let someone totally speak for me, I'll be adding my .02 in italicized text sprinkled throughout, and will try and preface it with an "Editor's Note". I feel pretty comfortable putting my opinions in here and there, since I've had time with the original Sky Sweeper and with the Jungle Strike prototype, so I do have some first hand knowledge of both vehicles. As Morgardee covers what he sees in front of him, I'll add my thoughts in afterwards, and hopefully link back to my earlier reviews to try and show my points.
Enough rambling, though...on to the review:
When I first saw this vehicle I knew I was going to like it. To start off with, for MIB collectors the box it comes in is perfect. It has a nice clear shell that shows the side, front and back, which will serve very well for display purposes. Once you get inside the package is when the really fun begins.
Editor's Notes: I actually has mixed feelings when I first saw pictures of this vehicle. I'm one of those folks who doesn't really care about 100% realism in my Joe figures or vehicles. Part of the draw to me of this line is the somewhat next-generation style and design of vehicles and the unusual look of the figures. The Joes of today are almost more of a superhero team than a paramilitary organization. While I don't agree with that assessment completely, and prefer a more military appearance, I don't find it necessary to get totally authentic gear for the Joes. We haven't gotten 100% authentic gear since 1982, why do we need to start now?
Luckily, the final result of this vehicle isn't nearly as bad as I had first feared. Even though this jeep is strongly based off the very realistic Humvee jeep (even licensed as such by Hasbro) they are able to add enough play value to it to make it fit in with the rest of the less-than-realistic offerings out there.
Design and Playability
The design is the hummer is fantastic. For anyone who has been skeptical about a strong science fiction influence in G.I. Joe with the whole Venom aspect, this is the perfect balance. We finally have a hummer that is with scale to the figures and looks very realistic.
The 4 tires are a soft rubber, almost like inflated tires, not like the hard tires of the old Vamp days. There are 4 doors that open for the figures to be seated with the Humvee and the interior has come a long way with a lot of detail around the steering wheel.
Once you open the trunk the first thing you see it that it has plastic hydraulics, which look really good. Also, mounted in the back are 2 machine guns, which snap into the frame and are held in place. These can be removed and be switched with the rocket launcher located on the top of the Humvee in case you want to change the look of your vehicle.
The front hood of the Humvee opens up to reveal a plastic engine. It not amazing, but it's still really nice to see. I'm sure the guys who make dio stories will get use out of this feature.
Also along the lines of a nice touch is the underside of the Humvee. It has a fairly detailed underside with exhaust system. Again, not something most people will spend a lot of time looking at but great for a mechanic scene if you want to build a dio story.
The overall design of this toy is great. It's a good size, with great colour applications. It truly looks realistic and when loaded up with figures, they don't look jammed into a random vehicle, but 4 guys seated in a military vehicle with a mission to accomplish. Also, there are no foot pegs on this vehicle, which is fine for me since I always thought figures standing on a bumper looked wrong.
The playability on this looks good. Standard jeep, but if dropped down a set of stairs something might break.
Editor's Notes: I really don't have much to add, as Morgardee has covered it all very well. I got a chance to get a first-hand look at this vehicle when I reviewed the prototype here and everything he says is pretty much spot on. What struck me first were the rubber tires...I don't remember ever getting rubber tires on a Joe vehicle before, and they work really, really well. The vehicle rolls nicely and the feel of the tires is very realistic which is terrific. Something I never thought I'd see on a Joe vehicle, but something very welcome, too.
The overall design of this vehicle is obviously very similar to the real-life Humvee, which is actually a slight disappointment. I want some fancy, unrealistic prototype futuristic vehicles for my Joes. Don't get me wrong, Joe vehicles need to have a realistic base...but as long as they have that base, I don't mind seeing some stuff that we wouldn't see in the real world. Take vehicles like the Moray Hydrofoil, Rattler, and HISS Tank. All have mixed designs...some based very much in the real world, some pulled completely from imagination...but they're all some of the best vehicles of the Joeline. All it takes is some good creativity and vehicle designers.
However, even though this jeep is quite realistic, it doesn't mean it doesn't really belong. It might blend in to the countless more authentic military lines out there from BBI, 21st Century, and even Lanard, but this vehicle separates itself from the pack with the more elaborate play features, including swapping weapons in the top turret and loads opening doors. The overall construction also seems much more suited to the infamous "rugged play" than the other items on the shelves, which seem much more oriented towards display only...you can't play with them for fear of snapping something off.
All in all, even with a very realistic product design, it works for the Joes, especially in this cool new camo paint scheme...swapping weapons and sturdy construction help things along in the playability department, and it's a very cool Bravo vehicle in my mind.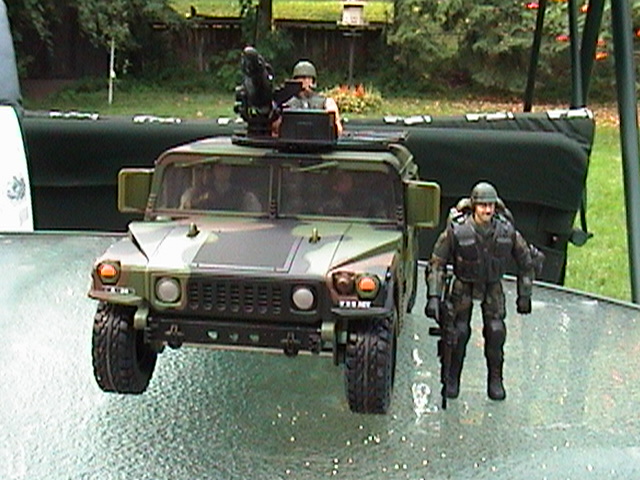 Electronic Features
Editor's Note- There are no real electronic features to discuss in regards to this vehicle. As far as "gimmicks" go we have the swapping weapons and back storage area, which actually ADD something to the usefulness of the vehicle for a change. A great change at that.
Figure and Accessories
Rollbar is a nice looking figure but in my opinion looks more like a Power Team elite figure than a G.I.Joe figure. This isn't necessarily a bad thing, just different. Again, this whole set is more realistic than a lot of the G.I Joe toys I own. He has a very thin crotch piece and rubber "skirt" around his waist. He comes with a helmet that has a removable strap and his outfit looks good, with no silly florescent colours.
Editor's Notes: I have mixed feelings on the figure. He seems almost too bland and too straight-edge military. The figure doesn't really have any personallity or any draw to him. Of course the sample I saw was an unpainted proto, so that opinion might change when I see the final version in person, but as it stands now, it's a nicely detailed figure, but just doesn't have any flash or flair to make him different or interesting.
Final Comments
One of the best affordable vehicles I've ever seen. Look great, plays well and fits in scale with a lot of vehicles. The vehicle is a nice balance for the sci-fi direction Cobra seems to be going and the character Rollbar is a welcome addition to the ranks of the Joes. I don't think anyone who buys one of these will be disappointed.
The only weak points on this are it might break faster than other jeeps of this size, but even then that is stretching it. The only way to improve it would be to paint the interior and motor, but and make the seats move forward, but that's just crazy talk!
Editor's Notes: Yeah, I have to agree. I can't recommend this jeep enough for people determined to see military authenticity in the Joeline, or for just plain Joefans looking for a cool new vehicle. It doesn't mesh 100% with other Valor Vs. Venom offerings out there, but it works on it's own merits and looks very cool when loaded with figures from any branch of the Joeline.
Do not hesitate to pick this one up, no matter what kind of Joefan you are.
ADDED 9/21/04- I received my own Jungle Strike Humvee- Check out Page Two for some additional pictures and addendums.
Ratings (out of 10)
Presentation: 10
Design: 10
Playability: 9
Value: 10
Overall score (not an average): 9.5
Editor's Ratings
Presentation: 8
Design: 9
Playability: 8.5
Value: 9
Overall score (not an average): 9