G.I. Joe: 30th Anniversary Cobra Trooper (G.I. Joe: Renegades)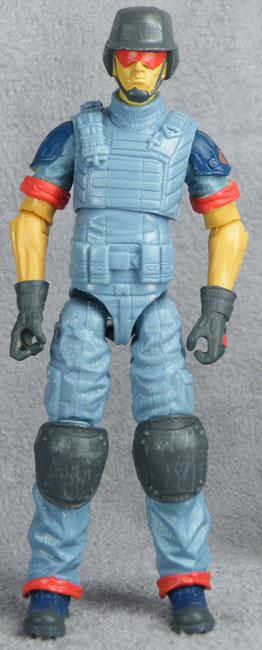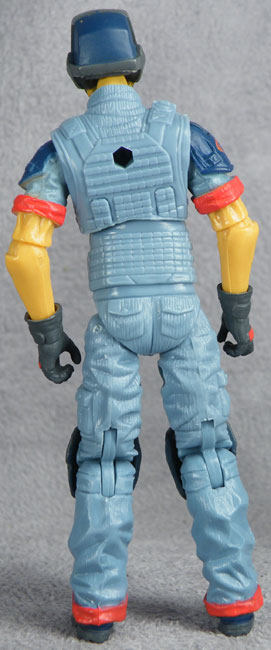 Now, maybe I just wasn't paying enough attention, but did anyone else realize that the Renegades Cobra Trooper was in fact, more or less, a Pursuit of Cobra Dusty repaint?
Yeah, me either.
You know what? I don't really care. It still looks amazing. When the G.I. Joe: Renegades series was canceled...errr... I mean put on "hiatus", I'll admit, I was pretty worried that many of the figures wouldn't be released. Thank goodness this Cobra Trooper made it out, because it is a great toy. Even with so much reused tooling, it works on pretty much every level. It's a nicely accurate "real world" version of the cartoon character, but can also be integrated into Cobra's real world cadre of troopers with little to no thought. He works fantasticly as a security force alongside the Shock Troopers.
As I mentioned the bulk of the core tooling is from the Pursuit of Cobra Dusty. His torso is very nicely sculpted and looks like layered body armor, which is a nice touch. His pants are exceptionally baggy, right in line with the cartoon. Like Hasbro has been doing, they're swapping out upper and lower legs for a slightly different aesthetic, so the Cobra Trooper does not have Dusty's lower pant legs, but the end result is still great. They match surprisingly well with the upper thighs and the figure still looks very cohesive, even with different lower legs. I cannot quite place the pant legs at the moment...they're not from the typical sources, but the end result is excellent regardless of the source material.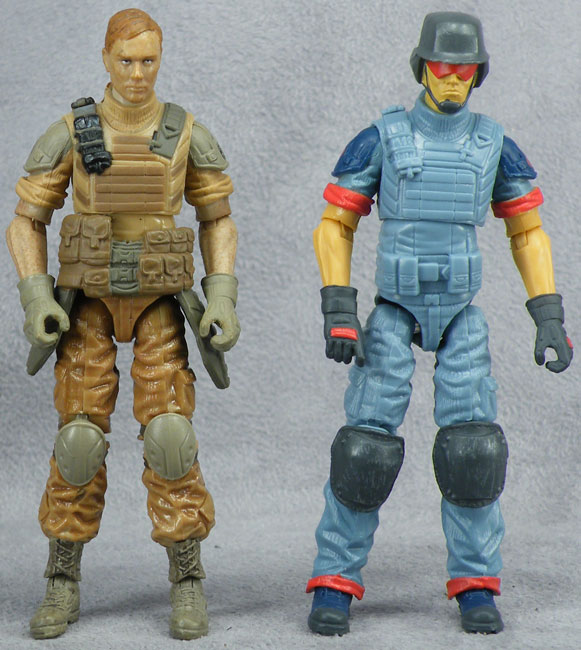 Earlier images of the Cobra Trooper showcased a somewhat grittier, more subdued color scheme, but I've grown used to the somewhat more vibrant blues and reds that we're getting with the production version of this guy. It certainly comes across a bit more animated in style, which matches the G.I. Joe: Renegades series that it is based upon.
When I took off the Cobra Trooper's vest, I was really astounded that he had Dusty's torso, and then even more surprised when I really recalled that the arms and upper legs were the Joe desert trooper's as well. This is exactly the kind of thing that Hasbro designers have started excelling at. Being able to pick and choose certain parts, and having this immense library of tooling that can be used for various different purposes really helps keep the Joe brand alive and exciting. A figure like this, which will prominantly be displayed with his vest on, it doesn't really matter what torso he has, but it's always a nice bonus when it's a very cool, well detailed, and nicely sculpted one like this. Also gives this Cobra security guy an extra layer of body armor even underneath his layered flack jacket.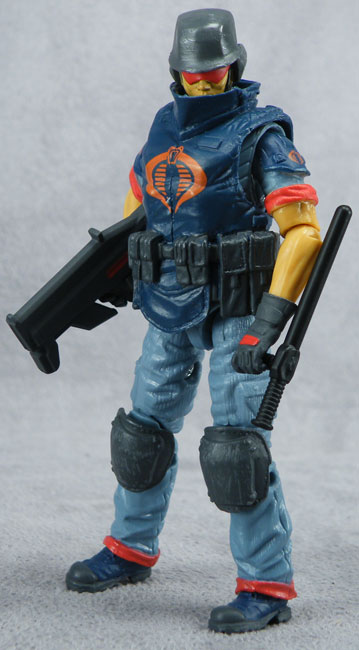 I will admit that the figure is distractingly monochrome without his vest, though. It would have been really nice to see some painted detail throughout the torso, just in case you want to display him unencumbered, but alas, he's pretty much a flat blue color from neck to knees.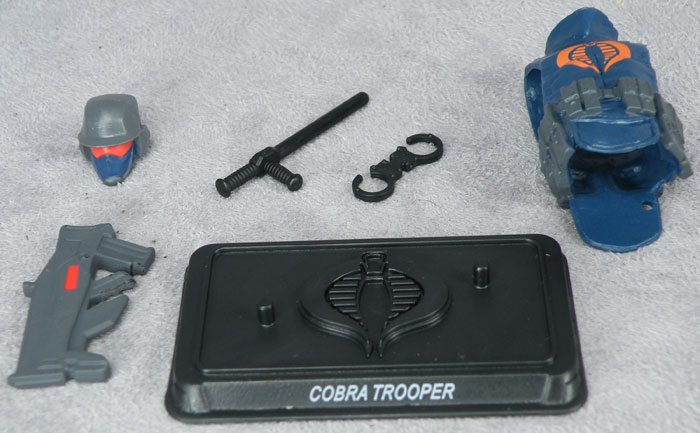 Like Scarlett, the Cobra Trooper comes with less gear than we initially first saw him with, but honestly not much. It is primarily the SWAT clear shield that has been removed, but considering I have eight of them from my squad of Shock Troopers, that doesn't hurt my feelings a whole lot. I'd much rather they remove that than the very cool extra head.
Speaking of the extra head, it's got the same helmet and goggles as the standard trooper, but is wearing a full blue facemask, I would imagine partially as a tribute to the mouth-masked Cobra Troopers of old, but also to appear a bit more battle-ready and protected. It's a very cool look.
The Cobra Trooper also comes with the same night stick and handcuffs as Law does (though since Law is Wave 4, I guess technically he comes with the same nightstick and handcuffs that the Cobra Trooper comes with). I find myself really loving the night stick. Yes, it's the little things. More than just your common billy club, it's actually slightly angular and looks cooler than a normal every day round club. I love how the handcuffs can actually fit around someone's wrists as well. Awesome touch.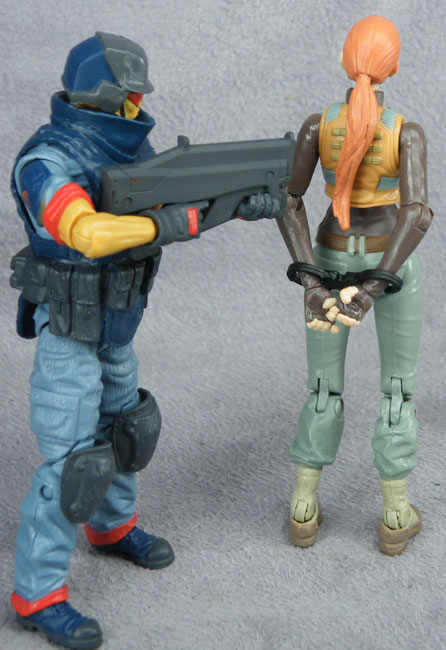 Most prominently featured on the figure is the full-body flack vest, which contains the familiar high-collar look that most Renegades figures seem to be going with, but it looks great here. While many folks had their share of complaints about the look and feel of the Renegades animated series, I didn't hear many folks talking trash about the design of the Cobra Troopers, and they translate it pretty darn well here. The detail, the pouches...it all works quite well, and I continue to be pleasantly surprised how several figures (most notably Duke, Law, Firefly, and Cobra Trooper) can have vests that are designed so similarly, yet all have their own very cool and unique attributes. One last interesting point about the vest is that, like Law's, it has a hole in the back, but with no corresponding item to plug in there. Perhaps another cost-cut accessory? Maybe the handcuffs are meant to slip in there? They could certainly fit, but they don't really "hang" all that well.
Of course the other discussion point with the final version of the figure is the Cobra logo. Initially he appeared to have a small one in the upper right of his chest, but that has changed to a full-fledged large scale symbol right smack dab in the middle. I do prefer the previous look...it gave off a much more "security guard" vibe. But this change isn't enough to turn me away or detract from the overall figure, especially with that awesome "Security" deco on the back of the vest.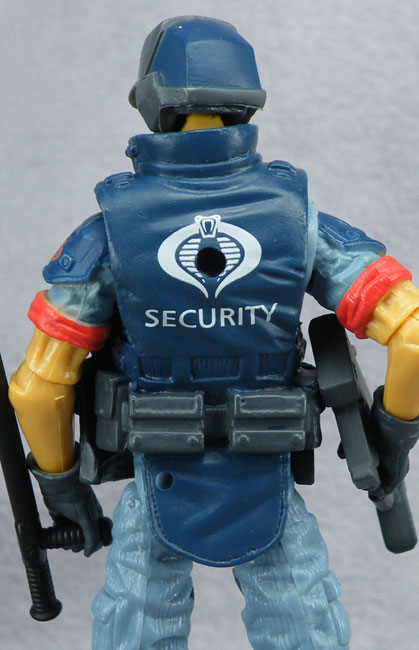 Last, but certainly not least is the authentic Renegades style laser rifle. I know most fans cannot stand the look of these blocky weapons, and in a "real world" scenario I don't either. I would much rather have a Cobra Trooper unloading with an AK-47 or other real world machine gun than a funky rectangular clearly fictional firearm. But being the Renegades fan that I am, I love seeing the weapon translated here in such exacting detail. Very nice.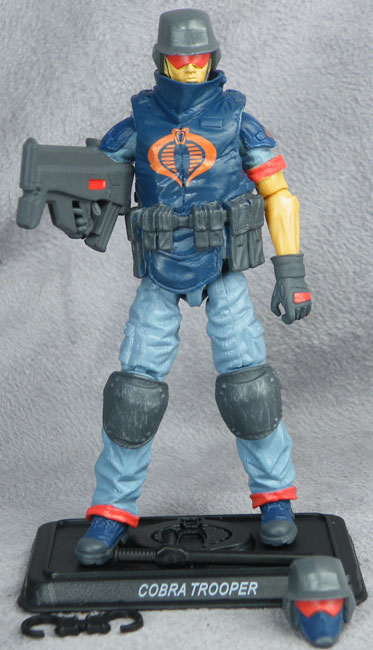 While I doubt many fans out there will treat this figure as their traditional baseline Cobra Trooper, he makes a fantastic security guard, and I think he'll fit in almost seamlessly to most collections. He is a great looking figure that works on several different levels.
Even with existing tooling, the contoured paint applications on the legs, just the right shades of blue and red, and the impressive addition of new items makes this figure a must buy and a must "build". I will own many of these, mark my words, and I will have absolutely no problems mixing and matching with my "real world" forces. A great, great figure.
GRADE:






Pre-Order this figure NOW at BigBadToyStore.com!