Beachhead
|
Duke (Arctic)
|
Flint
|
Roadblock
|
Scarlett
|
Snake Eyes
|
Stalker
Boxed Set Recap
G.I. Joe Resolute - Beachhead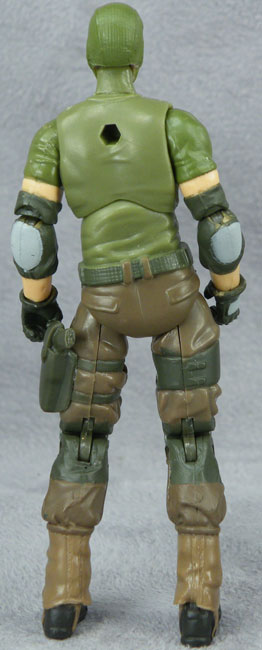 It was the best of times, it was the worst of times. JoeCon 2008. The fandom was in the midst of getting riled up about the Rise of Cobra movie coming the following year, and Hasbro made a special presentation during their roundtable. A presentation capped off by a five-minute "sizzle" that featured a familiar black-garbed ninja eviscerating a squad of Cobra Troopers. A scant few minutes later, the room erupted in applause and there was a standing ovation.
I'm honestly not sure I've ever seen the Joe fandom come together in such rallying support of a concept than they did with G.I. Joe: Resolute. Many of us were around in the 80's and watched the Sunbow cartoon, lamenting the fact that noone ever died and it was more comic relief than all out gritty military action. Well, Resolute was striving to change all of that.
While in the end, reaction was a bit mixed, and the final results weren't quite perfect, Resolute still spawned a new legion of Joefans, and the mixture of new cutting edge design with a familiar classic aesthetic appealed to the masses for sure. But of course, as it usually goes, just when G.I. Joe was doing something widely regarded as terrific, they had to shift gears and migrate to the Rise of Cobra style, which left most of the potential Resolute toy offerings on the cutting room floor.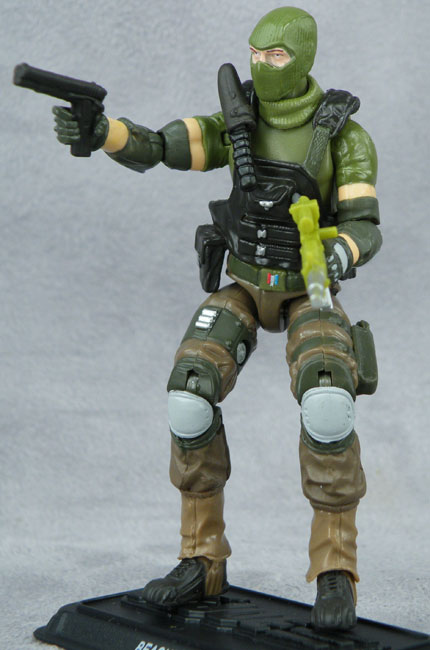 While the fan outcry came long and hard, Hasbro designers were working behind the scenes to do whatever they could to carry on Resolute's legacy, even as The Rise of Cobra took over international sentiment of what this new generation of G.I. Joe was (for better or worse). Thankfully those Hasbro designers were able to come to a consensus about how to best continue Resolute's life, and these two seven-packs were born. Not only were they able to resurrect a handful of figures that had already been produced (and not released) but they managed to allocate enough money to invest in new tooling for many other necessary characters to the Resolute mythology. Beachhead is one of them.
Beachhead is most known for being a jerk in the second season of the Sunbow cartoon and most folks cannot quite figure out how he got the job of drill sergeant, but that's what he was. In G.I. Joe: Resolute, he's considerably more understated, and if I remember correctly, he does not even have any lines of dialogue. But being on a strike team with Stalker, Roadblock, and Gung Ho immediately put him in the fan's focus, and the design team was able to mix some new tooling with lots of existing tooling and get us a nice, accurate looking Beachhead in the Resolute style. I know I cheered when I learned that Beachhead had made the "short list" for these seven packs.
Mostly utilizing the Resolute Duke's tooling from the 25th Anniversary line, Beachhead has a familiar balaclava head sculpt, new Resolute-accurate webgear, and one pretty neat addition...since many Resolute characters had the commando-sweater action going on, Hasbro designers sculpted a collar as a "secondary" so they didn't have to go through the cost of tooling up whole new torsos. The results are surprisingly effective.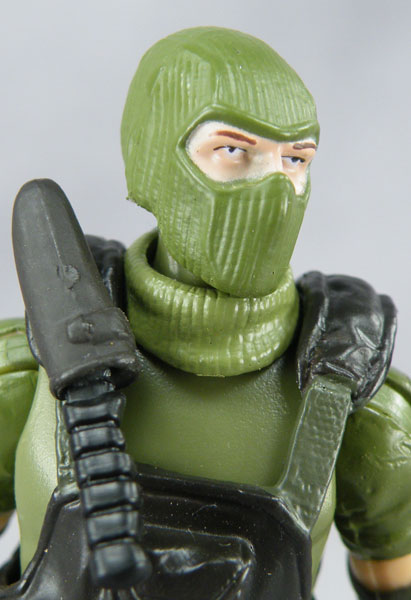 Colored in basic green, with hints of black and silver trim, Beachhead doesn't redefine the design spectrum, but looks just like his Resolute alter-ego, which is awesome. Great articulation, a nice range of paint apps that look animated, yet retain a realistic atmosphere, and some amazing new webgear all add up to a remarkably impactful update to G.I. Joe's second-tier Army Ranger.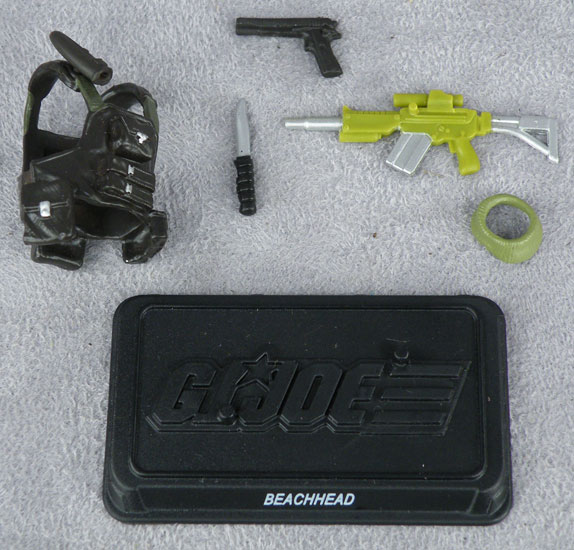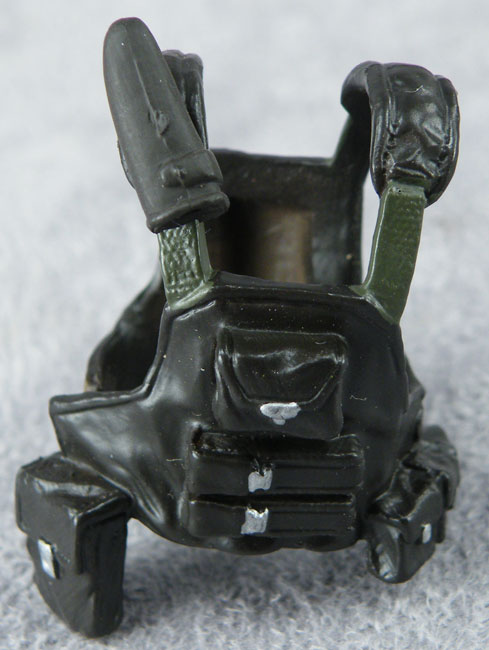 For the accessories, Beachhead comes with the now easily identifiable Resolute styled submachine gun, a removable knife, but most importantly, some awesome webgear. It's large and well sculpted, with a nicely functional knife sheath and a clear Resolute vibe. By and large, as the fans dipped their toes into the Resolute universe for customizing, the webgear is what provided the most challenge, so I think you'll find the bulk of tooling dollars went into updated webgear for the characters that needed it. Animation-accurate weaponry was probably next on the list, which unfortunately didn't leave much extra for some retooled heads like Scarlett and Baroness probably required.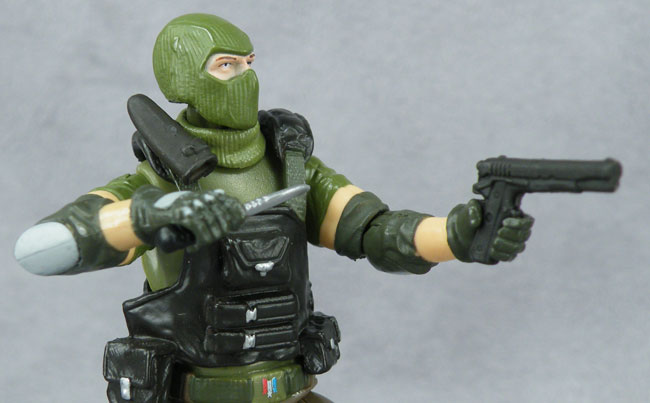 G.I. Joe: Resolute had a very unique animated style, while maintaining a realistic twist, and this figure matches that. Using lots of flat, primary colors Beachhead looks a bit more "animated" yet fits in nicely to the regular G.I. Joe aesthetic. The machine gun came off a bit bright for my tastes, but by and large this figure is an amazingly figure, and a welcome addition to the Resolute universe. And if you liked what this figure had to offer (as I did) then as the reviews for these sets go on, you will continue to be impressed (as I was as well).
GRADE: