G.I. Joe: Retaliation - Duke


First of all, huge thanks as always to Gyre-Viper who comes through again and gets me some early samples so I can get reviews done and out to the fans! That being said, keep in mind this could be considered a pre-production figure and some details may be different than the final release. I don't believe that will be the case with these figures, but just as a heads up.
Over the past few years I've made my share of jokes about how I'm so sick and tired of Snake Eyes except that Hasbro keeps on designing and producing such awesome versions of Snake Eyes...and the same can be said of Duke. I have no real love for Duke especially, but Hasbro keeps on unloading these amazing action figures, and yes even one with Channing Tatum's head becomes a huge draw.
In fact I might even argue that among the huge cast of new figures in this particular wave, Duke might come in along the upper echelon of ones I was looking forward to. Much of that is due to the awesome movie-accurate uniform he's wearing as well as the wealth of awesome accessories he comes with...but I think a lot of it is just because the G.I. Joe: Retaliation aesthetic in general is something that really appeals to me.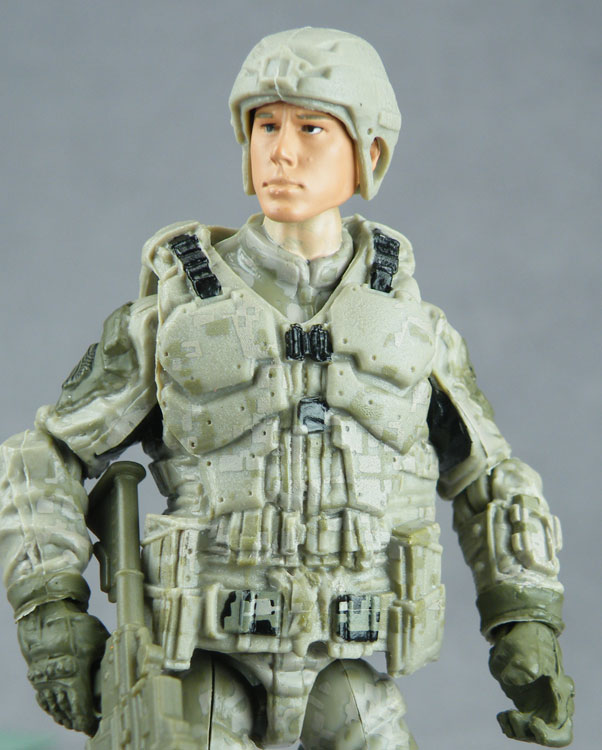 Duke uses a mixture of existing parts with some new additions, including elements of the G.I. Joe: Retaliation G.I. Joe Trooper. The forearms look to be new at least. Baggy, bulky, yet extremely deeply detailed sculpting throughout the figure really brings the next generation layered fabric to life making this figure look a lot like a plastic representation of what we see on the movie screen. Even with the added bulk, though, he retains terrific range of motion, with impressive articulation, containing the mobile wrists and rocker ankles that we've grown used to over the past several years.
The figure is decked out in some really nice digital desert camouflage throughout, looking very real world and intricate. Early Retaliation figures almost looked a little bit bland with large swaths of monochrome colors, and yes, the colors have been reduced compared to pre-production shots here, but the well applied camouflage still looks incredibly nice on this particular figure. I actually think Duke here is an almost perfect army builder candidate as well, not just because he comes with an alternate trooper head, but because this is the uniform most of that initial G.I. Joe team wore for that first Pakistan mission.
ACCESSORIES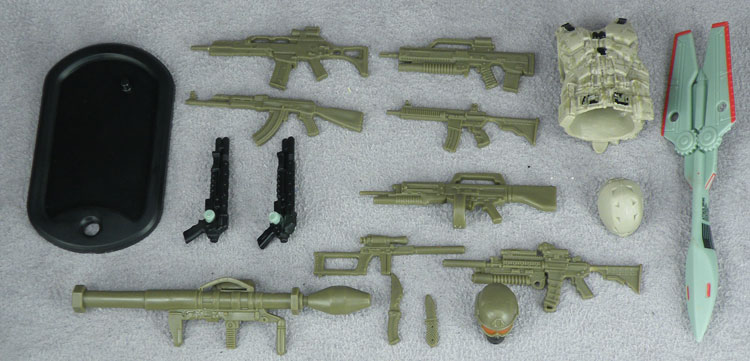 Duke also comes with a version of the G.I. Joe Trooper's pistol, which isn't shown above
Okay, this figure is loaded with accessories. Loaded to the point where I'm not even going to try and list them all, you can see them in the image above. Machine guns, a pistol, knives, a rocket launcher...there's a ton of stuff there. Some of the pieces that shine are the helmet (that also came with Agent Mouse) and of course the Predator drone, which is a fantastic piece that I really love. I find it funny that when Data-Viper was having issues getting released, fans were concerned that we might never get our hands on a Predator drone, and here we are with two of them in a single case assortment.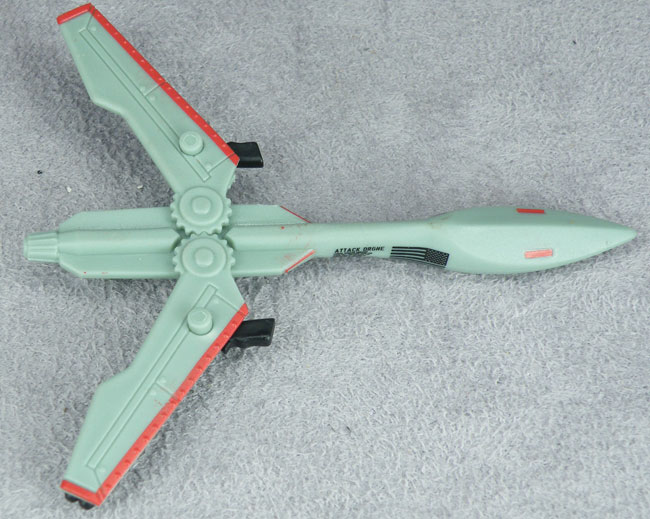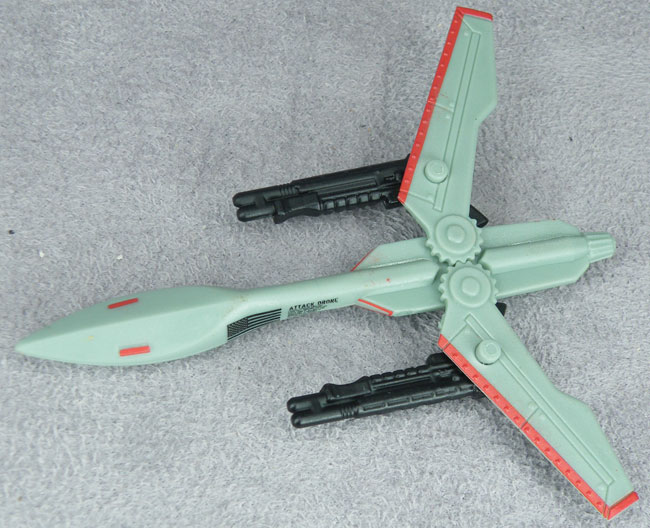 Duke also comes with an alternate head sculpt (which actually comes from Night Fox, the Ninja Cruiser driver) so that a conversion to a full blown G.I. Joe trooper can be complete. I should note the same pistol that came with the G.I. Joe Trooper is supposed to come with Duke, I just don't seem to have it. It fits very nicely in the holster on his right leg.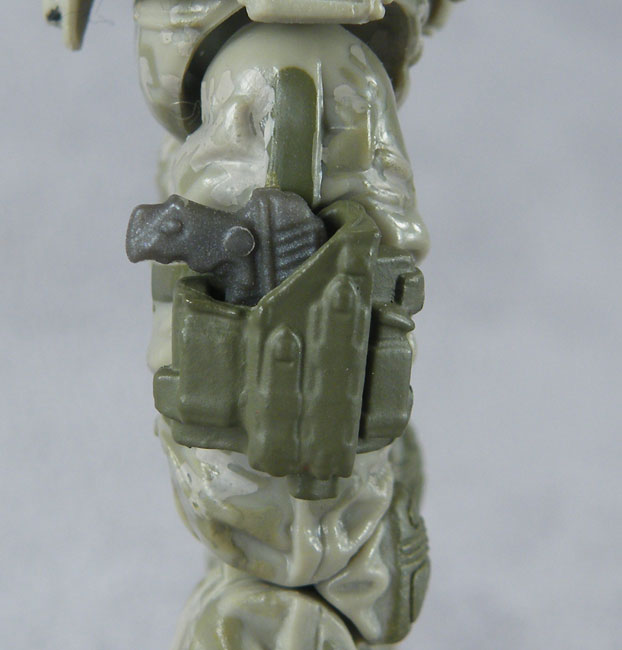 The separate battle vest is a very nice sculpt as well, really blending perfectly with paint applications on the rest of the figure, and looking amazingly accurate to the film source material.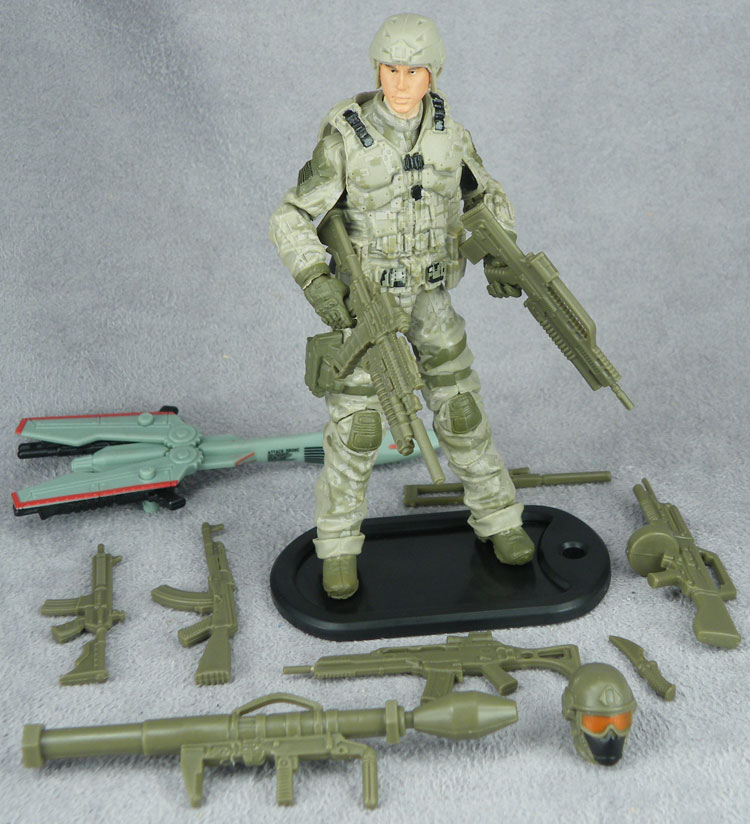 Yes, this Duke is excellent. He's a great representation of Duke from the G.I. Joe: Retaliation film, and an awesome template for other characters from that film. I'm excited that he made it out and that Hasbro really seemed to pull out all the stops to give him a ton of great gear and some sellability, even if it is another core character. One of the early stand outs from this wave.
GRADE: