Figure Subscription Service 2.0 - Cesspool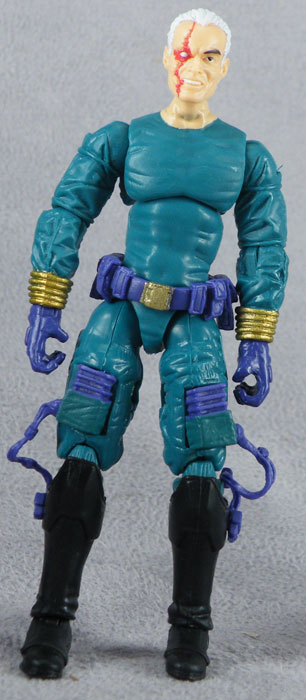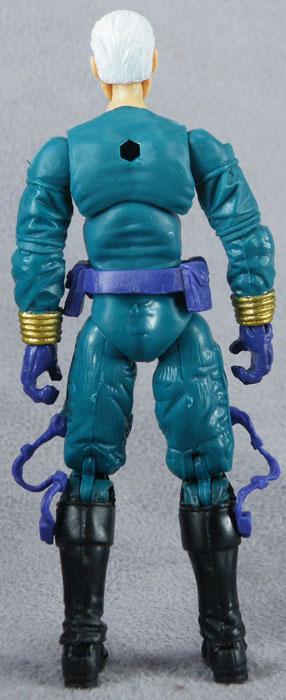 Ahhh, Cesspool. Where do I begin with Cesspool?
Should I talk about how he was one of my all time favorite characters (and toys) in the 90s? Should I talk about how he overtook Cobra Commander as my Cobra leader for all operations back then simply because he was such an impeccably great figure complimented by an especially twisted personality?
My love for Cesspool has continued into the current time, and I had plans for him throughout the last leg of my dio-story, and I couldn't be happier that I have a new, modern version of this terrific character. The Collectors Club obviously dipped into the vintage well for inspiration for this 30th Anniverasry update. The first thing that folks are likely to notice (and rightly so) is the newly sculpted head that is truly astounding. A combination of slimey, slicked back CEO and the nasty, flesh-tearing scar is just insidious and the folks from Boss Fight Studio hit that one right out of the park. Looking close enough you can actually see the grisly remains of melted flesh...it's a work of art.
Considering my love for the 30th Anniversary Airtight and Sci-Fi, is it any wonder that I love Cesspool so much? Using Airtight's arms and Sci-Fi's legs, this figure has intricate sculpting, a nicely bulky body style, yet maintains a great full range of articulation. I won't lie, I do wish there had been a way for the Club to find a good metallic right arm to mimic that look for this new figure, but as I said, I love Airtight's arms enough that it's tough to complain about that.
The Club goes with the classic color scheme, with the green/blue base uniform, trimmed with just the right gold and purple, and the character is very evocative of his 90s glory. Yet one nice thing is that the Club doesn't just use the classic look as a reference. The color breaks are updated for some of the new parts, which shows a great attention to detail that we don't always get with these modern updates. Parts and colors for this figure are spectacular.
ACCESSORIES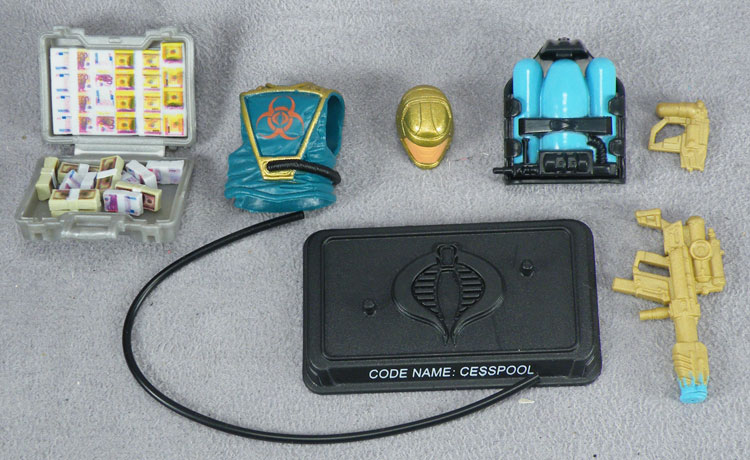 The main focal point of Cesspool's accessories is the reused Techno Viper vest which allows for some nice gold trim, plus gave them a blank canvas to put that great Cobra bio-hazard symbol on. No, it's not as awesome and impressive as the sculpted Cobra symbol from the original Cesspool, but with the resources the Club has, it does a pretty great job.
Cesspool also comes with Sci-Fi's closed visor helmet to replicate his own gold helmet that the classic version came with, plus Barbecue's backpack, Arctic Destro's rifle, and the pistol from the Rise of Cobra version of the same character. The rifle has a great blue overspray as well that looks like Compound Z, which is a new part of the Cobra Eco Warrior storyline. The end result is that this figure has a nice arsenal of great sludge-shooting weapons that fit him perfectly, yet look nicely modern. Rounding him off is a nice silver briefcase of cash, which is an accessory I just cannot get enough of. I have three different ones now from City Strike Destro, SDCC Destro, and now this one, and I still love it every time I get a new one. Perfect for a slimebag CEO on the run, too.
This figure is pretty much perfect. Any of my complaints are trivial ones and as he stands, I absolutely love this update. The head sculpt is true perfection, and the body chosen works amazingly well to boot. He's got great accessories, fun colors, and he fits in seamlessly with the 2014 Convention set. More please!
GRADE: