Iron Klaw - Figure Subscription Service (Wave 1)
For thirty years I've been a pretty big G.I. Joe fan. I love the characters, I love the mythology, I love the toys.... well... I love most of the toys. The fact is, there was a short, few year gap when I did not regularly collect and consume G.I. Joe product, and that was during the age of Sgt. Savage and G.I. Joe Extreme. As many fans have attested to, there are certain portions of G.I. Joe which can be considered "not mine". Extreme is one of the few cases of that in nearly three decades of the brand's resurgence.
Through no fault of the story, the G.I. Joe Extreme toyline contained a stunning lack of articulation, and an even more stunning overabundance of rediculous 90's comic super hero style that (in my mind) didn't represent an era of G.I. Joe I appreciated. Quite funny to think that the G.I. Joe Extreme comic and animated series were actually both very mature and very well written, unfortunately dragged down by a lackluster toy series. It's like the polar opposite of Sigma 6!
That being said, some of the designs throughout the Extreme line were actually pretty well done. Iron Klaw is certainly one of those. As Count Raini, evil dictator of a foreign country, Iron Klaw was the leader of SKAR a futuristic successor to Cobra, with very similar goals. Throughout it's relatively short animated series, G.I. Joe Extreme told a captivating and interesting story of a future G.I. Joe universe with different players, but the same high stakes. If the Figure Subscription Service was designed to do anything, bridging together different G.I. Joe concepts was it.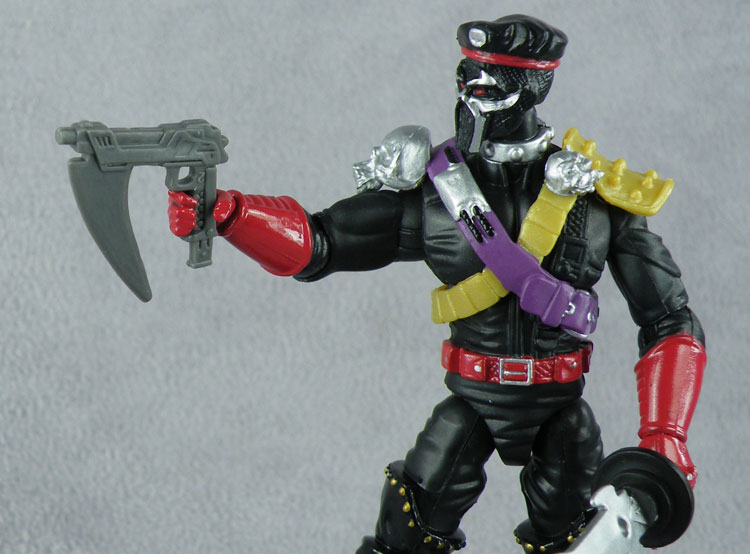 Now, several years before the FSS emerged, the Iron Klaw was slated to be released in the G.I. Joe: Resolute/25th Anniversary line as an "Iron Klaw Trooper" and got to a level of production where pieces and parts were actually tooled up for use. Now, thanks to the Collectors Club, those previously hard to find parts can be in pretty much anyone's collection. I for one, am thrilled, even if the end result lacks some of the detail and the "fire" of more modernly designed figures.
As with the original version of this figure (which was going to come in a Comic Pack with Resolute version of a Crimson Guard) this figure is mostly made up of the 25th Anniversary Iron Grenadier Destro figure. That figure was excellent in the era of the 25th Anniversary, and really is still pretty decent, but does look somewhat dated in comparison to more modernized Pursuit of Cobra or 30th Anniversary style figures. The range of motion is okay, though the large elbows results in some arm movement issues. The parts used to create this figure are pretty large, bulky, and imposing, which matches the oversized feel of Iron Klaw quite nicely. Destro's legs also create a great "European" look as well, with the thigh boots and the button trim, which again lends some detail to Iron Klaw's foreign roots.
If there is one complaint I have, it would probably be the head sculpt. On the one hand, the detail and sculpting itself of the head is pretty fantastic. Extremely intricate work throughout, actually adding some nice flair to the nearly 20 year old design idea. However, the issue is with the removable beret, which doesn't fit very well on the head and falls off merely by looking at it sideways. This is too bad as the rest of the figure looks pretty good, and this is a detraction.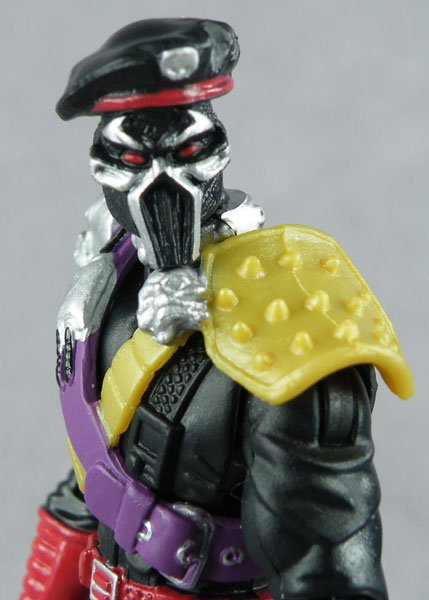 As I've mentioned, some of the parts do come across as being a bit dated, being pulled from the 25th Anniversary era, but a lot of this dated appearance is nullified by a spectacular paint job. The black and red colors contrast to near perfection with a vibrant sheen that really makes the figure jump out of the card and look alive. The right compliments of gold and purple are carefully applied throughout as well, bringing together one complete package of intricately painted perfection.
ACCESSORIES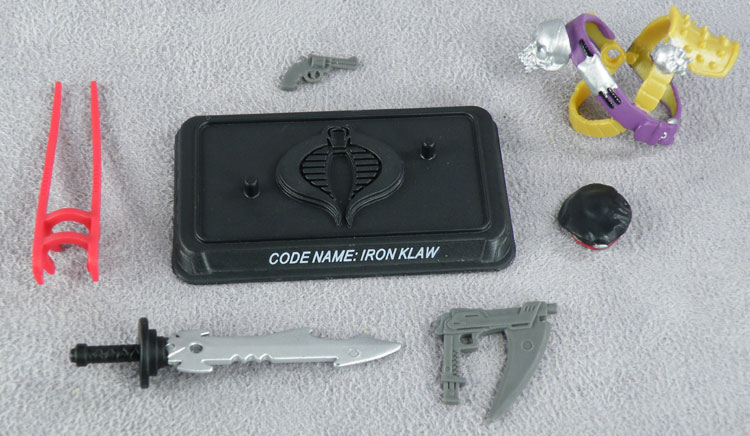 As mentioned, Iron Klaw was initially conceived for a later release comic pack in the 25th Anniversary line, but since it ended up being canceled, this is the first time we're getting his unique webgear, beret, and sword in our collector hands, and they are all very nicely done. I find myself really loving the webgear with the large shoulder pad on the left and the silver skull on the right. A mix of gold, silver, and purple only add to the interesting look and feel of this compliment.
Iron Klaw also comes with the elongated dual claw weapon that various other ninja themed figures have come with. The Destro pistol and Munitia gun with extended blade complete the accessorization and complete it well. I'm pleased to see that even with the old version of these parts, he can hold the bladed pistol quite well.
His sword also plugs into the back of the webgear, and the beret is quite nicely detailed, even with the issues it has staying on his head.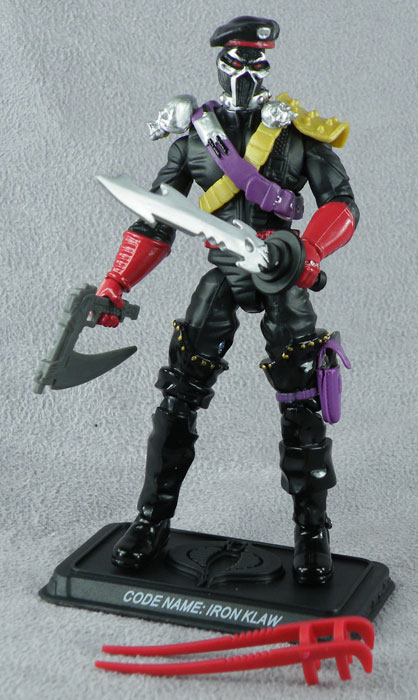 Iron Klaw is a bit of a mixed bag. There's some dated design work that doesn't hold up with more modern figures, but there are some great old school inspirations as well. It's great to get some unreleased gear in our hands, and I appreciate how relatively faithful Hasbro (and Collectors' Club) designers are to the original Extreme version of the figure. I will say this is a perfect inclusion to a Figure Subscription Service and ends up crossing some bridges to other G.I. Joe iterations, brings us some canceled parts, and satisfies a number of different aspects of the fandom all in one shot. From a toy perspective, I have some issues, but the whole package from a collector point of view remains impressive.
GRADE: