Barrel Roll - Figure Subscription Service (Wave 1)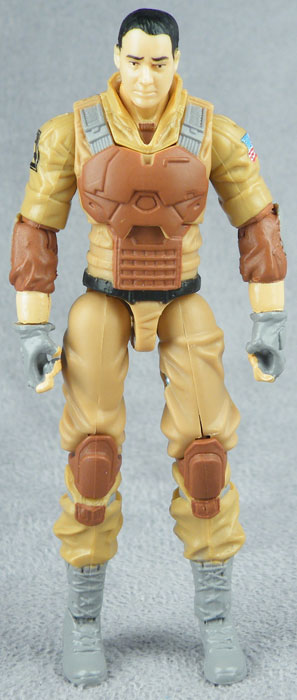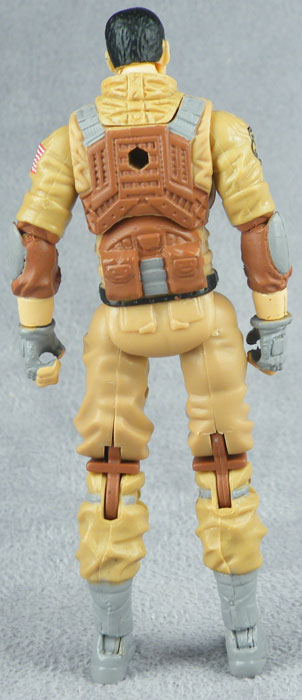 If we got nothing else out of the not-so-coveted new sculpt era, the Stall Family conflict was certainly worth exploring this new mythology. I think as collectors we've gotten so used to the familiar "re-do the vintage in new ways" that we've forgotten exactly how well this brand can tell a different story. That's something about the new sculpt era that I dearly miss. Certainly the elements of a live action film translated into toy form is a pretty cool piece of the retail figure puzzle, but the concept that Hasbro was actually developing totally new ideas and new concepts for established mythology was awesome. I'm not sure all of those new collectors who gravitated to the line after 2007 appreciate quite how well Hasbro was doing this in the early part of the 21st Century.
The Spy Troops concept, the Valor Vs. Venom idea, and yes, Sigma 6, were all completely different takes on the G.I. Joe mythology where Hasbro actually treated the line like... *gasp* a toy line and not just a regurgitation of the vintage era, or a licensed property based on a movie. Simpler times back then, to be sure.
The good news is the G.I. Joe Collectors' Club seems totally willing to dive back to the new sculpt era to tell their stories, and as he should be, Barrel Roll was high on their list of characters to choose from.
Execution-wise the Collectors' Club made some choices I'm not sure I totally agree with, however. I don't think anyone would question the fact that Barrel Roll's first iteration from 2003 was definitely his most iconic and interesting look. For better or worse, they either chose not to use those colors this time, or received an edict from Hasbro where they couldn't use those colors, I'm not entirely sure which. Interestingly, those old school Barrel Roll colors do bare some resemblance to the G.I. Joe: Retaliation Cobra Trooper, so perhaps they were concerned about confusion between the subscription line and the main retail line. Whatever the reason, the end result is the FSS Barrel Roll uses the Direct to Consumer version as an inspiration, which is certainly not my favorite version of the figure. Kudos to the Collectors' Club, though, they've managed to take different elements of the character and kind of weave them together. Instead of a truly military accurate figure like the Direct to Consumer Barrel Roll, they used the Pursuit of Cobra Duke to replicate the funky armored pads from the Spy Troops Barrel Roll and managed to make the figure still feel somewhat futuristic, even with the brown and tan paint scheme.
They used the arms from the Arctic G.I. Joe: Resolute Duke which does a great job replicating the rolled up sleeves of the classic Barrel Roll, too. The head sculpt is a retooled version of the Direct to Consumer figure, which I'm not crazy about either, as I think the original head had a bit more character.
All of this said, this figure is still pretty fun. I really love this version of Duke, with some very nice detail work, great articulation, and a lot of play value, there are just mostly some color choices I'm not wild about.
I actually feel strongly enough about the Barrel Roll character that I did a custom of my "dream" modern era Barrel Roll figure. Check out my work below, using a modded Spy Troops head, PoC Duke torso, G.I. Joe: Resolute Arctic Duke arms, and 25th Anniversary Ace legs: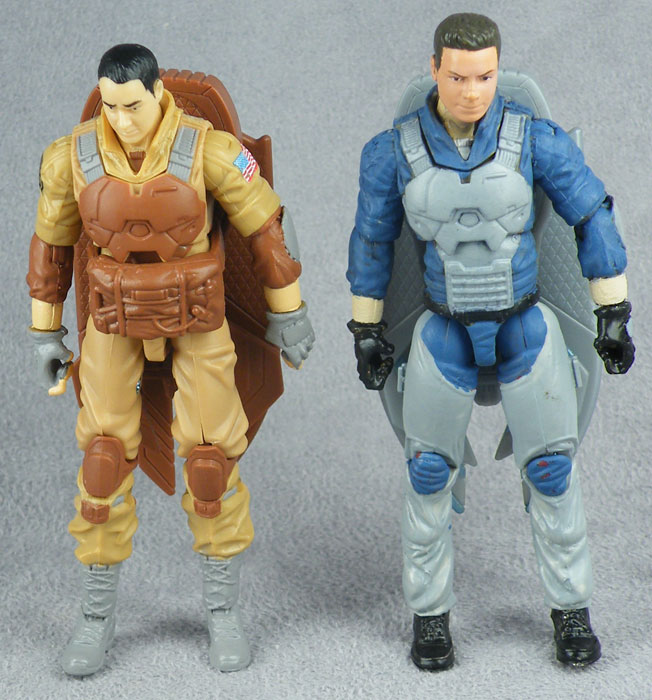 ACCESSORIES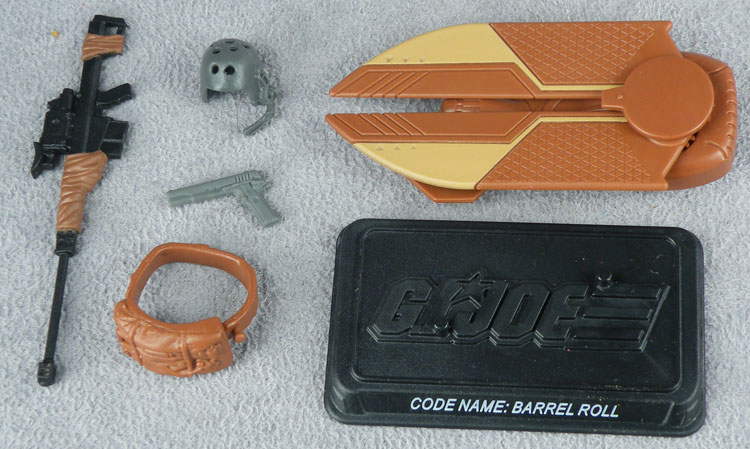 Looking at his weapons, Barrel Roll has a nice arsenal of accessories to complete his missions. He has the same sniper rifle as Pursuit of Cobra Recondo and the pistol from G.I. Joe: Resolute Duke. He comes with an accurate combat helmet that unfortunately does not translate really well to this material at this scale and just looks... not right. Again, I wish they'd looked towards Spy Troops for the head and the cool "Raptor Viper" themed helmet. Heck, even the helmet from Copperhead or the Rise of Cobra Sky Sweeper pilot would have been preferable. The parachute pack from the Snow Serpent and the fantastic jetpack from the Rise of Cobra General Hawk complete his accessory compliment to perfection, as further homages to the Spy Troops character.
As you might have guessed, this figure has me very conflicted. I'm in love with the fact that the Club has done a Barrel Roll figure, but I wish there had been some way to go with the blue/gray color and head of the Spy Troops version. Knowing the Club and their knowledge of past history, something tells me that was probably their first choice, but something happened to change that. Whatever the result, the figure had a ton of potential, but didn't quite meet it.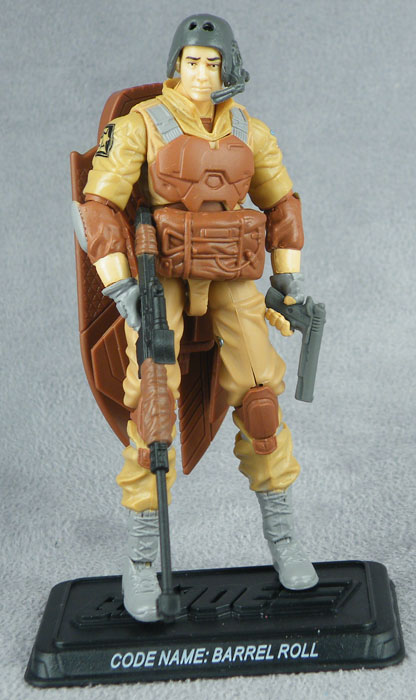 That being said, the end result is still a very fun figure with a lot of great, playable qualities. He works well alongside Grunt, and there are certainly lots of things to like about it. He just didn't end up quite as perfect as I would have liked.
GRADE: