Sideshow Collectibles 12" Zartan - A guest review by Mysterious Stranger
Zartan. Master of Disguise. Assassin. Biker Gang Leader. He is all of these things and oh so much more. Zartan was one of the figures that had a "play feature" that I really liked.  His color change ability was one of the reasons his figure wore out on me so soon.  I would take him to the pool (along with Deep Six and the S.H.A.R.C.) and lay him on the edge in the sun until he turned that awesome deep gray/green color.  Eventually though his back and leg screws rusted out and as I moved on to adding other toy lines into my play he was left at the bottom of the toy box more and more often.  When I got back into G.I. Joe with Sigma 6 the new sculpt Zartan figures were some of the first 3 ¾" figures that I tracked down.  His Sigma 6 versions were some of the best toys in that line and now Sideshow has brought him into the 12" world in a very big way.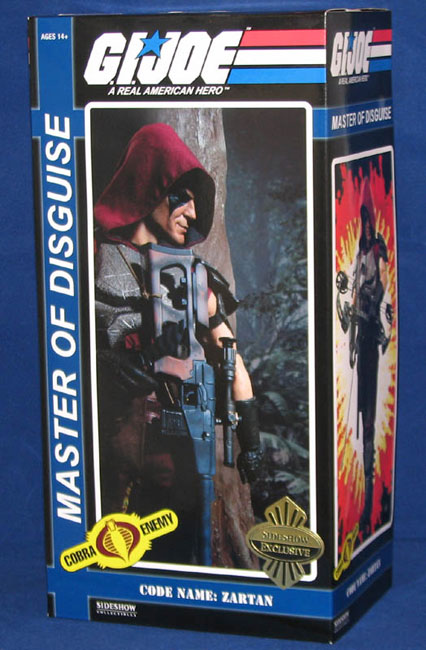 Zartan comes in the typical Sideshow box with all the usual photos and artwork.  I haven't really touched on the filecards on the back of these boxes.  For the most part they are just reprints of the filecard text that fits the figure.  It's a great detail and something I really like about the box but they really aren't anything spectacular.  Why am I bringing it up now?  Well you see, when Zartan was first released there was some controversy about the use of the term schizophrenic on his filecard.  This was something that was changed on later versions and has become an interesting footnote in the characters history.  Until now.  Sideshow has used that original filecard text here with the schizophrenic characterization and all and I thought that was worth pointing out.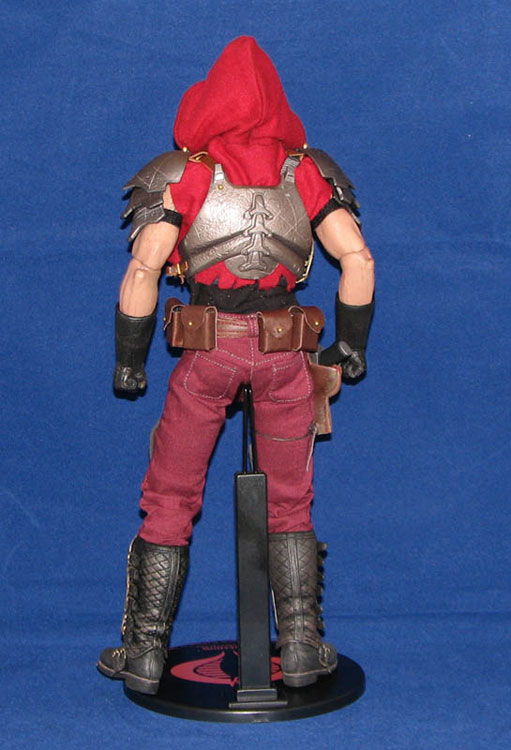 Now, about the figure.  Zartan comes on the larger Prometheus 1.2 body that was also seen on Rock 'n' Roll.  He's got the beefier biceps and forearms and the single-hinge elbow joints of that newer body and I think it fits the character really well.  He's done in a mix of that original v.1 look with the modernization that Sideshow has been doing so well in this line.  From bottom to top, Zartan has some great armored boots that look like something a military biker gang member would wear.  His pants are a nice maroon color and have the textured pads on the thighs that are a signature feature of that v.1 look.  The pads to sit a little low on the thighs for my personal liking but they are nicely done.  Zartan comes with 2 belts but you'll only see one in these photos. There is the wider leather belt looped through is pants with a nice skull belt buckle.  He also comes with a thinner second belt that is supposed to hold all of the pouches, knife sheath and gun holster.  I spent quite a bit of time trying to get this belt to fit and hang right on his body but just couldn't get it to look good.  So I took it off and put the pouches and holster on the pants belt and have a cleaner look that I much prefer.  It takes a little work to get everything to fit together but with some futzing it can be done.
Zartan has a black undershirt that looks good and also covers the torso body joints.  The sleeveless hoodie fits over the undershirt and under the armor well.  The hood has a thin wire running through the outer edge so you can pose and shape the hood so that it looks as good as possible.  Finally the chest armor has a nice sculpted metal look that is very reminiscent of the Predator armor and I like that a lot.  It is held together on the sides with some straps and string that takes a fair bit of futzing to look right but overall the armor is a great piece.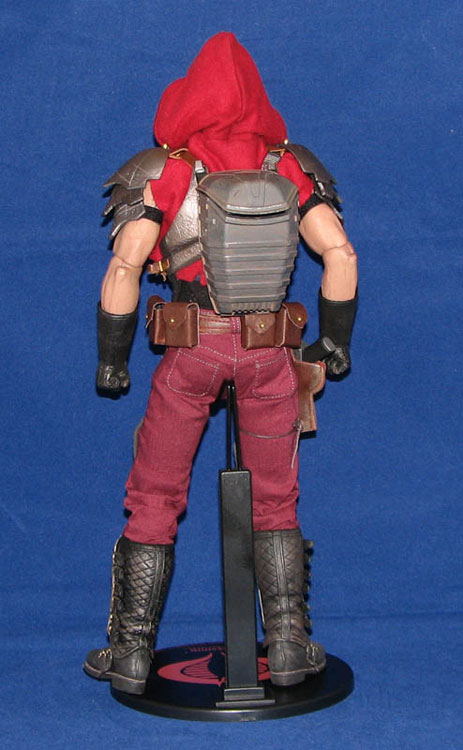 Zartan comes with his signature v.1 style backpack.  It opens up but unfortunately I couldn't get his mask to fit inside without taking it off the form.  So for now his backpack is empty but I'm sure I'll find something to put inside.  It attaches to the armor by two square rings that fit over hooks on the shoulders of the armor.  Basically it just hangs there.  It's a nice way to attach the backpack but I'd like something a little more secure holding it in place.  This is one of those areas where Sideshow could have taken a page out of their Star Wars 1/6 scale book and used magnets to hold the backpack in place like they do with the Clonetrooper packs.
Zartan has one of those signature faces that are recognizable to all G.I. Joe fans.  Sideshow has taken that iconic look and translated it to the 1/6 scale perfectly.  He's bald and has a great smirk on this face that I love.  The signature face paint is done as what appear to be facial tattoos as they don't quite have a texture or application that looks like face paint.  Regardless of what the real world equivalent is, the eye mask looks incredible.  Add in the partially whited out eyes and you have an awesome Zartan portrait.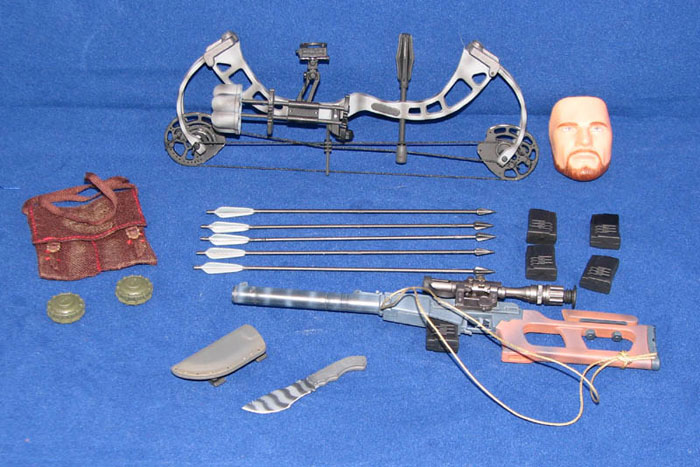 Zartan comes with a nice group of accessories that all make sense for the character.  He has an awesome compound bow with arrows that tie back to his days as the assassin of the Hard Master.  He also comes with his vintage style sniper rifle with four spare clips.  Throw in a couple magnetic mines, a satchel to carry them in and a wicked looking knife and Zartan has everything he needs to be the badass assassin / saboteur / badass he is.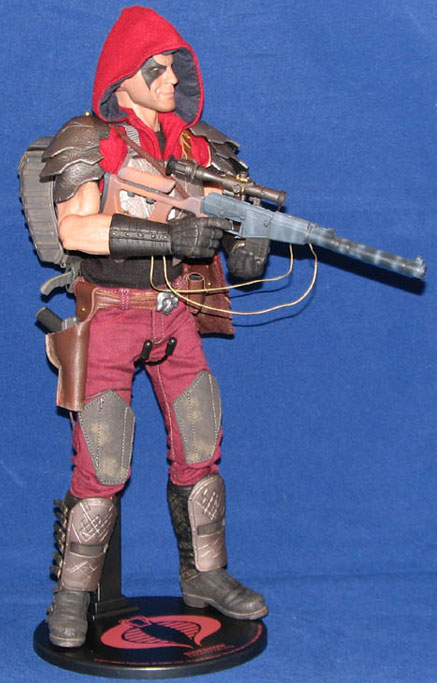 But the one defining characteristic about Zartan is that he is a master of disguise.  So Sideshow has brought out that part of him by recreating the iconic mask from his v.1 ARAH figure.  The mask is a simple slip on piece just like the vintage one and it fits over his face well.  But what really sells this piece for me is the form that the mask sits on when not in use.  If you are familiar with facial prosthetics then you know that to create a mask you first need to create a mold of the person's face who will be wearing the piece, use that mold to create a positive bust to sculpt on and then create your mask.  This process allows the mask to fit to the contours of the face of the person wearing it and create a more realistic look.  Well Sideshow has taken that idea and applied it to the mask form so if you look closely at the black piece below you'll see that the form is done in the shape of Zartan's face complete with smirk.  Not only does this help the mask fit tighter against the figures head but it adds a level of detail to the accessory itself and really ups the cool factor by a lot for this piece.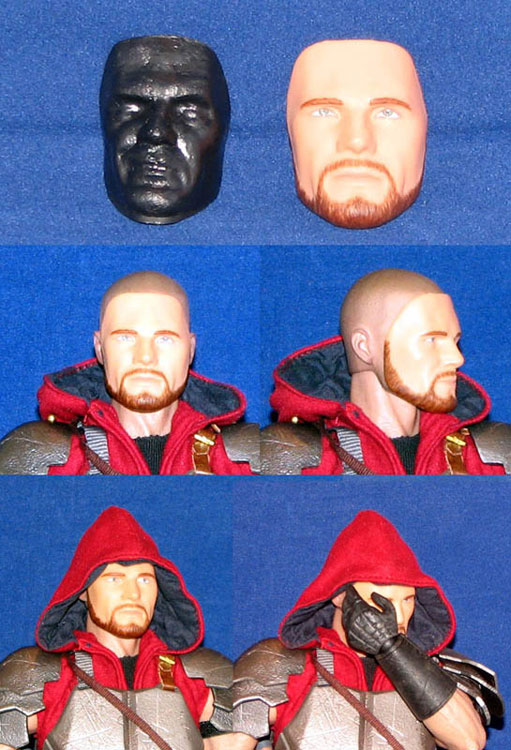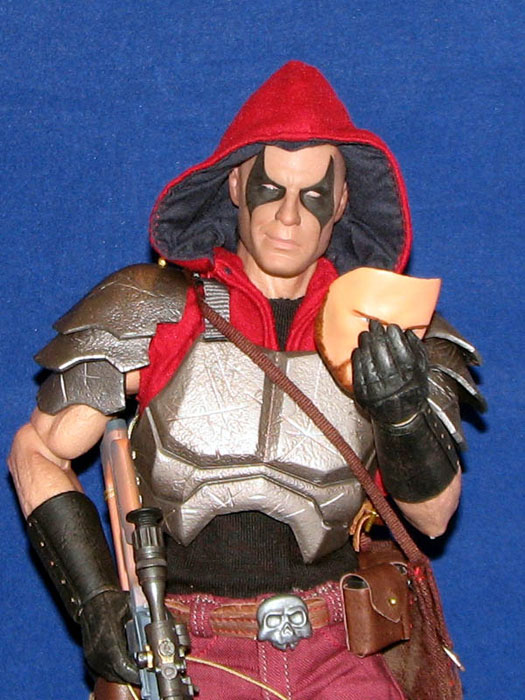 With the mask you get everything you need for the G.I. Joe Master of Disguise.  But for the exclusive version Sideshow took that idea one step further with an alternate portrait that is really great.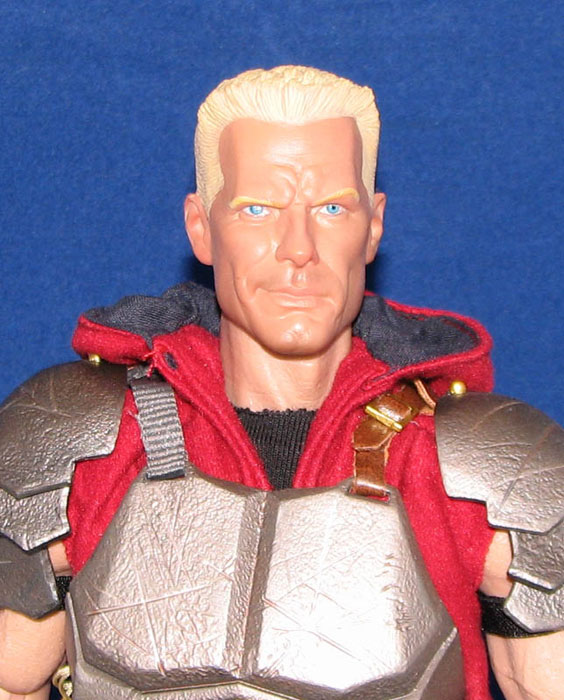 The exclusive portrait is one of Zartan as G.I. Joes resident boy scout, Duke.  The sculpt isn't just a reuse of the Duke head but in fact a brand new piece.  It is clearly Duke but the hair is a bit messier, the eyes have a bit of mischief in them and he's got that same smirk as the Zartan head.  I really, really love this portrait and I think it makes for a great addition to Zartans arsenal of mayhem.
As a whole, Zartan is a very solid figure.  The regular version comes with everything the character needs and there isn't anything out of place or unnecessary.  The exclusive versions "Evil" Duke head just ups the ante for the figure and makes it a very cool piece.  There are a few minor issues with the fit of the pants and the way the chest armor is held together but those are truly minor.  Top to bottom Zartan is a great figure and I give him 4 ½ out of 5 stars.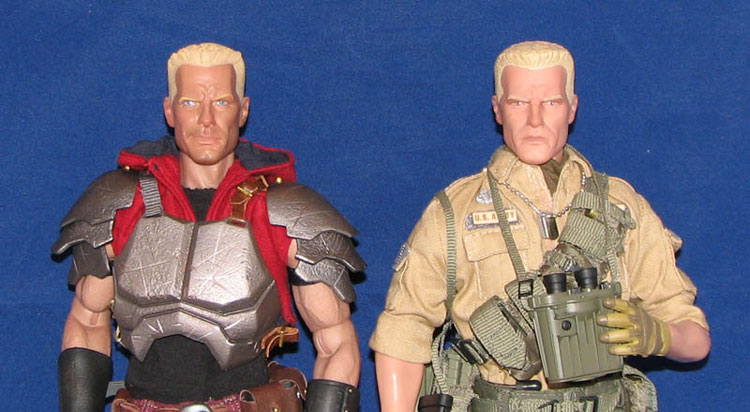 GRADE: