Sideshow Collectibles SDCC Exclusive 12" Falcon - A Guest Review by Mysterious Stranger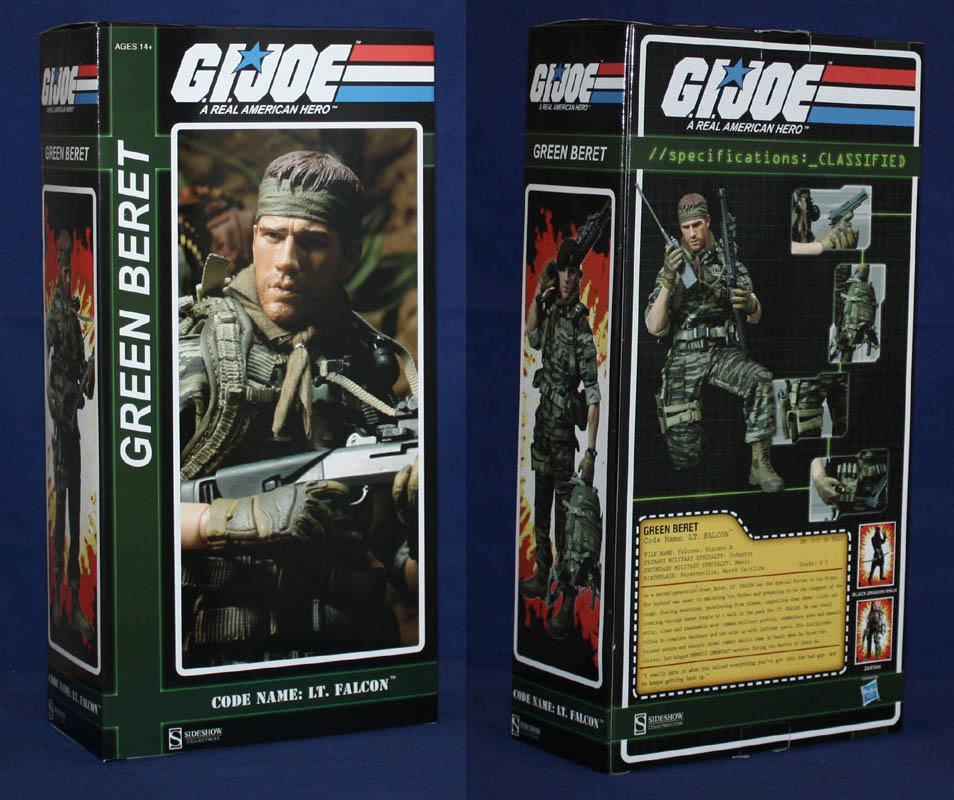 For the last few years Sideshow Collectibles has been putting out a San Diego Comicon exclusive figure in their G.I. Joe line.  In 2009 it was the incredible Crimson Cobra Commander. They skipped 2010 but came back in 2011 with the Ninja Viper and continue this year with Falcon.  What makes this year different from previous years though is that this year there is no onsite pickup.  The figure was open to order the week before the convention and ready to ship right away.  I happened to be online when the ordering went live and received my figure in time to do a review before I leave for the convention.  Now that's what I call service.   Falcon might seem like an unusual choice for a convention exclusive but considering he's available for anyone to buy online just like the rest of the line it works out for everyone.  Sideshow just happened to promote this figure as the con exclusive and get some good press for it which in my opinion makes all kinds of sense.
As for the figure itself, there are some changes seen here that are both good and not so much and I'll be covering them all right here.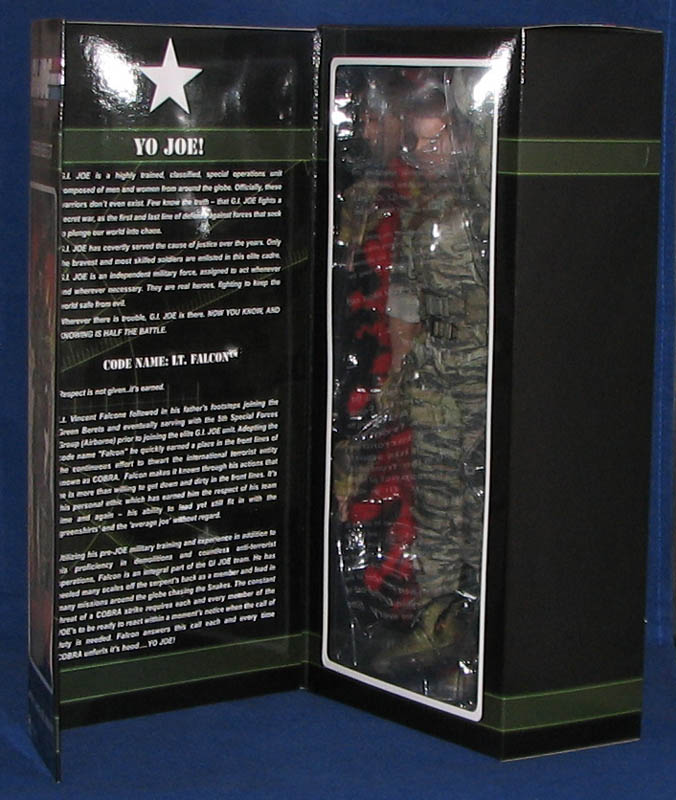 The first major change that you'll notice is the packaging.  Sideshow has, for years now, had one of the best collector friendly packages I've ever seen.  Opening panels with magnetic closures, window boxes with easy to remove and replace trays and great artwork wrapping it all up.  With Falcon here we get a slimmed down version of the standard Sideshow box.  Gone is the separate tray flap for the accessories, instead replaced by placing the accessory tray under the figure all together.  This gives us a slimmer profile without losing the collector friendly aspect.  Granted, the accessories being under the figure makes them hard to see through the window but I don't know of any collectors who display these MIB so it really doesn't affect much in that regard.
The best part of this new slim design though is that the artwork hasn't been sacrificed.  Yes, the images on the side panels are narrower due to the loss of the accessory flap but the front, back and inside panels all still have the artwork we've seen before and for Falcon it looks great.  There is one downside however and that is the shipper box.  Previous releases have had the package protected on the top and bottom by sturdy Styrofoam end caps allowing for some cushion and protecting the box.  With Falcon though, the Styrofoam is replaced with a bubble wrap sleeve and the outer shipping box is not much bigger than that actual package.  I can foresee possible problems with damaged packages but mine arrived in just as good a shape as the old shipper boxes.  But I only live about an hour from the Sideshow warehouse and my shipments don't get handled as much as someone living on the east coast so that may be a factor.  Regardless of where you live, this new packing is something to be aware of.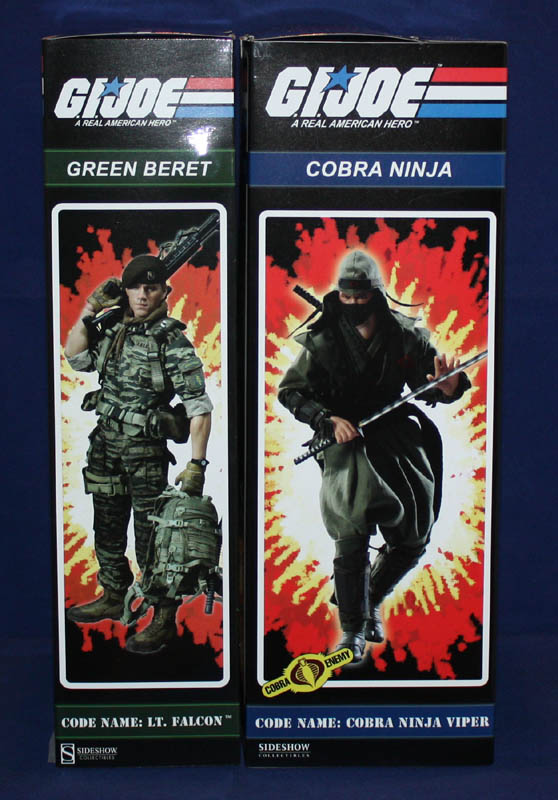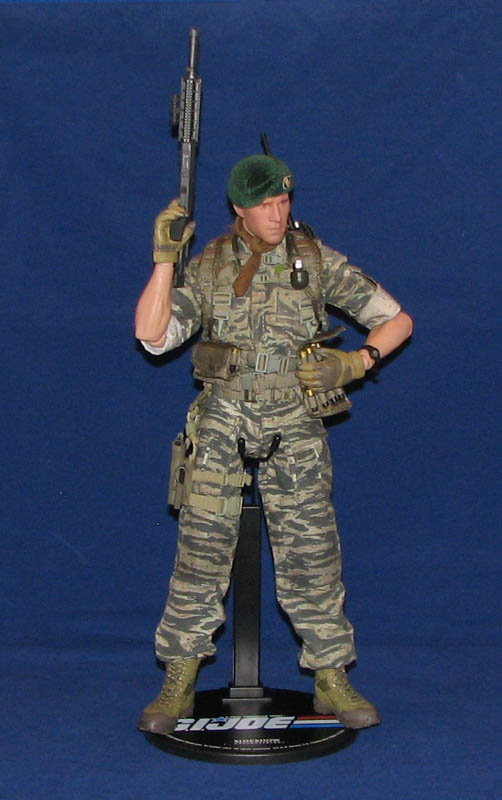 Now about the figure itself.  Falcon uses the new Prometheus 1.2 body which is an upgraded version of the body used for most of the line up to Rock 'n' Roll and Zartan.  The main body is the same Prometheus design with better molded forearms and neck.  Like Rock 'n' Roll, the forearms and neck have a skin-like texture that adds to the realism of the figure.  I initially thought this was the same body as Rock 'n' Roll with smaller biceps but after playing around with the figure for a while I discovered that the forearms are new pieces with the double hinge elbows unlike RnR who had single hinge elbows.  I like this new body in that it adds to the "buck" body catalog that Sideshow uses, allowing for a greater range of characters to be included in the line.
Falcon's uniform comes from his v.1 figure – the green tiger strip camo, rolled up sleeves, bandana and green beret all come from that first figure.  There are minor updates like the Velcro patches on the shoulders and the color of his bandana has changed from green to a more subdued khaki brown.  Put on the flocked beret and there is no mistaking who this guy is meant to be.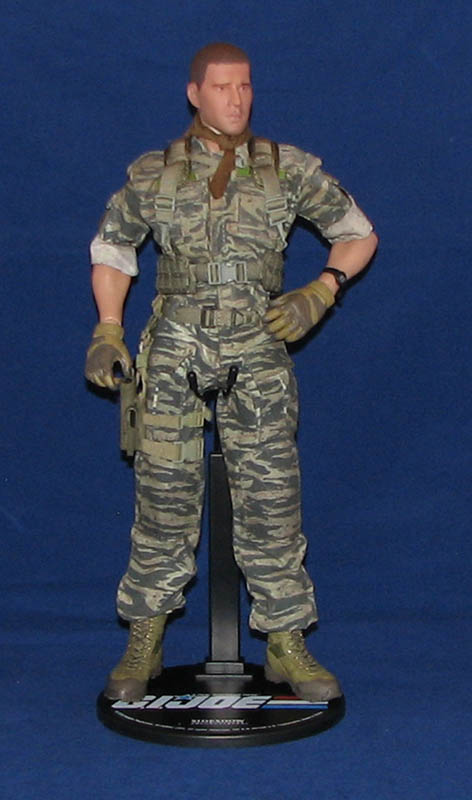 Sideshow has been adding alternate portraits to these figures as exclusive items but Falcon's second headsculpt comes standard.  The "v.1" head has been described as having a resemblance to actor Channing Tatum who played Duke in the movies.  This makes sense if you like the idea of Falcon being Duke's kid brother like we were shown in the animated movie.  Personally I like to think Falcon is his own man and while I don't disagree with the Tatum comparison I will say that I think he more strongly resembles Ben Browder from Sci-Fi's "Farscape".  Regardless of who this looks like to you, the sculpt is well done and looks right for a young lieutenant – clean cut, not too grizzled or jaded with just the right amount of confidence.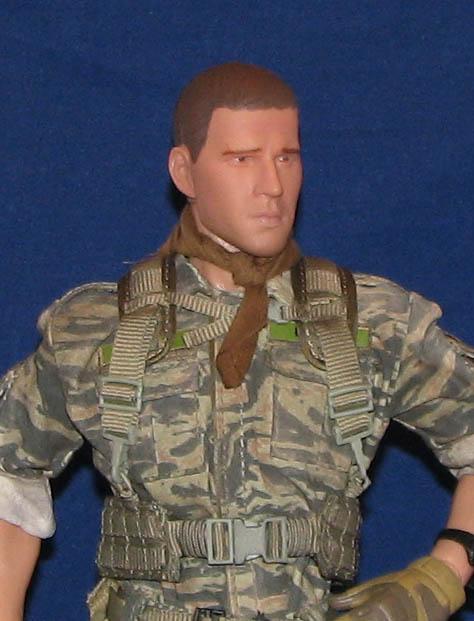 The alternate portrait takes that young LT and adds a few years to him.  This is clearly a soldier that has put his time in out in the bush and though he's a little war weary he still has that look of optimism the standard portrait portrays.  The bandana ends are done in the same flexible material as the alternate Rock 'n' Roll head.  The beard and slight scar above his right eye give him some age and the longer hair shows he's been in action for a while.  I like this look but not for my Falcon.  I prefer the clean cut officer look over the combat look of this headsculpt.  Don't get me wrong, this is a great sculpt but for me I'll be displaying Falcon with the standard head.  This one does give me ideas for a custom though… but that's a discussion for another place and time.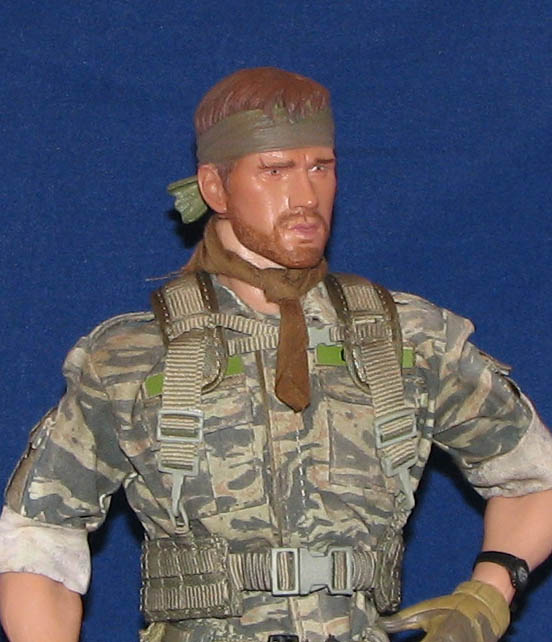 Up until now, Sideshow has been really decking these figures out with tons of gear.  I'm not sure why but with Falcon we don't seem to get as much as usual, making it feel like we're getting cheated a bit.  That's totally not the case because he has everything he could need and a little more.  But in comparison to a figure like Beachhead that came with 4 different weapons, a backpack, grenades, ammo clips, etc. the load out for Falcon comes up short.  I'm thinking that perhaps in the rush to get him available to ship before SDCC that some corners had to be cut and that meant dropping some of the extra pieces we've seen before.
So what does he get?  Well for starters there is a great new combat shotgun that is a nice modern equivalent to his ARAH v.1 weapon.  There are also two shotgun shell pouches that fit on his belt and hold 8 shells apiece. These are the same shells that came with Flint and just as with that figure this attention to detail is a great plus to the figure.  Like with Flint, I did have a little trouble with a couple of the loops in the pouches but nothing a little coaxing with the tweezers couldn't fix.  The pouches fold closed and secure with a Velcro flap for easy access.  Falcon also comes with the seemingly standard G.I. Joe sidearm in a nice pistol with extra clip which has its own molded pouch on the drop down holster.  For some reason my pistol fits a little looser in the holster than I'd like but it's not a major issue.  Just be aware of it if you're flipping the figure around in case the gun falls out.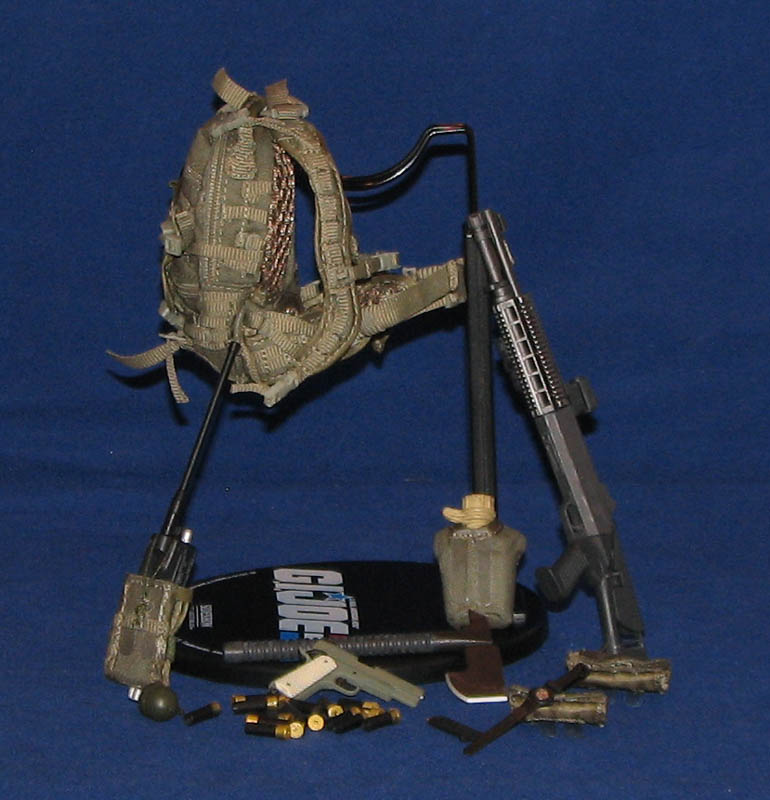 One of ARAH Falcon's signature features was his backpack with the radio antenna sticking out the top.  Sideshow has replicated that look here with the backpack we saw with Rock 'n' Roll and the radio from Hawk in its own fabric pouch.  The pouch can attach to the side of the backpack thanks to the plastic tabs they have been using for all of these types of pouches.  The resulting look is a great modernizing of the classic backpack and I think it looks great.  He also comes with a canteen and pouch which I attached to the other side of the backpack.  Rounding out his gear is a wicked looking combat axe and a single grenade.
I have to say that he does, by comparison to past figures, come in light in the accessories department.  Where a load out like this for a 4" figure would have collectors shouting their praises from the rooftops, for a 12" figure it is just above the bare minimum to be accurate to the character.  Missing is the great XMLR-3A "cartoon" laser rifle that the Joes have come with in the past.  As Falcon was featured heavily in the animated movie this exclusion is surprising.  Luckily I have a few extras I picked up loose for dio display purposes so I can give one to him.  Also, Falcon only gets 3 sets of hands, 1 set of fists, 1 trigger/open grip and 1 tighter grip.  The action pose boots are missing as well.  I'm honestly not that disappointed by the missing action pose boots but the cut back on the hand sets is a bummer.  Like with Rock 'n' Roll and Hawk, a nice set of ungloved hands would have been a nice touch here.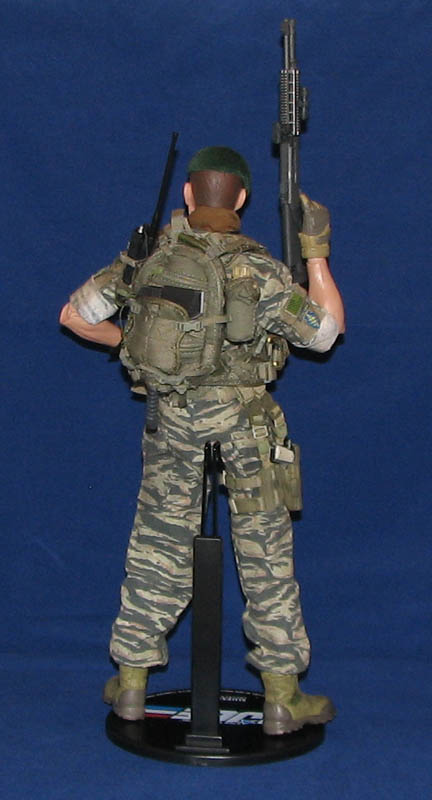 Overall, Lt. Falcon is a great and surprising addition to Sideshow's G.I. Joe line.  He's a character that was one of my favorites as a kid and he adds another soldier to the ranks to fight against all the Cobra Troopers, Ninjas and Vipers I have on my shelves.  The decrease in accessories though really bums me out.  If there was more new tooling beyond a couple of body pieces and a couple accessories then I'd be more forgiving.  Or if the price point was dropped $10-15.  But for full price this just doesn't feel like a great figure.  And that's a shame because what IS here is all really solid stuff.  It all works to make the character as accurate as possible with no extraneous bits that might look out of place.  But when the standard has been character accuracy AND tons of extra pieces, this feels like a step backwards.  Hopefully this will be a onetime thing and in a rush to get him out before SDCC some items had to be cut.  I guess we'll find out when the next release is revealed.
Until then, Lt. Falcon is a very solid figure and a wonderfully unexpected addition to the line.  Even with the negatives, I'm really glad I picked him up.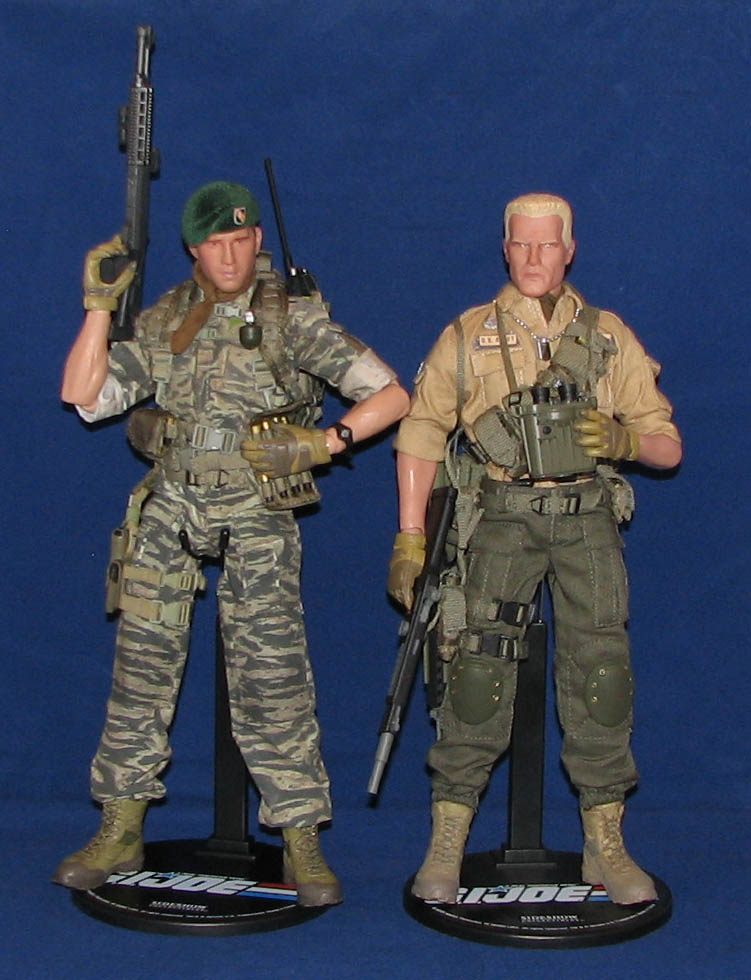 GRADE: