Sideshow Collectibles "The Pit" Command Center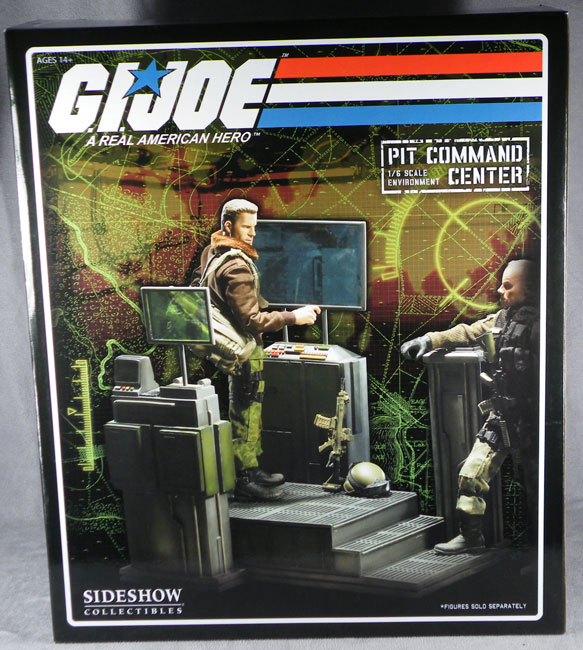 If you'd told me that Sideshow Collectibles, a premium collectible maker of large scale figures, would have a playset for the 12" G.I. Joe figures in 2012 and Hasbro wouldn't have one for their 4" figures, I would have said that was crazy. But of course, using the term "playset" when talking about the Pit Command Center is probably using that term loosely.
Along with their excellent action figures, Sideshow Collectibles specializes in "environments" for these figures as well, for the purpose of displaying these figures in some accurate surroundings. We've seen several of these environments already, from the Arashikage Ninja temple, to the Cobra throne, and now we've got a great command center for your 12" figures.
Sideshow did this set in a pretty unique way, releasing it as a series of four smaller parts rather than trying to build a "stage" for your figures. The Pit Command Center is made up of a nicely textured metal grid looking stair platform, which allows figures to be placed within this environment on separate levels. That's a great touch for folks who want to display multiple figures here. Along with the stair platform, we have a large console with monitor, a smaller console with monitor, and a third console, which does not have a monitor at all. These three separate pieces can be swapped around as you choose. You can see the way Sideshow Collectibles does it above, and I've actually done it just a bit differently to allow for more visibility for the figure itself rather than being blocked by the second monitor.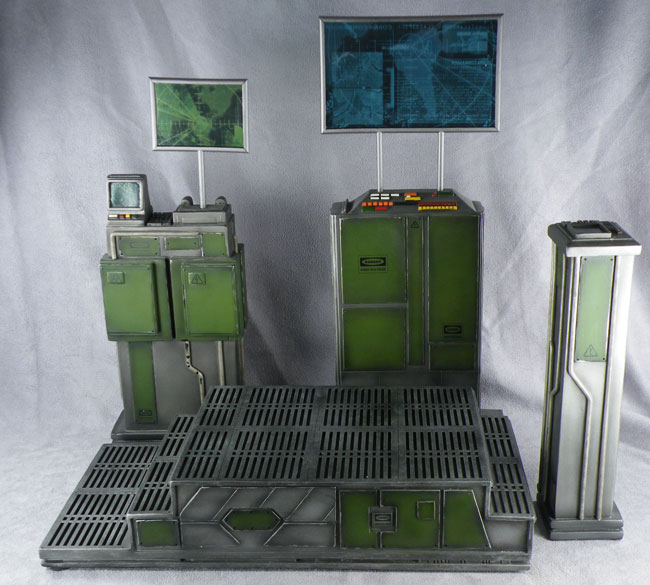 The coolest thing about these separate pieces is that you can customize this set to accomodate different display desires, or heck, if you really wanted to, you could buy multiple environments and display them together in various ways.
I'm not entirely sure what the material is on this environment, but it feels very thick, rugged, and solid, with very nicely textured console buttons, great layered metallic panels, and some really amazingly detailed paint applications giving the components a depth and thick feel. These parts and pieces really look metallic even though they're not, and fits in remarkably well to the 12" figure scale and design. The command center has a great mesh of retro design and state of the art technology, but manages to fit squarely in the real world, kind of like the figures themselves.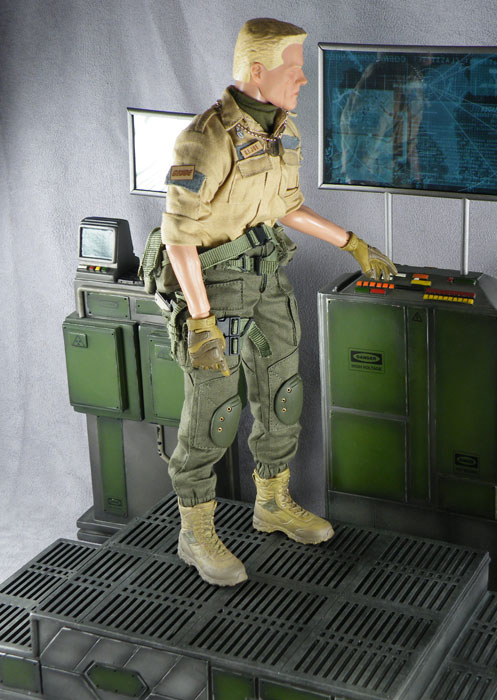 To me, the shining parts of this set are the two monitors. Both of them are built with terrific semi-translucent plastic with terrific designs embedded within this plastic, showing the G.I. Joe team monitoring Cobra Commander, where these monitors really look like some cool next generation technology. A fantastic touch.
All told this is a really cool set and makes for an awesome display piece for your Joes. And for you Sigma 6 fans, the scale isn't out of whack for those figures either! That's actually how I'm using this set now, and it works quite nicely in that regard, too. While Sideshow Collectibles currently has these out of stock, there are a number of other great display pieces in the G.I. Joe Section, and I think if you're a fan of the Sideshow product, or even Sigma 6 or Hasbro 12" figures, I think this set makes for a heck of a nice backdrop for you.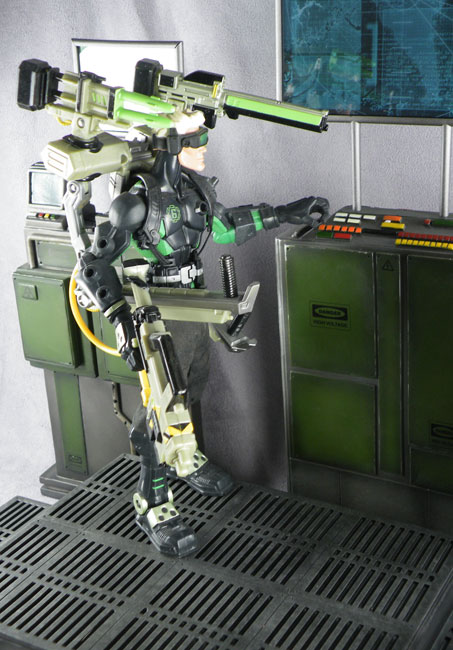 Check out the Sideshow Collectibles G.I. Joe Product here.
GRADE: