G.I. Joe: Retaliation - Red Ninja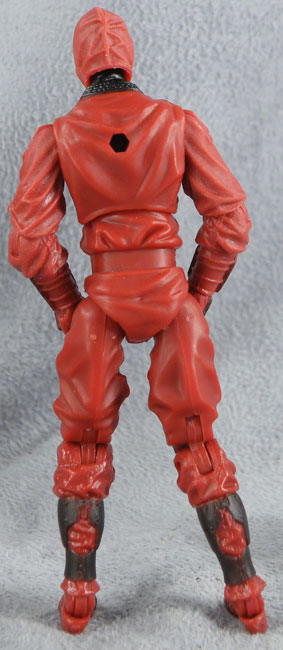 I will try not to fall into the trap, but a few of these reviews are going to feel a little like "been there, done that". Thanks to Gyre-Viper, I was able to review the G.I. Joe: Retaliation 3-Packs early, so for many of these figures I've already had my hands on them, and some of the "newness" won't be there. I'm sure many folks would say that's good, because newness can sometimes skew a review, so in that case, these should be pretty fair and balanced.
It seems like so long ago, but I remember as a kid clamoring for Red Ninjas. Ever since I saw Snake Eyes in the silent issue hacking through those red masked heads I wanted some figures so my plastic ninja commando could do the same thing...but no dice. When Hasbro finally got around to giving us a Red Ninja, it was this damn monstrosity, and to this day I feel a little bit scarred from that discovery.
The ironic thing is, when I got back into collecting G.I. Joe full time in the late 90's, the Red Ninja ended up being the very last figure I needed to complete my domestic collection. I paid about $12 for him on eBay and don't regret a second of it, especially because now he can be considerably harder to find and more expensive to acquire.
But we're talking about G.I. Joe: Retaliation. I'll attempt to try and not be too repetetive, but when it comes right down to it, this figure is essentially the same deal as the 3-Pack version, only in one single red color, not alternating red and black. Ultimately the colors don't bother me one way or another, and with this figure being a lot more comic accurate, I have very little to complain about here. It uses the 30th Anniversary Storm Shadow tooling with some brand new rocker ankles, so believe it or not, this figure can actually move better than his 30th Anniversary counterpart. Go figure.
The design is very cool, bridging some old school classic ninja elements with some modern armored pads, and the articulation, of course, is absolutely killer. The paint apps work extremely well, and really, I cannot think of a single thing to complain about. If anything, it's that it's a pure repaint (design wise, even with some new ankles) and doesn't have some of the cool modern military elements that I prefer. I know I sometimes have a hard time finding something to complain about with G.I. Joe, but I will be honest, I do feel like G.I. Joe: Retaliation is a little bit ninja heavy, and I expect will see these parts used ha lot over the next several months. Don't get me wrong, they're good, but I find myself feeding for some of the "hot newness" of some of the other figures.
Like the 3-Pack version, this Red Ninja has the excellent zipline accessory that is so damn fun I made an ass out of myself on YouTube about it:
Beyond that, he just comes with a pair of swords with nowhere to put them. Ah, well.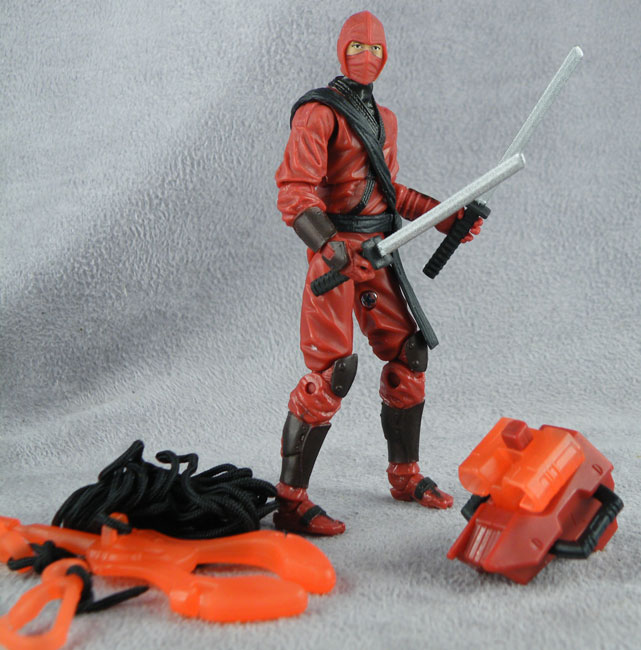 Still I find it very hard to complain about this figure. Design, articulation, paint apps are all fantastic...near perfect even, but it is missing some of the thrill that something new and sparkly might have had, and with some of the better colors and more extensive accessories, the 3 Pack version has some advantages. I still very strongly recommend it and I'm sure Joe fans will jump all over this one.
GRADE:





Pre-Order these figures NOW at BigBadToyStore.com!
Pre-Order the Ninja Showdown 3-Pack NOW at BigBadToyStore.com!