Transformers: Prime - The Complete Season 2 on Blu-Ray
I'll be the first to admit, I'm a pretty screwed up Transformers fan.
Now, don't worry...I'm don't enjoy the Bayformer movies... I'm not THAT screwed up, but my first introduction to the internet fandom at large wasn't actually with G.I. Joe. I was a devout Beast Wars fan back in '96/'97. I loved the toys, I loved the animated series, and when I first discovered the Internet, I really wanted to share my appreciation for this terrific Transformers subset with other fans.
Yeah, that didn't exactly work out.
The outright venom towards Beast Wars fans back then drove me from the Transformers fandom, even as I continued to check the awesome BWTF.com on a religious basis and kept buying Beast Wars until the line ended a couple years later. As Beast Wars petered out, my love for G.I. Joe rekindled, and with Joe items on retail shelves again, I never looked back.
I felt the same way about Transformers: Animated and while most of the Transformers fandom was intently focused on what new Classics-themed figures were being released, I was more worried about how out of scale Bulkhead was compared to Bumblebee and thoroughly enjoying how nicely the Megatron figure worked in both modes.
But, anyway... back to Transformers: Prime. While I felt somewhat out of place with my love for Beast Wars and Animated (and my relative ambivilence for G1 stuff), I seem to be in lockstep with many other Transformers fans when it comes to my love of Transformers: Prime. With just the right elements of G1 influences, great animation, and very Hollywood-like presentation, this seems to have all of the right pieces of a great Transformers animated series. There are some parts for the kids, but also quite a few mature aspects for the...well... adult kids, and it all comes together quite nicely.
I must say I was quite surprised at just how quickly Shout! Factory got this DVD set out. I actually received by review copy the week after the Season 2 finale aired, but even for retail offerings, getting the full Season 2 set only a couple of weeks after the season's conclusion is a pretty aggressive release timeframe. Obviously trying to get this on shelves before the Christmas holiday shopping frenzy begins in full, Shout! Factory managed to get this released on schedule and without pulling any punches. This great four-disc set comes with every excellent Season Two episode as well as several special features that make this a terrific purchase for any Transformers fan as well as folks who just like great action animation.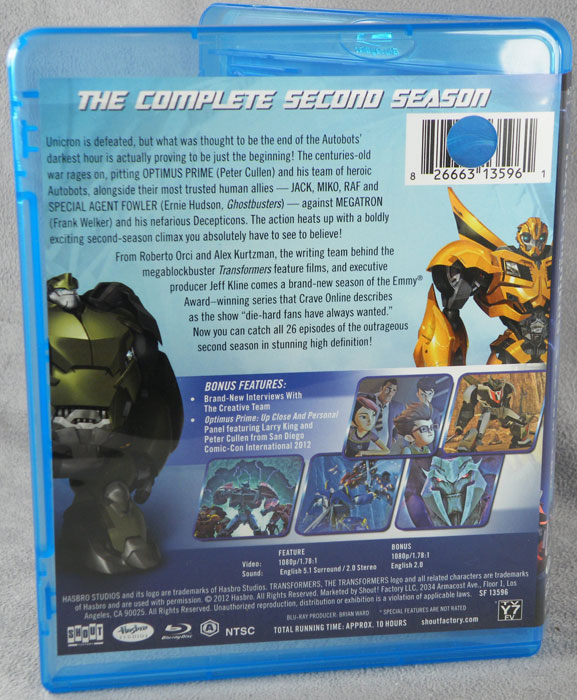 The characters continue to develop over Season Two, with a great over-arcing storyline...now this strong continuity does grow tired at certain points with this endless search for mysterious Cybertronian relics, but the action and characters woven throughout this span of twenty-six episodes makes it all worthwhile, especially in the final handful of episodes, which really crank up the action and make for some quite unexpected cast changes throughout.
Not only is Season Two another continuation of the excellent Transformers: Prime animated series, but the HD resolution is very high quality, and the CGI animation looks exceptionally crisp, clear, and quick on Blu-Ray disc. I don't even have the Hub in HD, so this was almost like watching this series again for the first time, and it makes a big difference.
There is a lot to love with Transformers: Prime, whether you're just a child if the 80's who happens to enjoy Transformers occasionally (like myself) or if you're a devout and devoted Transformers fan, there are things to love in this series for everyone. A great purchase for yourself, and something that should be on the top of the wish list for any geek for Christmas.
Pick it up at Amazon.com
right now. It's worth it.
GRADE: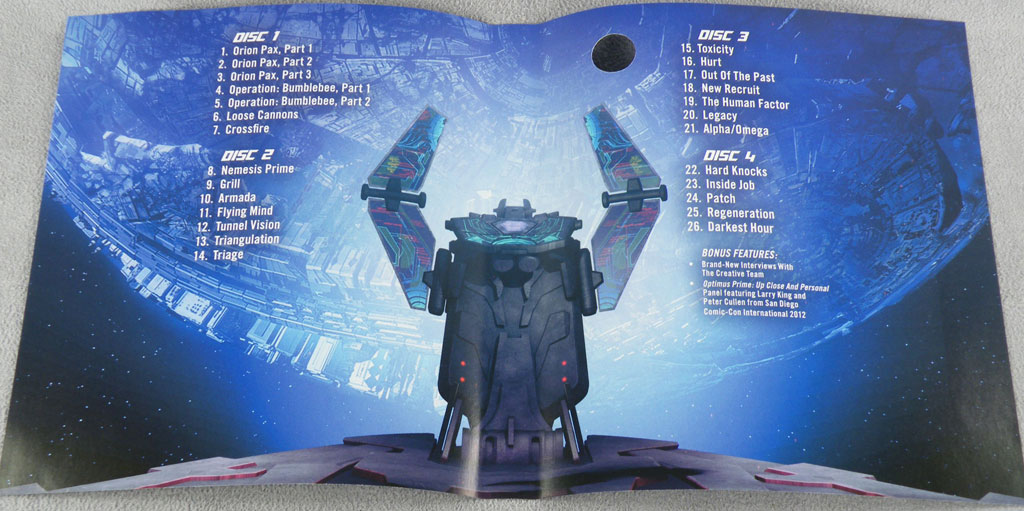 TRANSFORMERS PRIME: SEASON TWO
Special Bonus Content:
Optimus Prime: Up Close And Personal Panel From San Diego Comic-Con International 2012
The incomparable Larry King, one of the most recognized broadcast interviewers in the world, goes one-on-one with voice actor Peter Cullen (OPTIMUS PRIME). "The King of Interviews" salutes the beloved Cullen and takes fans on a journey through the actor's early days on the original 1984 animated TV series "TRANSFORMERS Generation One," the three box office smash TRANSFORMERS movies, and his current work on The Hub TV network's Daytime Emmy® Award-winning animated series TRANSFORMERS PRIME from Hasbro Studios.
Brand-new interviews with the creative team
Technical Information
TRANSFORMERS PRIME: SEASON TWO
DVD street date: November 20, 2012
Blu-ray street date: November 27, 2012
Running Time: approx. 10 hours
Aspect Ratio: Blu-ray 1080p Widescreen (1.78:1)
DVD 720x480 Anamorphic Widescreen (1.78:1)
Audio: English, Audio 5.1 Surround / 2.0 Stereo