D & J Toys - Falcon and Viper Gliders
If any of you reading this are around my age, chances are you owned the original Falcon and Viper gliders just like I did. Chances also are, if you're around my age, they probably only lasted a few days at most before the fateful final flight tore the thin styrofoam wings on a tree branch or busted them on the hard ground.
While it was a neat enough feature to own these gliders that really flew, one had to wonder if the play value over-shadowed the fragility of the things and whether a toy line with the trademark "sturdy construction for rugged play" should have had these vehicles included in it. Normally it might not be such a big deal, but the gliders played pretty heavily in the original Sunbow cartoon, and it felt kinda disappointing to have their toy version not live up to the hype.
Joe from D & J Toys took the spirit of the original Gliders, sacrificed the "really fly" ability, and ended up constructing a very neat update that really maintains the style of the original, but with more modern rugged construction. Made of cut styrene, these new age Gliders have the look and feel of the classics, and actually look a lot more like the cartoon versions. Paint deco is applied directly to the material, with no stickers to deal with. The paint applications are fantastic, with some great camouflage patterns, nice G.I. Joe and Cobra logos, and a very fun vintage aesthetic. There are small machine guns on top of the glider, and a mounted peg on the bottom for modern era figures to plug into so they can "fly" on the gliders.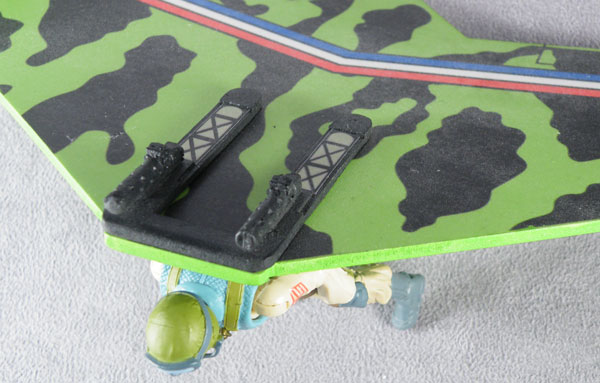 If there are any caveats, I would just say that the tail fins can come a bit loose, but some hot glue or super glue will easily resolve those issues. Joe has also said that he is working on improving the strength and hold of the fins as well, so looseness they might suffer will be much less going forward.
The result is a vehicle that's too heavy to actually fly if you throw it, but it's the perfect size for display or pretend play...not that any of us actually play with our toys anymore, right?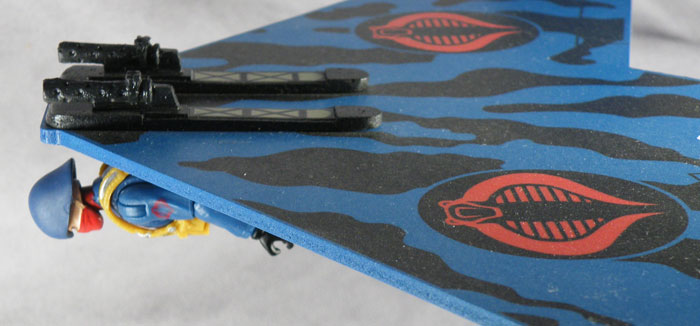 Joe at D & J Toys is doing some very cool things right now with 3D printing and construction, and you should definitely check out some of the other products he has. Great diorama pieces for figure display, additions to The Pit Command Center from the Rise of Cobra, and many other cool items.
If you want to check out the gliders, check out D & J Toys here as well.
It's a great market, and something I look forward to seeing more from, especially as the 3D printing concept evolves. What Joe has done with it already is seriously impressive.
GRADE: