Assembly Required 2012 Exclusives - Codename: Iowa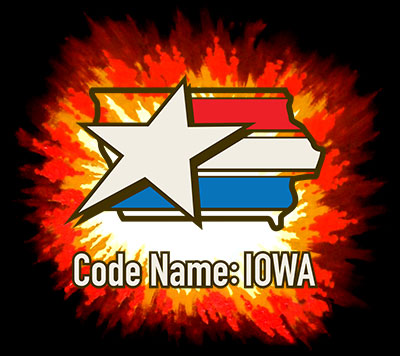 One of the greatest things about the online G.I. Joe community is the way that folks bond together to form localized groups and help spread the message about what G.I. Joe is really about and what makes the brand great. Unfortunately a lot of collectors today don't necessarily appreciate what the true cultural impact of G.I. Joe was in the 80's. Hasbro literally redefined the concept of action figure retail with the G.I. Joe: A Real American Hero line, and it is so important to understand and appreciate the history of our favorite four inch action figures.
To many people out there collecting and being in a fandom is simply about going to the stores every week and (hopefully) finding new toys to buy. But it goes so far above and beyond that for some of us. For me, it's about writing reviews, exploring the history, and spreading the love of the brand to as many people as can deal with me.
For folks like Codename: Iowa it's about creating a local group, and operating a show where they can educate folks on the lore of G.I. Joe and as a nice aside, also offer some bad ass exclusives at the show. Creating exclusive toys has become somewhat of a right of passage for some of these shows, with the Canadian JoeCon exclusives, the CoilCon stuff, and many others. For the guys at Codename: Iowa, though, they took a different track, but a no less fantastic one.
Rather than an exclusive toy, Brian and Steve got the creative juices flowing and created exclusive prints, posters, and buttons. Using his skills at graphic design, Brian built these minimalist posters using the characters as a base, and driven purely by his creative energy. These items were all offered at the Assembly Required show this year, but with some extra's left over, they are also selling them on the Goodsmith's site for Codename: Iowa.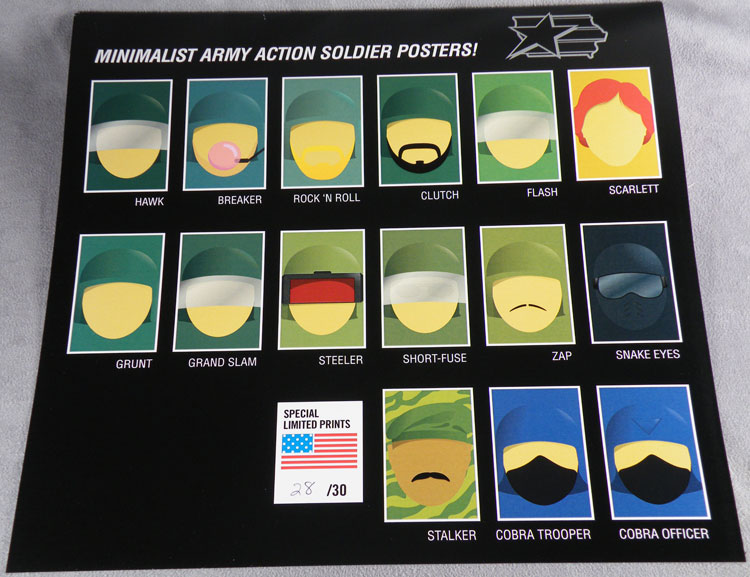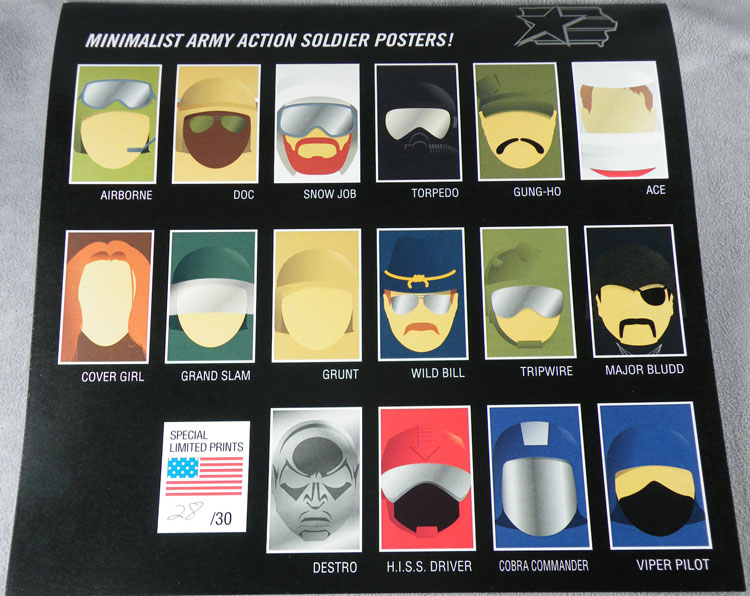 In my opinion, the prints are the real driving force behind these items. Covering 1982 - 1983, these 31 minimalist posters take the essence of these characters and boil down to a series of iconic shapes and images. These shapes and images are captured to near perfection on heavy stock paper. Actually I use the term "paper" lightly, because it feels like cardstock cardboard. The prints are extremely durable, and larger than you might think, making for some excellent presentation. Really, it's the artwork itself that's the real draw, in my opinion, as I'm blown away by how simply, yet effectively each character is portrayed. Even though there is a handy guide on the back of the insert, I was more or less able to identify every single character using a few truly iconic trademarks. Breaker's bubble gum, Steeler's red visor, Zap's moustache. They immediately jumped out and told me exactly who each print represented.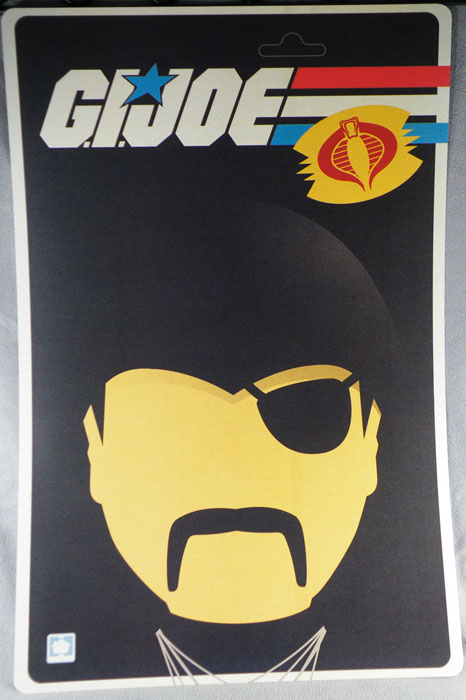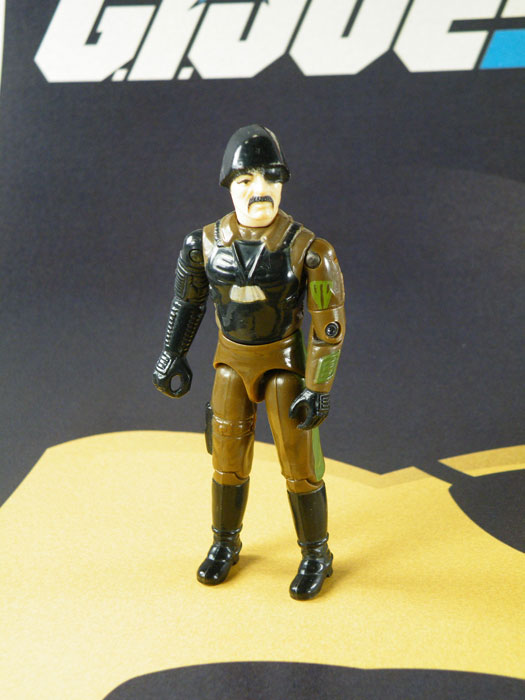 The greatest thing about these posters was how much of a vintage look and feel they brought me to. Certainly, the card art on the old school figures was notable by the amount of detail work and hyper-realism in each lovingly crafted portrait. But these prints are able to boil down the essence of each character and represent them in very simple, yet awesome ways.
As great as the first two series are here, though, to me the coolest thing is the potential for future releases. I almost find myself drooling while I think about Firefly, Zartan, Storm Shadow, Flint, or any number of other characters from the Real American Hero line. Heck, I already want to see them do Hit & Run, Interrogator and Bullhorn (among others)!
Specific details about these minimalist prints are as follows:
These posters are minimalist designed based on the action figures that where found on store shelves in 1982 and 1983. Each poster is 12.25" x 18.25" printed on 100 lb. cover weight, acid-free paper. These two sets have a total of 31 posters. They come sealed in a clear bag with a display card showing all the characters on the back. Only 30 sets have been made and ever will be made in this format.
Along with the minimalist prints, Codename: Iowa also designed some spectacular screen printed posters. Rather than sticking with the minimalist design, for these posters, they used the vehicle blueprints as a template and did a SNAKE Armor and Whirlwind Twin Battle Gun. They were able to recreate the blueprint look and feel at a larger size, and the presentation is fantastic. Obviously the show information is present on these posters and even in a different style they are every bit as cool as the minimalist posters.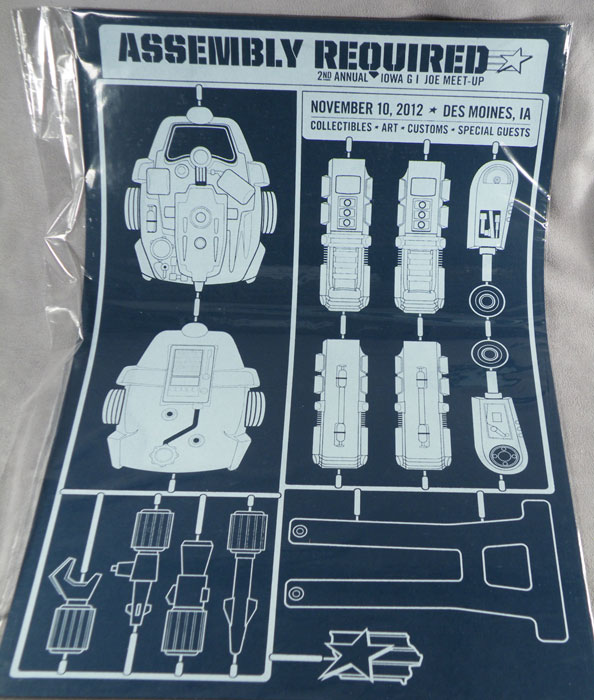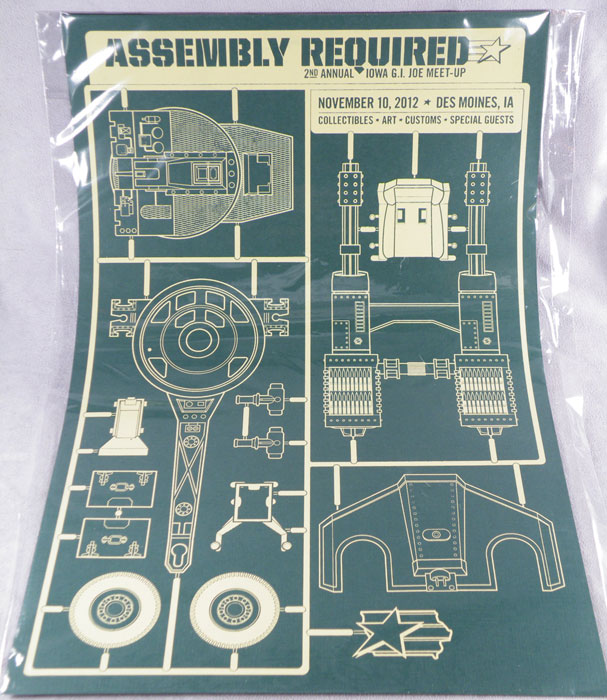 Full details on those posters are as follows:
12.5" x 19" poster 
1 color screen printed on Neenah Classic Linen, 80 lb cover 
Signed and numbered. Only 25 of each.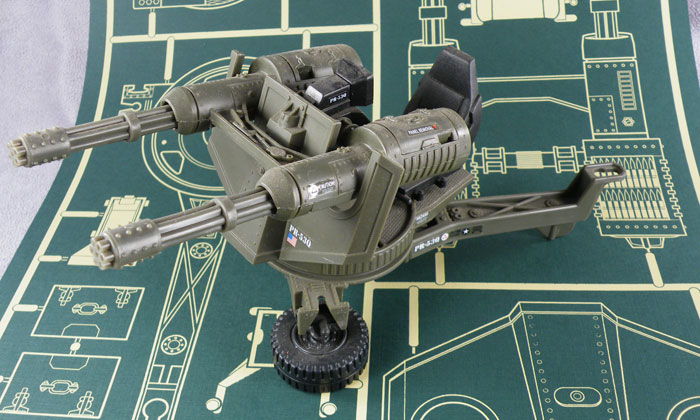 Not just content to offer these numerous posters, Assembly Required also featured two sets of minimalist buttons, using the designs from the posters and presenting them in a much smaller button format. Because of the round shapes used throughout the minimalist artwork, the buttons are almost perfectly suited for these designs and look terrific.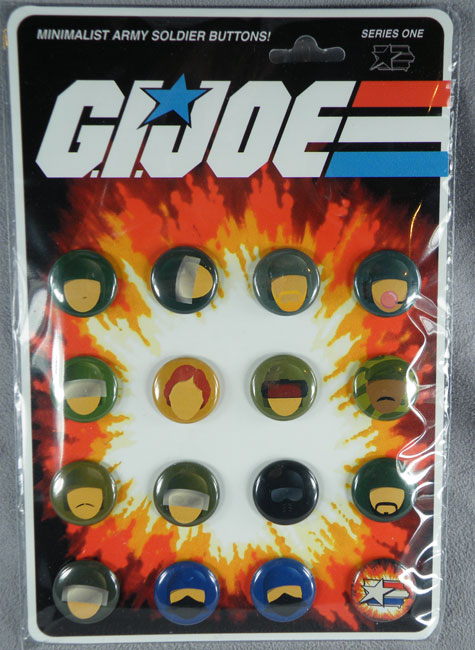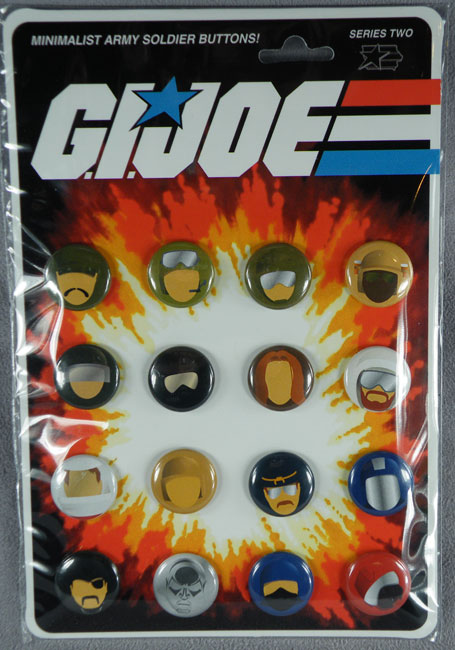 Full details of the buttons:
These buttons are minimalist designed based on the action figures that where found on store shelves in 1982 and 1983. Each set has 16 buttons on a custom card fashioned after the iconic packaging.
At some point, when you've been collecting toys as long as I have, you feel like you need to branch out a little bit and look at things from a slightly different perspective. This Codename: Iowa artwork is a perfect way to expand your G.I. Joe collecting horizons. These posters would look fantastic in frames on your wall, and would even look great outside of the confines of your corner "toy room". They're more than just toy artifacts, they are artistic, sophisticated, and an awesome outlet for your Real American Hero craving.
This weekend, Codename: Iowa is offering a full set of these items for sale in their Goodsmiths store. This special Black Friday Weekend deal gives you both poster sets, both screen prints, both button sets, and a t-shirt all for $175. There is no pure profit to the Assembly Required guys on this either, they take any money made from these sets and put it right back into the show. If you're local to Iowa, support these guys, and get an even better show next year.
In all of my communication the guys from Codename: Iowa, it is clear to me that they have a true love and appreciation for the Real American Hero brand, and it clearly shows in the work they did on these posters and extra's for the Assembly Required show. They're hoping, if these pay off, to do future years for future shows... I know I can't wait to see more!
Hit up their Goodsmiths store to take advantage of this great Black Friday weekend offer!
GRADE: