Snake Eyes - Dollar Store Exclusive
NOTE - I am in the midst of moving, so unfortunately most of my figures are packed away. As a result, comparison shots are not available. YoJoe.com has been kind enough to allow me to mirror some of their images to show some comparisons. Be sure to check out their very nicely revamped action figure archive for full G.I. Joe figure goodness!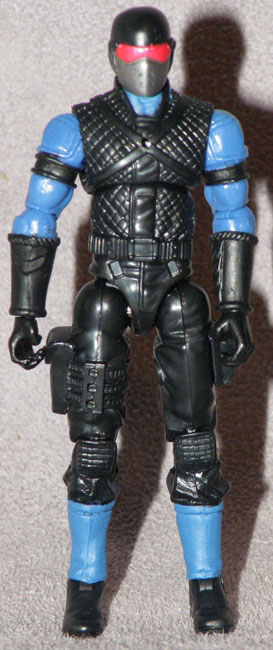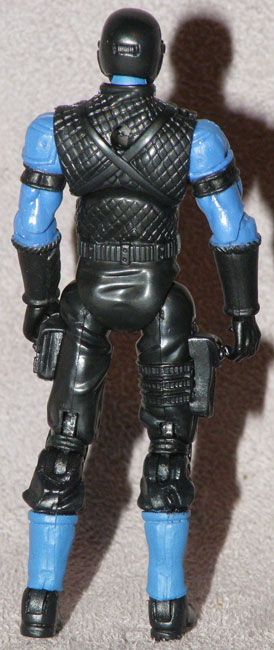 One of my all time favorite versions of Snake Eyes would have to be his version from 1991, and it seemed like back in the day that was an unpopular choice. Many folks seemed married to the 1985 version, which certainly defined who Snake Eyes was for many years, but that 1991 version accentuated some of the commando version a bit more, and used the unique mask from the 1982 version in very interesting ways.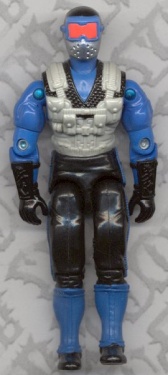 Sure, the blue was a little bit too bright, and his weapons were obnoxiously orange but the basic design of the figure itself was awesome. The hockey mask, the intricate webgear...very good stuff.
Because the original version was so unique and has become iconic over the past several years, it was surprising that not only was Hasbro capable of replicating this look, but to do it under such budget constraints.
Snake Eyes uses most of the body from the 25th Anniversary '89 version with the arms from the Pursuit of Cobra Storm Shadow, and thanks to the webgear from Night Fox we have a very accurate and authentic looking version of the '91 Ninja Commando. He's not perfect, as the Storm Shadow arms are a bit stubby and don't maintain the great articulation and look of some of the other releases in this wave, but obviously the main goal with Snake Eyes was to replicate the '91 version, and this does it expertly.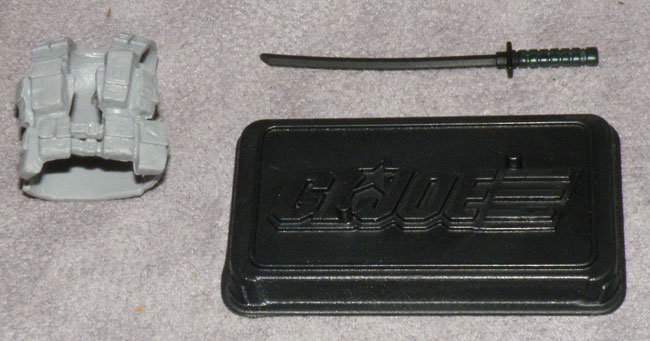 If I have any complaints, it's with the accessory compliment, which is essentially a sword and his webgear. No guns or anything, but obviously some cuts had to be made throughout this series and I can understand why the gun was chosen as one of the things to be done away with.
I absolutely love the Night Fox webgear, and it works so well here, the coolness of that almost makes up for the lack of offensive firepower, and the sword design itself is cool enough. The blank G.I. Joe stand works nicely, too, as either a stand, or as a template for customizers to build other stands.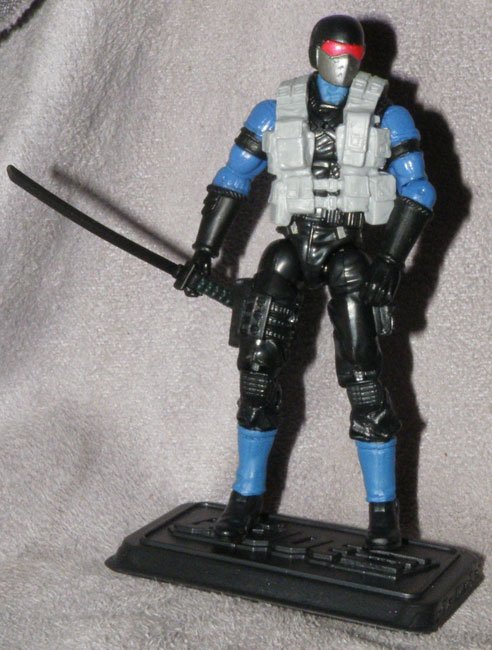 Based purely on looks, this figure is great and an awesome homage to the 1991 original. This version of Snake Eyes spent some time fighting alongside Ninja Force Storm Shadow in the comics, so getting them both released in one wave is pretty awesome. The lack of detailed paint is expected for this budget wave, but in my mind, the real downside is just the lack of enhanced movement in the arms. That's not a huge deal, but when I tool around with figures like the rest of them in this wave, the stubbiness of Snake Eyes does sort of stand out. Playability takes a hit, but the figure look almost makes up for it.
I know this figure is high on most people's lists and I think it does deserve to be there, just because it's a great homage and a great looking version of the original, but for folks looking for a real playable version of the G.I. Joe ninja commando, this may not quite be the one you're looking for. For the $6.00 retail price, though, it's tough to go wrong.
GRADE: