G.I. Joe 30th Anniversary Crimson HISS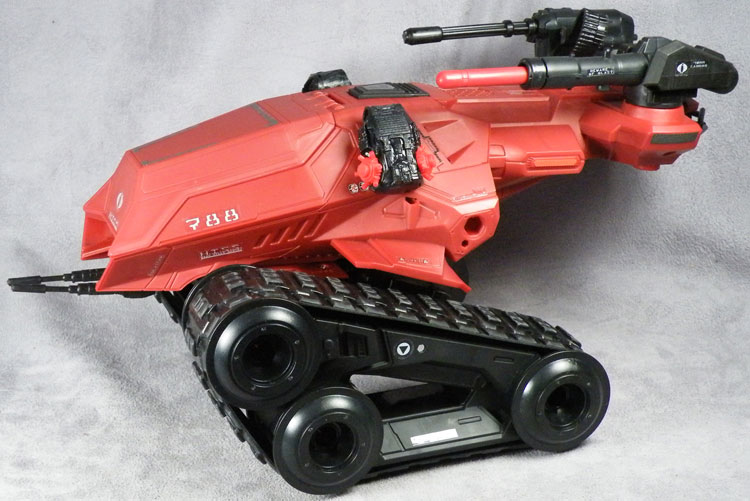 Let me state right off the top that this Crimson HISS is my nemesis. I got one from Big Bad Toy Store, and somehow managed to stick the sticker sheet to the inside of the box, so I figured without stickers it wasn't worth posting a review.
Fast forward to Gyre Viper slinging another one my way, and I excitedly took pictures and got the review ready, before suddenly realizing that I had forgotten to take pictures of the boxed vehicle and the sticker sheet prior to putting the vehicle all together. Go me. So you'll see a few images not here that I typically have included. IT'S NOT MY FAULT.
When the HISS first got debuted at JoeCon too many years ago, it got many rave reviews from the fandom. The design was classic, yet modern, and the customizable weapons were another cool touch, building upon something Hasbro had started back in 2005 and 2006. However, once the vehicle started appearing in collector hands, it seemed like opinions softened quite a bit and instead there were more complaints about the non-visible canopy, the glitchy action features and the odd color scheme (at least for the first release).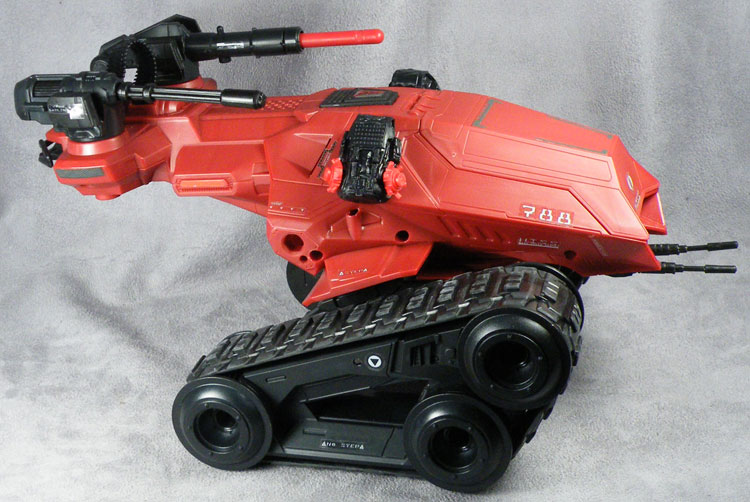 Well, it's obvious that Hasbro is banking on the HISS now as the backbone of the Cobra motor pool, and I'll admit, I have no problems with that. When the top chassis is hooked down, the HISS looks sleek and deadly. I love the snake themed aesthetic, the slicked back sloped armor, and the fast look of the armored vehicle. Once you pop it up, it's pretty neat as well, getting a higher perspective, and being able to spin around and strafe nearby targets. Personally, I think it's a great new design and I really love it a lot. I think since that initial brown color release, the vehicle has improved, and even though I strongly prefer the black over the red, this version has it's own share of coolness as well.
I will say I do wish Hasbro had found a way to get this vehicle released in the glossy dark red color we'd seen in the past. That was a fantastic new idea that looked really awesome. Alas, the end result is the same somewhat flat crimson we've seen from these vehicles going back a few years. I guess it makes sense to get a Crimson evolution with every stage, but at some point you'd love for Hasbro to move past that or find a different way to express it.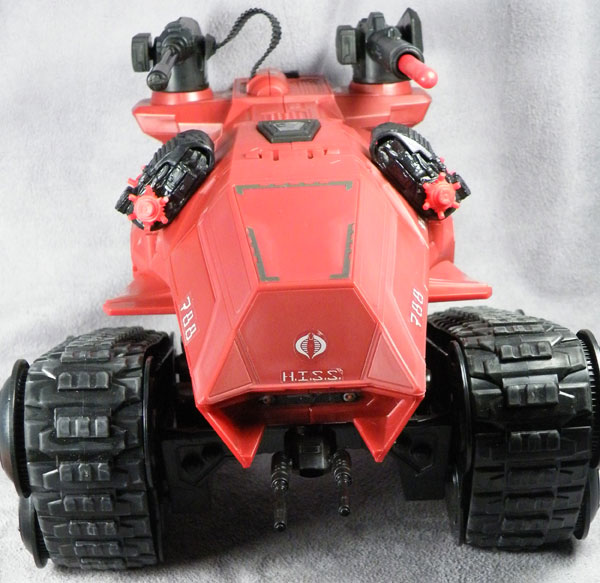 Like the previous vehicles, this HISS comes with a mountain of stickers that are actually really nice, if somewhat imposing to actually put on the vehicle. The opening front and rear canopies are intact, and I do think the locking and rising mechanism has worked much better since the black release of the HISS a few months ago. It's a fine vehicle with some great detail, and I really do love the weapons, it just does have an element of "been there done that".
One added touch, though, are the two repainted PoC Firefly backpacks, which can be added to each side as "stowage". An interesting interaction to the vehicle and it breaks up the monotony of read nicely.
Crimson Horseman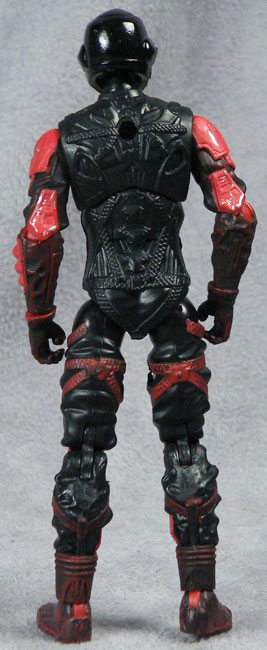 But for all of my complaining about the blandness and the boringness of the vehicle itself, the vehicle driver bucks that trend in a big way. Hasbro steers clear of the typical HISS Driver routine, and jumps into something called the "Crimson Horseman". The filecard reveals them to be a branch of the Crimson Guard who prefer to use armor in combat, but man, to me they look so much cooler than that.
His head sculpt is completely new, though it might be left over from the Rise of Cobra days (has that RoC trooper "look") and really looks like some sort of vehicle driver. The figure uses Pursuit of Cobra Firefly's body, which is pretty awesome, and has the vest from Desert Battle Snake Eyes. Now I really couldn't figure out what was up with that jacket when Snake Eyes wore it, but here on a futuristic Cobra Crimson Guardsman, it looks pretty damn awesome. Hasbro does some really interesting stuff with the paint here, too, giving him a very thick red crimson wipe, with some excellent hints of thick glossy red amongst the black and blood red. Really fascinating choices for colors, I have to say.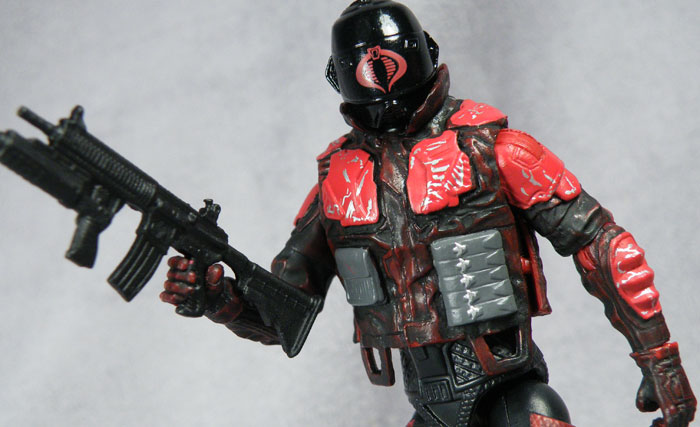 As mentioned previously, two Firefly backpacks come with the vehicle, though I'm not sure they should be considered accessories to the figure or not. He does come with Firefly's machine gun, which is a very nice touch.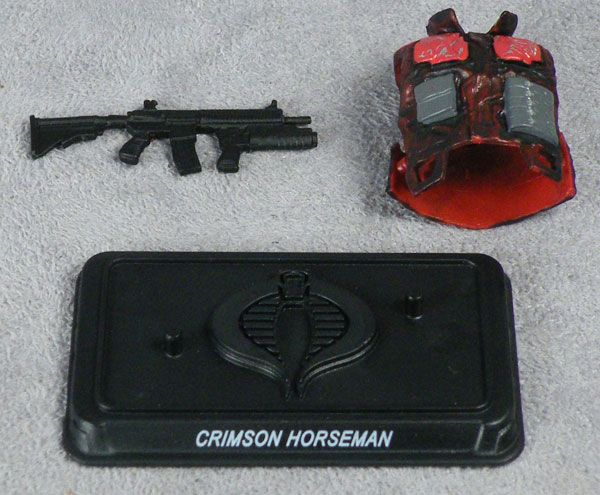 All in all, while the vehicle doesn't bring a whole lot of newness to the table, I find myself really loving the Crimson Horseman. I'm kinda glad my sticker sheet got ruined, inspiring me to get a second, so I can at least have a pair of these excellent drivers, though I don't expect I'll end up with many more. Honestly, the driver is the major selling point. I don't have anything against the crimson vehicle, but it is kind of an overused concept, and unlike the previously awesome glossy red vehicle, this one just doesn't resonate.
GRADE:





Buy this vehicle NOW at BigBadToyStore.com!