Pursuit of Cobra Croc Master
Wait, what?
Did I miss something? Where was I when it was decided that Croc Master was a popular enough character to warrant another re-release? Especially considering his first release made it all the way to bargain stores and could be bought at retail for around $3.99?
Now, listen. I'm as much a Croc Master fan as the next guy. Hell, I'm probably a bigger fan than the next guy...he's always been a favorite of mine, and in fact I even incorporated him into the whole Venom Protocols concept in my Dio-Story universe. Really, I was excited to see him in the 25th Anniversary format...I thought it was very cool that he was deemed worthy of re-issue before that era passed us by, but honestly, I can't think of a single thing that warrants a re-release of this figure, especially being so similar to the original version. In fact, any change that Hasbro made to this figure, they actually made for the worse. Sure, he's got more accessories, but not really anything that adds value, and his color scheme is a lot brighter and less interesting than the version that came before.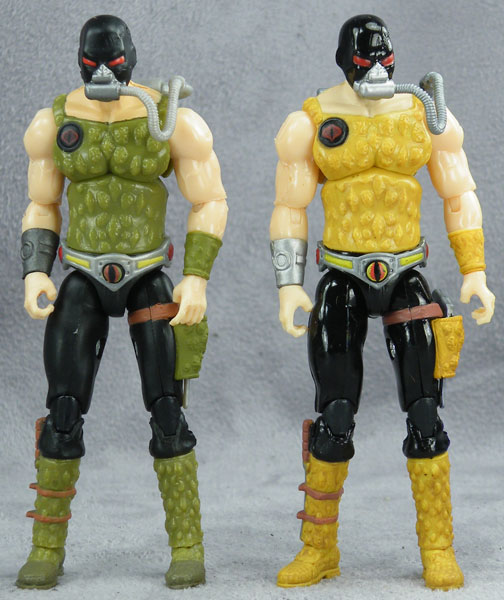 Sure, there are minor differences here, and in fact, according to Hasbro reps at JoeCon, a Python Patrol version is even in the works, but this figure is basically the same one we got in the Anniversary line, with just a lot more wild animal accessories packed in. The point? I'm not sure.
What kills me the most, is going by what we've seen from the Pursuit of Cobra line, a Croc Master update in the PoC style would have absolutely kicked ass. Can you imagine a crazed, mutated, whacked out Croc Master in the same style as Jungle Viper or Shadow Tracker? That could have been insane.
Instead, we merely get basically a 25th Anniversary re-issue with bare bones paint differences, and some animal pack ins that fans probably don't care a hell of a lot about. Really not sure where Hasbro was going with this one.
I've already mentioned the accessories throughout the text up above...we get similar pack outs as we got in the 25th Anniversary version, but also got the snakes from the Neo-Viper and some other accessories mixed within. Nothing we haven't seen, and some of them are actually really cool, but will serve limited purposes to most folks out there.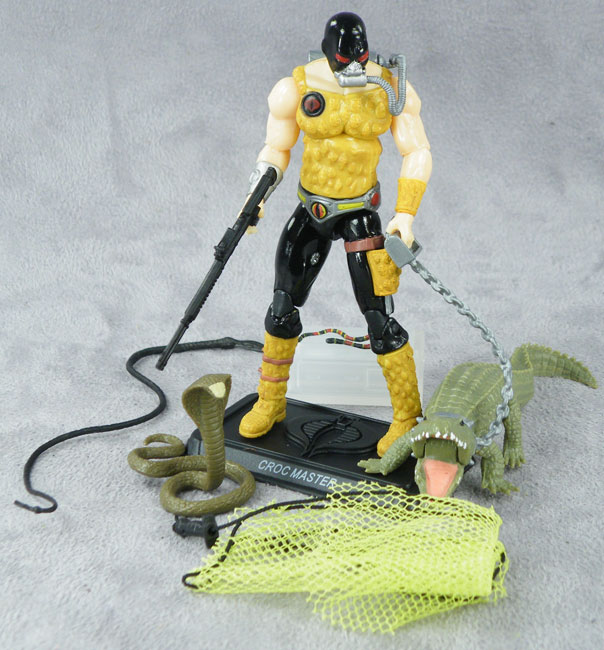 A cool figure when initially released in the 25th line, he doesn't stand the test of time, especially when you think of what might have been. I can think of many other figures that deserved a re-release over Croc Master, and I personally haven't seen much fan outcry for this guy, so I'm just having a hard time rationalizing this decision. Seems like a waste of a slot that could have been used for someone else without a dramatic increase in tooling dollars.
GRADE:


Buy this figure NOW at BigBadToyStore.com!