Sting Raider w/ Copperhead & Swamp-Viper (TRU Exclusive)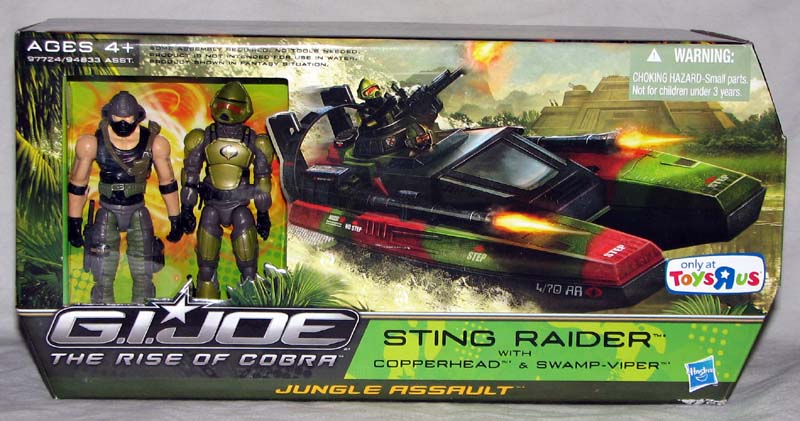 One of the highlights of the 25th Anniversary line for me was all the updated and retooled vehicles.  Perhaps the one I was looking forward to the most was the completely new Water Moccasin, renamed Sting Raider.  The original Water Moccasin was one of my first and favorite vehicles and it got a LOT of play, in the pool (along with my S.H.A.R.C.) in my bedroom battles, as a boat, landspeeder and spaceship.  It was a sturdy toy with a lot of play value and I loved it.  When I saw the new 25th Anniversary version in the display case at SDCC I was floored.  Not only was Hasbro releasing one of my all time favorite vehicles but they had completely retooled it for the modern line.  That initial offering of this vehicle was and still is highly sought after and I'm quite pleased to have one in my collection.

The 25th Anniversary Sting Raider came with a Python Patrol Copperhead figure and now we have a proper vehicle for him to drive thanks to the Rise of Cobra Sting Raider available exclusively at Toys R Us.  This particular exclusive was available online only and sold out almost immediately.  Its only now coming to stores in any quantity and I happened across one and picked it up.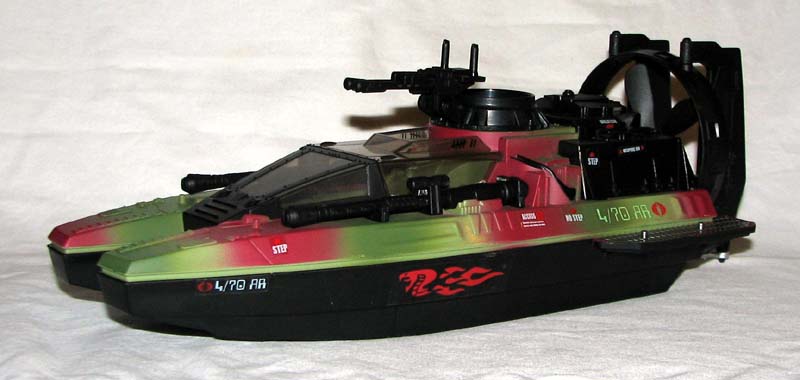 This new "Jungle Assault" Sting Raider is a basic repaint and normally that wouldn't be enough to warrant a purchase for me.  I have the classic colored version and no need to armybuild this vehicle.  The pictures online and less than inspiring figures just didn't excite me.  But seeing it in person changed my mind and now that I have it I have to say its a great repaint.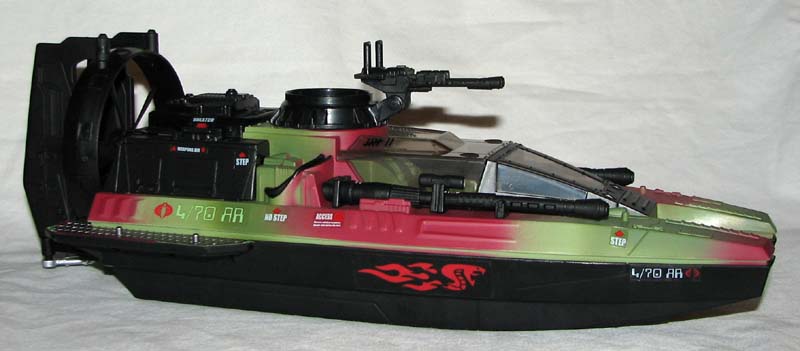 If you have the 25th Sting Raider then you know what you're getting as far as the vehicle itself.  Updated tooling with lots of detail, a larger cockpit to fit the bigger 25th figures, sturdier directional vanes on the fan etc.  A great update to a classic vehicle.  But what sells this version is paint scheme.  The lower hull is in basic black and the upper hull has been given a green, yellow and dark red python style paint job.  The three colors blend very well and the accents of black really make the brighter colors pop.

The figures are probably the only downside to this set but they are far from horrible.  The Copperhead figure is the same that came with the first Sting Raider complete with knife sheath and fixed hands.  His color scheme fits the "Jungle Assault" theme with dark greens and grays.  Nothing new and exciting here.  I'm glad they went with the new hands and knife sheath as they fit the character better than the oversized holster of the comic pack Copperhead.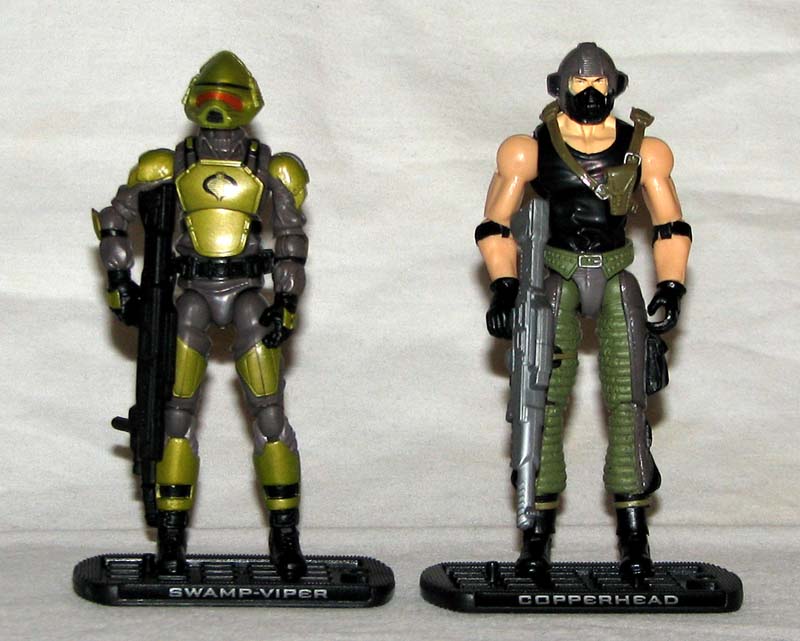 The "Swamp Viper" on the other hand is hard to figure out.  Its a repaint of the 25th AVAC figure we've seen already in the Rise of Cobra line, most recently in the Target vehicle packs.  Nothing new as far as parts here with the big change being the paint scheme.  Again like Copperhead greens and grays are the colors used and they look good on this figure.  But I what bothers me about it is the decision to make this figure the Swamp Viper.  I think a reuse of the Croc Master mold would have fit the Swamp Viper position better and I think a repaint of that figure in these colors would have looked really cool.  I'll find a place for this figure in my collection but it won't be as intended here.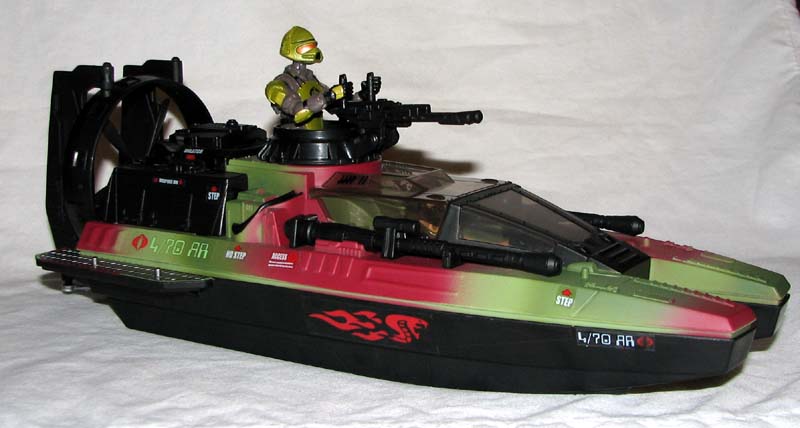 Overall I really like this repaint of the Sting Raider.  The paint scheme is great and really well done.  The figures aren't that inspiring but when you pair up this vehicle with the Python Patrol Copperhead you have a real winner.  Of all the Rise of Cobra exclusives this has to be my favorite and I'm happy to add it to my Cobra naval fleet.

GRADE: