Tri-State Viper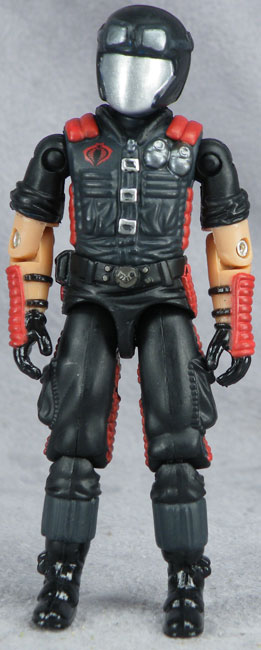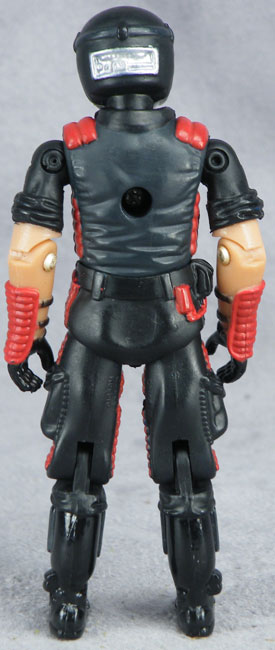 Here in the 21st Century, it is quickly becoming evident that o-ring figures are a thing of the past, destined for release through small markets to very niche collectors. While it's refreshing to see the G.I. Joe Collectors' Club go back to the vintage o-ring well, they seem somewhat hamstrung by part selections and resources for getting that tooling.
Thankfully, other fan organizations are around to try and pick up some of the slack, the G.I. Joe regional message board, the Tri-State Vipers is coming through nicely with a very special exclusive figure produced for members of that message board, appropriately labelled "The Tri-State Viper". Working with NomadCustoms, they managed to produce a very nice looking urban styled Cobra Viper.
The base figure for this exclusive urban Cobra Trooper is the Cobra Viper from the TRU Exclusive "Viper Pit" multipack, which was cool and a pain in the ass all at the same time. Cool because we got a nice Viper update very reminiscent of the classic version. A pain because the legs and hips didn't fit right, and the neck ball wasn't functional, giving you a very nice looking figure that simply did not move like G.I. Joe figures are meant to move. Well, the guys at Tri-State Vipers and NomadCustoms managed to totally fix all of the articulation problems, and give this Viper a totally revamped black and red paint job to boot. The result is simply outstanding.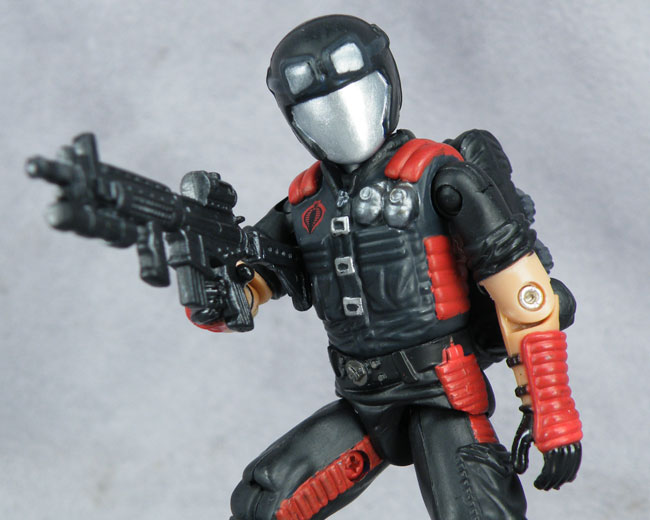 As we get inundated with the Anniversary style and the upcoming Pursuit of Cobra stuff, it's easy to overlook the vintage o-ring product, but getting a "new" o-ring figure really has a different feel to it. I mean just look at this figure. Consider the fact the detailing, sculpting, and accessorization above was from a toy that was essentially designed twenty-three years ago. That is simply incredible. The Cobra Viper is such an awesome figure, and by using the Pit of Vipers base figure, we get the original upper legs, which make a huge difference when compared to the same old B.A.T. legs that we got slammed with during the 2000's. The textured forearm guards, now synonmous with the Cobra corps. It's all great, and seeing it in this new color scheme is a treat.
Where the original Viper was blue, red, and black, this new urban styled Tri-State Viper is done in much darker shades of gray and black, with the same familiar red trim. And yes, this is a custom figure, but they managed to produce it in such a way that there has been zero paint rub, zero chipping, and I feel absolutely no hesitation to pose and "play" with this figure as I would with any other figure we get.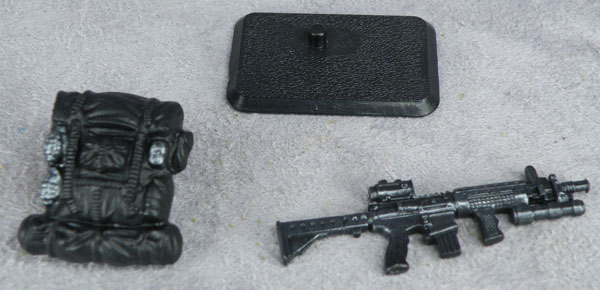 For accessories, The Tri-State Viper comes with a familiar backpack, black battle stand, and Marauder, Inc's fantastic custom made NVR automatic rifle. A very nice selection of useful weaponry.
Another thing that makes this figure really stand out is the packaging, seen below.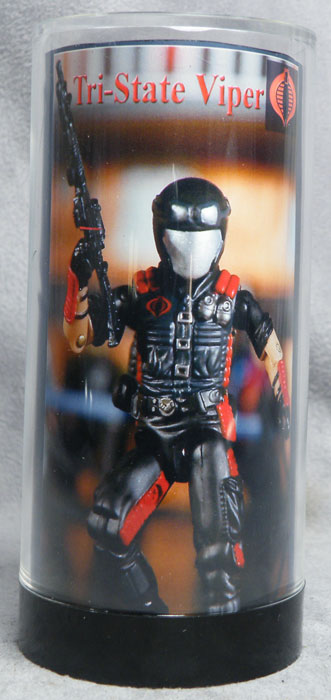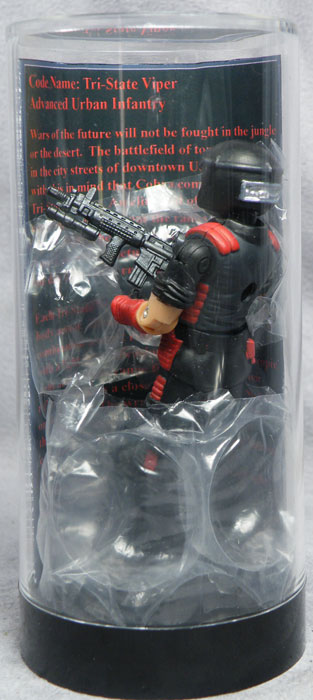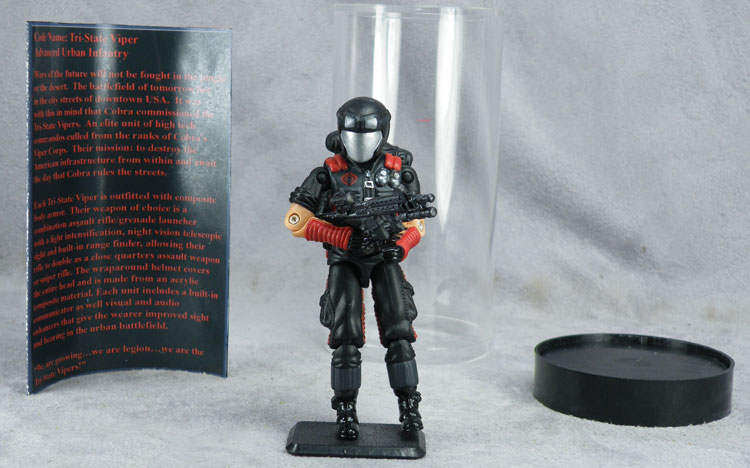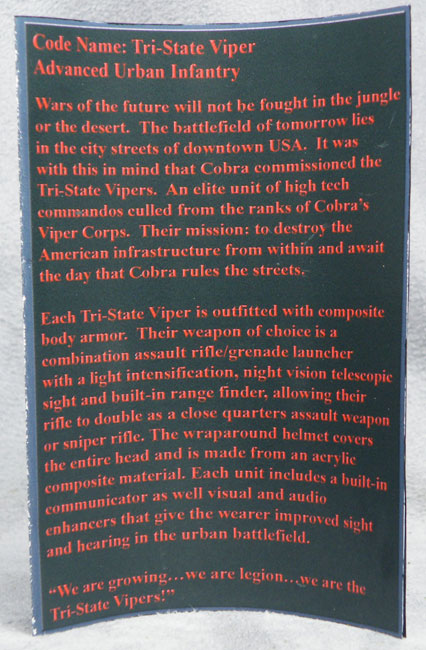 The clear cylindrical package is very collector-focused. It's an awesome presentation, but the package can be easily opened, and then put back without any damage to the packaging whatsoever. It also includes a very nice file card with a short history and great image of the Viper figure on it as well.
Getting a new o-ring figure is like Christmas in April. I love the new format, but I will always have a soft spot for the Real American Hero style construction, especially when it's a great figure like this one. The vintage Viper tooling is awesome, the improvements to the articulation of the Pit Viper figure all work great, the weapons are good. It's all good. I cannot recommend this figure highly enough to long time fans of old school G.I. Joe.
GRADE:





Anyone who is a member of the Tri-State Vipers needs to take advantage of this deal! Show your support and pre-order this figure now.
The full details are as follows:
* A donation of $20 is necessary in order to have a figure put aside for you. All proceeds go directly back into the board for future endeavors.

* A figure is not guaranteed until payment is sent!

* The figure is limited to one per member, while supplies last!

* You will not be guaranteed a figure until we receive your donation.

* From now until April 12th, ONLY members who have been a part of the board prior to 2010 will be able to pre-order. Starting on April 12th, the pre-orders will be open to everyone who's a member of the board.

* To purchase your figure please send a pm to crimsonguardvet76. You MUST include in the pm whether you intend to pic up the figure at the G.I. Joe convention in Rhode Island or if you would prefer it mailed to you.

* Crimsonguardvet76 will then reply with payment information and the PayPal address.

* The figures will be making their premiere at the G.I. Joe convention in Rhode Island! Members who wish to pick up the figure at the con must have first pre-ordered the figure. Payments will not be accepted at the con!

Anyone who cannot make the con will have their figures mailed out to them after the con has concluded. Shipping will be via Priority Mail (approx. $5--international rates will apply), so that shipping cost will have to be tacked onto the $20 figure fee.
-----------